ENSCI Student Defends Thesis on Understanding Salmonid eDNA Fate at Reach Level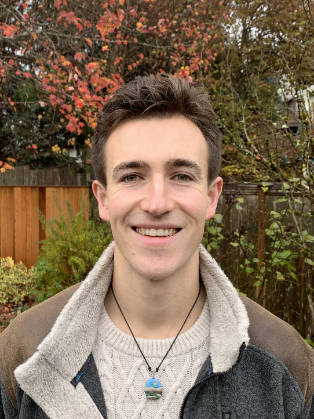 Shawn Melendy recently defended his thesis research "Understanding Salmonid eDNA Fate at Reach Level" in front of his committee on Thursday, December 8, 2022.
We reached out to Shawn to learn more about his thesis research and overall experience as an Environmental Science graduate student.
Check out his interview below for more details.
Thesis title: Understanding Salmonid eDNA Fate at Reach Level
Faculty Advisor: Dr. John Olson
What did your thesis research entail?
My thesis research focused on understanding the nature of salmonid environmental DNA (eDNA) and how it moves and degrades in rivers. We conducted river experiments adding a known amount of Brook Trout eDNA to the water, and then collecting water samples downstream to see how much eDNA we could recover over distance. The field work was a great experience, and the lab work was a great opportunity to apply the molecular benchwork skills from my background in biochemistry.
How has your thesis project contributed to your career goals?
My undergraduate degree and research experience put me on track to pursue a career in molecular biology, particularly in human physiology and biomedical research. After graduation, however, my passion for the natural environment and the outdoors pulled me towards environmental science. Since the subject of environmental DNA exists at the intersection of ecology and molecular biology, my thesis project perfectly allowed me to transition into this new field, while still utilizing skills from my molecular background. In this way, my thesis has been a huge step for my career, setting me up to work as an environmental scientist and helping broaden my knowledge across disciplines.
What is your favorite part about being a graduate student at CSUMB?
Getting to know some great people in my cohort and the faculty/staff! Also the field work - both for classes and my thesis project.
What are your plans after graduate school?
To work as a biologist or ecologist in natural resource management, for either a state/federal agency or a non-profit. I'm also moving to the Northwest and getting married next June!
Congratulations, Shawn! We look forward to seeing where your professional endeavors take you.