Environmental Science MS program graduates enter the workforce with highly marketable and competitive skills. Our leading-edge curriculum nurtures our students' talents and provides them with the best tools and transferable skills to land fulfilling positions in research, resource management, education, policy, and other high-impact careers.
Graduate Alumni Employment
| Employment Category | Percentage |
| --- | --- |
| Private Sector: For-profit organization, business | 24% |
| Government Agency: State | 18% |
| Government Agency: Federal | 14% |
| Education: Research focus | 11% |
| Government Agency: Local | 8% |
| Private Sector: Not-for-profit, Non-government organization | 8% |
| Education: Teaching focus | 7% |
| Other | 6% |
| Education: Administration | 3% |
| Military | 1% |
Graduates of the Environmental Science MS program (formerly Applied Marine & Watershed Science and Coastal & Watershed Science and Policy), consistently report a high satisfaction with the program. The program is carefully designed to address the demands of the field, and alumni find that the skills acquired through the program provide them with a unique competitive advantage in their job seeking and job performance.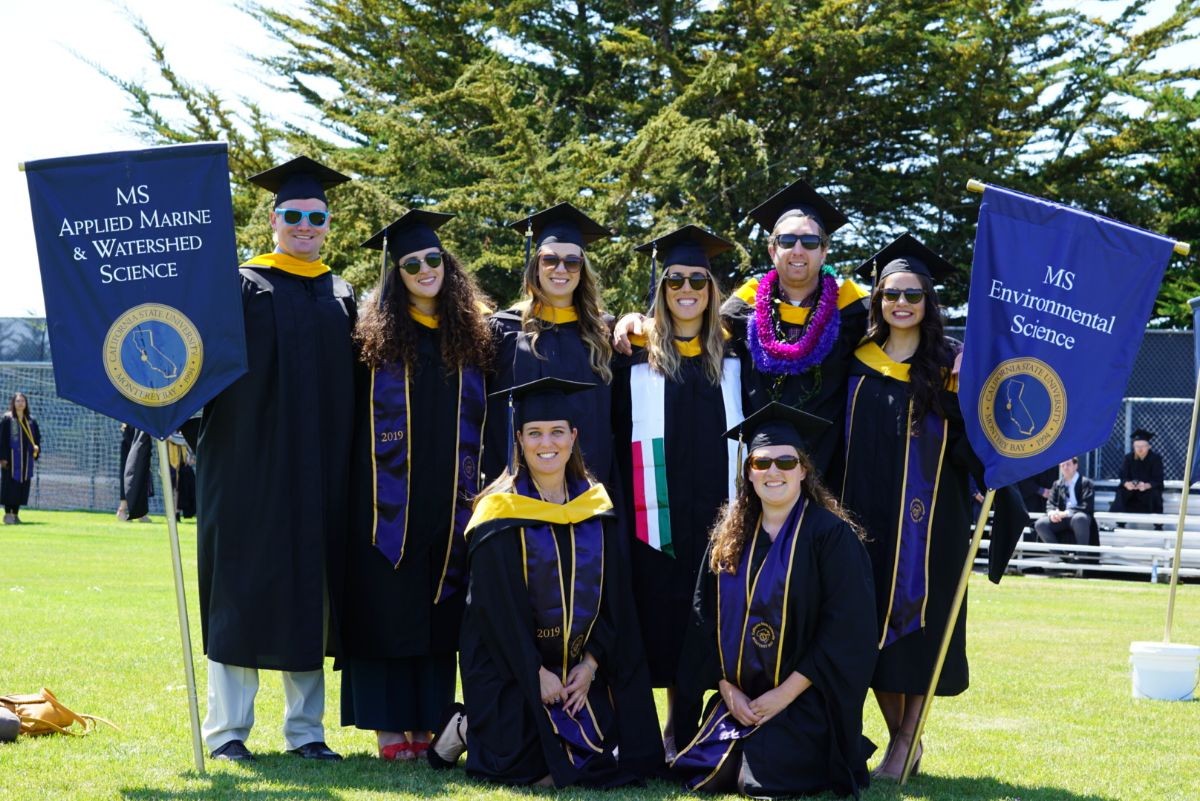 What our Graduates are Saying
"CSUMB has been an overall great experience and has allowed me to make lifelong connections professionally and personally…attending the Professional Science Master's (PSM) program equipped me with an entire skillset (applied restoration, data analysis, etc.) I hope to bring in my career as an environmental scientist."
-Michael Biedebach '23, Research Technician with the Water, Agriculture, Technology, and Remote Sensing (WATRS) Lab at CSU Monterey Bay
"Through my time at CSUMB's environmental science masters program, I've gained the toolkit to lead, create, and organize my own research at a solo level or group level for a minimal cost."
-Mason Donny '23, Naturalist with Monterey Bay Whale Watch
"My favorite part of CSUMB has been the variety of classes and field experience I have been able to take part in…our classes had a real-life approach where we were able to act as consultants on real projects during the semester. The program prepared me to jump right into the workforce."
-Emma Debasitis '22, Restoration Biologist with the Great Valley Seed Company
"I have enjoyed learning practical skills that will benefit me in my career at CSUMB. I have been exposed to R (statistical data coding language), ArcGIS Pro (geographic information system), and other tools to add to my tool belt. Coming out of undergrad into the work force I felt I lacked specific skills (i.e., statistics, GIS, etc.), now I feel well rounded and able to critically think my way out of any issue."
-Adrian Gonzalez '22, Environmental Scientist with Catalyst Environmental Solutions
"The ENSCI program helped me enhance skills I already had and gained many new ones that I can apply directly to my professional pursuits. I was rewarded with several opportunities to participate in class projects that addressed an expressed need in the community, and to communicate science to a diverse group of stakeholders including local city governments, researchers, and land managers. I feel better equipped to engage not only in my area of research but also in the broader environmental science community, and more importantly to communicate effectively to mixed audiences and the general public."
—Stefanie Kortman '20, Research Scientist at CSU Monterey Bay