ENSCI Student Conducts Camera Trap Research for Big Sur Land Trust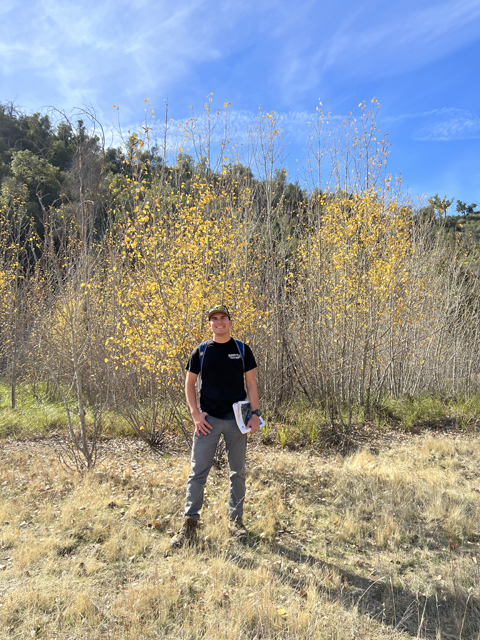 Michael Biedebach, a current Environmental Science Master's student, recently completed an internship with Big Sur Land Trust as part of his Professional Science Master's project. Michael was tasked with developing a 400-hour internship that helped employ the skills he gained in the classroom.
We recently touched base with Michael to learn more about his internship. Check out his interview below!
Tell us a little bit about yourself!
My name is Michael Biedebach and I am a 2nd year Grad Student in the Department of Applied Environmental Sciences. I received my BS in Earth Sciences from Portland State University, with minors in Environmental Geology and Geography. My interests are in remote sensing, conservation planning, applied restoration, and freshwater management.
In 3 - 4 sentences, describe the work you are doing at your internship site.
My PSM internship has been using camera traps to track wildlife presence and movement on a 5,000-acre private cattle ranch in southern Monterey County. The nine-month study has produced observations of over 40 species of birds, mammals, reptiles, and insects. The project is intended to support applications for conservation funding by highlighting the property's importance as a wildlife corridor between the Salinas valley and the Sierra de Salinas and Santa Lucia mountain ranges.
How has your work related to courses you're taking at CSUMB? Do you find yourself utilizing the new skills you've gained through the ENSCI program?
This project is my first experience using camera traps on wildlife. Overall the experience has allowed me to apply my data management and technical skills to a real-world project. My favorite part of the internship was visiting the property to install and periodically check up on the cameras. The property is a remarkably beautiful mix of rolling hillsides, oak woodland, chaparral, and riparian forest with views of the nearby Ventana Wilderness. If conserved by an agency, I'm looking forward to one day visiting the property knowing that our work was the foundation for protecting its resources for generations to come.
What is your favorite part about being a graduate student at CSUMB?
My favorite part about being a graduate student at CSUMB is exploring the surrounding area. I've enjoyed getting familiar with areas like Fort Ord National Monument, Big Sur, and the Santa Cruz Mountains for activities including mountain biking, camping, trail running, surfing, and hiking. Since it seems like everyone has their opinion on this, my two favorite spots to eat around town are Papa Chevo's Drive Thru and Marina Donuts and Bagels.
CSUMB has been an overall great experience and has allowed me to make lifelong connections professionally and personally. I am especially grateful to my PSM graduate advisor Dr. Fred Watson for finding this internship and Nikki Nedeff of the Big Sur Land Trust for mentoring me throughout the study. Attending the PSM program equipped me with an entire skillset I hope to bring in my career as an environmental scientist.