ENSCI Student Defends Thesis on Relationships Between Apex Predators, Mesopredators, and Songbirds Along a Local Urbanization Gradient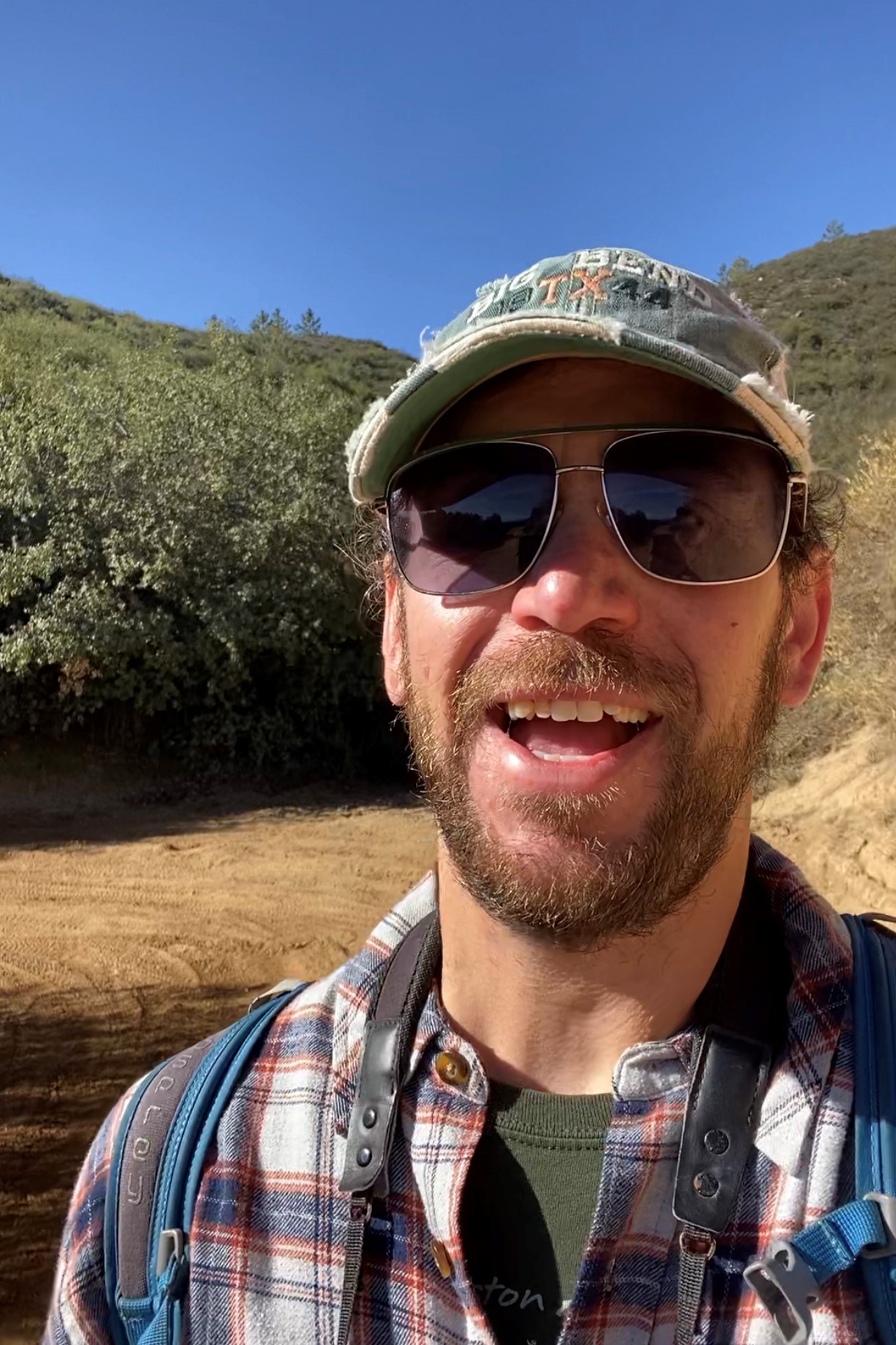 Matt McGee recently defended his thesis research "Mesopredator occupancy and passerine richness along an urbanization gradient in central coastal California" in front of his committee and a public audience on Wednesday, May 3, 2023.
We reached out to Matt following his successful defense to learn more about his thesis research and overall experience as an Environmental Science graduate student. Check out his interview below for more details.
Thesis title: "Mesopredator occupancy and passerine richness along an urbanization gradient in central coastal California"
Faculty Advisor: Dr. Jennifer Duggan
What did your thesis research entail?
I investigated the relationships between apex predators, mesopredators, and songbirds along a local urbanization gradient. I had 70 total study sites spread among urban areas, agricultural sites, and protected natural reserves, and yes that was way too many to run by myself! I conducted almost 500 avian point counts and collected over one million photos with wildlife cameras before diving into occupancy modeling and random forest analysis. Now it's almost over, which kind of makes me sad but also I'm so excited to have free time again! Although I still have to run a few more analyses for the publication…
How has your thesis project contributed to your career goals?
I built many of the skills I'll need to run my own research lab one day: GIS, modeling, grant writing, networking, and project design. I can't say enough about running a large research project from beginning to end and being immersed in the complete process, unlike at many field jobs where you only get to participate in one or two aspects of a project. I've learned how important it is to ask focused and compelling research questions. It's much more fulfilling to test specific questions than broad ones because you get to really dig beneath the surface. My time management skills have gotten better. I've learned to say no more often, and I'm setting professional boundaries as well--grad school keeps you busy, but there's a limit to how much one person can work in a week, and this gigantic thesis has really tested that.
The latter has been the most challenging but also the most essential to my career, and I'm learning (sometimes the hard way) how to balance the ambition and feasibility of a project and how important it is to ask specific questions.
What is your favorite part about being a graduate student at CSUMB?
The people, always.
What are your plans after graduate school?
I'm taking the thesis on tour to the international mammalogy conference in Alaska this summer, and I apparently love grad school so much that I'm starting my PhD this fall at UC Berkeley, where I'll be studying community ecology of lemurs and birds in Madagascar! I'm extremely excited but also looking forward to a few months of not working constantly. Maybe I can remember what my hobbies are?
Anything else that you'd like to share?
For all thesis students--there's a light at the end of the tunnel.
Congratulations, Matt! We look forward to seeing where your academic and professional endeavors take you!