ENSCI Graduate Student Conducts Thesis Research on Soil Microbes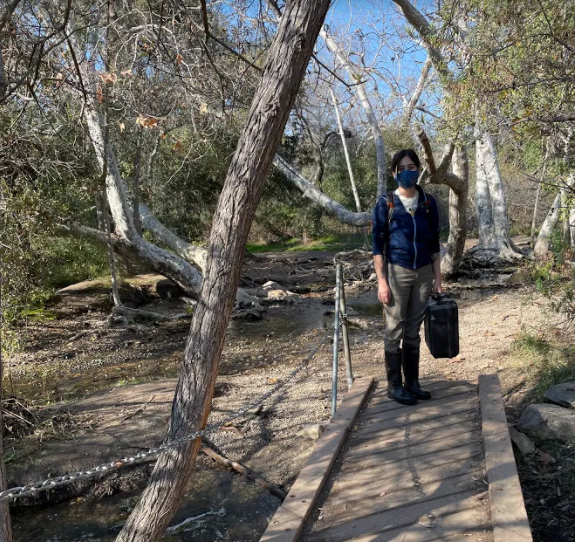 Connie Machuca, a current graduate student in the Environmental Science master's program (ENSCI), has been working on her thesis project over the past year. As a thesis student in Dr. Nathaniel Jue's lab, Connie is focusing her research on soil microbes found in a bioreactor system in Salinas, CA. To learn more about her thesis research, check out her interview below!
What is the title of your thesis project?
A Comparative Metagenomics Study of a Bioreactor in Salinas, CA and the Tijuana River Valley
What does your thesis research entail?
I am analyzing soil microbes found in a bioreactor system in Salinas, CA that is attempting to remediate pesticides from nearby agricultural fields. I am also collecting soil samples from the Salinas and the Tijuana River valleys to compare bacterial communities and functional components between historically polluted environments. In the end I hope to understand the potential natural environments have to remediate pesticides and identify key microbes responsible for bioremediation.
How is your project contributing to your professional goals?
I have always wanted to aid in the restoration of polluted environments. My project takes more of a non-invasive approach to restoration by looking at microbial diversity and functions to assess the health and resilience of an environment. I also hope to join the NOAA workforce some day. Through my current NOAA fellowship at CSUMB I have had the pleasure to work with Dr. Kelly Goodwin, a NOAA mentor stationed at the Southwest Fisheries Science Center who has helped me with field work but will also mentor me through bioinformatic analyses I will be completing this summer. Being connected to the NOAA network has allowed me to gain experience and understand what it takes to become a NOAA research scientist.
What is your favorite part about being a graduate student at CSUMB?
I really love the location. Being able to go out and explore different parks and trails nearby has allowed me to connect more to the outdoors while also being a full time student.
What are your plans after graduate school?
I hope to apply for a California State SeaGrant Fellowship to gain experience applying science to policy and environment management.
Keep up the incredible work, Connie! We look forward to seeing you defend your thesis in the near future.