AES Alumni Participates in 2022 William R. Gianelli Water Leaders Class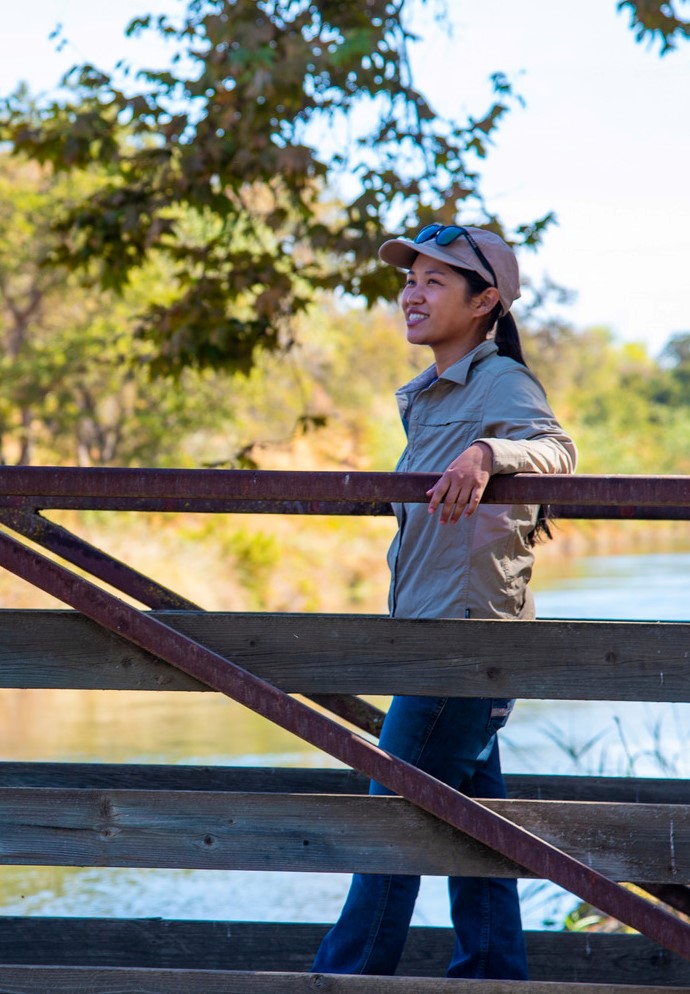 Kaitlyn Chow, an alumnus of both the Environmental Science, Technology, and Policy program (ESTP) and the Applied Marine Science and Watershed Science Masters program (AMWS), was recently selected to participate on the 2022 William R. Gianelli Water Leaders team. The Water Leaders program deepens knowledge on water, enhances individual leadership skills and prepares participants to take an active, cooperative approach to decision-making about water resource issues. The 2022 cohort includes engineers, lawyers, resource specialists, and scientists from throughout the state.
We recently touched base with Kaitlyn to learn more about her participation in the program and how her CSUMB education prepared her for her role in the program.
What led to your participation on the 2022 Water Leaders team?
I actually did not know about it until my former manager beseeched the Board to nominate me for the program. He said given the breadth of my interests (aka everything) and willingness to learn, I was an ideal representative for the Yuba Water Agency. I am personally interested in the program because we talk and discuss current water issues in California and get the chance to speak with key people of interest that are up to their necks in trying to solve the problem.
How does your participation on this team contribute to your career trajectory?
I currently have a dream job of collecting hydrologic data in the beautiful Yuba River watershed, but as anyone remotely in California water understands that it's not just about quantifying water but navigating the social and political dimensions as well. I've been in the technical side of water for almost my entire career, but I think it has largely become an interpreter of the resource. I've evolved from just wanting a job that can get my hands wet to wanting a career that turns complex information into understanding for better large-system projects and management decisions. I think the big picture thinking of the Water Leaders Program is just training I need to start the next steps.
Did your time as a student at CSUMB prepare you for this experience?
I was at CSUMB for both my undergraduate and graduate education. I have only praise for the program. My undergraduate degree gave a great overview of system interactions and how to quantify them. My Master's degree really expanded how to accomplish seemingly monumental goals with the tools available and/ or how to learn new things very quickly.
What are you looking forward to the most while working with the other water leaders?
As of writing, I am in the last month and a half of the year-long program. I was, and am still, very interested in what my cohort has to offer in terms of their knowledge and insight. All 20 of us are from across California and from very different backgrounds, so having us all work on the same topic allows us to attack a discussion from different angles.
What do you hope to gain from this experience?
I hope to gain a better understanding of the Bay-Delta Plan as a whole and some experience in solving such a large, diverse issue within the sandbox environment that the Water Leaders program provides.
How has your CSUMB education helped shape you as a professional (as you progress through your career)?
Yes, my CSUMB education definitely helped! Another point I want to make is that CSUMB's program is very practical, which I appreciate. The program is really good at giving tools to help solve problems with good applications on how certain resources are useful. I may no longer be doing modeling of estuary systems, but the same foundation practically translated to Yuba Water Agency's work in surface and groundwater modeling.
Any advice you would like to share with current CSUMB students interested in water resource protection/hydrography?
Take any opportunity you can to gain job experience: internships, lab work, fieldwork, and all of the above. Do not expect class work alone to be sufficient in providing you with enough opportunities to decide what you want your career to become. Be proactive in looking for other opportunities to provide you with the nuances of an industry that will show future mentors how committed, active, and knowledgeable you are about your field of study. It's not always about knowing the most about one topic (that's what a Ph.D. is for), but being well versed in multiple disciplines that can make you stand out.
Keep up the excellent work, Kaitlyn! We look forward to seeing where your professional endeavors take you.