ENSCI Student Defends Thesis on Estimating Natural Background Water Quality in California Rivers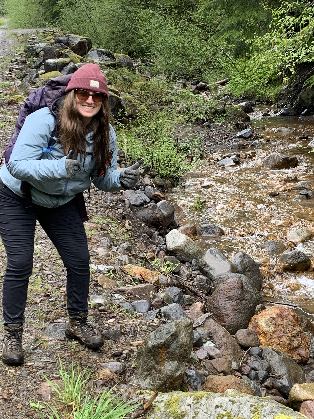 Emma Debasitis recently defended her thesis research "Estimating Natural Background Water Quality in California Rivers" in front of her committee on Monday, December 5, 2022.
We reached out to Emma following her successful defense to learn more about her thesis research and overall experience as an Environmental Science graduate student. Check out her interview below for more details.
Thesis title: "Estimating Natural Background Water Quality in California Rivers"
Faculty Advisor: Dr. John Olson
What did your thesis research entail?
My thesis focused on estimating natural background water quality in California streams. This research involved data compilation from various sources across California and the United States, from which I organized the data to create models for 9 important water quality parameters. These models provided estimates of natural background water quality for all streams in California within the StreamCat dataset. The hope is that these predictions will aid researchers, government agencies, and restoration projects in California.
How has your thesis project contributed to your career goals?
My thesis work provided me with a large amount of experience involving data management, modeling, and working as a part of a consultant team. This experience allowed me to optimize my time management skills, so I still had time to spend outside and with friends and family.
What is your favorite part about being a graduate student at CSUMB?
My favorite part about being a grad student at CSUMB has been the variety of classes, the field experience I have been able to take part in, and the people I've met. I have traveled across most of the pacific southwest and the Rocky Mountains on field work with the Watershed Environments and Ecology (WEE) lab. Our classes also had a real-world approach where we were able to act as consultants on real projects during the semester.
What are your plans after graduate school?
I have actually already started working as a restoration biologist at Great Valley Seed Company, a start-up growing California native plants focused in the San Joaquin Valley and Southern California. We are focusing on collecting and propagating species native to Central California for the many future restoration projects slated to take place in the area, all while keeping the unique genetic profiles of each project. If anyone is curious about our work, here is our website: https://greatvalleyseed.com/.
I really enjoyed my time at CSUMB, and the program prepared me to jump right into the workforce. Now I just need to balance my work life with my goal of visiting all national parks.
Congratulations on your successful defense and on completing your project! We look forward to seeing where your professional endeavors take you.