AES Professor Reflects on His Career at CSUMB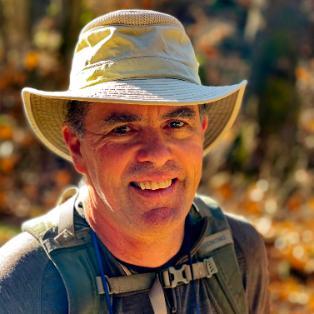 Dr. Fred Watson, Professor in the Department of Applied Environmental Science, has been a valued part of the CSUMB Community since 1998. He's been an advisor to many graduate and undergraduate students and runs the Watson Lab.
We recently touched base with Fred to learn more about his extensive career and what led him to CSUMB. Check out his interview below.
What led you to CSUMB?
I arrived from Australia in 1998 for what I had originally planned to be a one-year postdoc. I liked the idea of CSUMB as a small, newly established campus in a west coast climate surrounded by open space in every direction!
What is your favorite part of being a professor?
Working with new people on new projects every semester, and being a part of the wonderful career trajectories our alumni achieve. I like the way that Applied Environmental Science is a smallish department comprised of people who are passionate about the environment.
What are the courses that you taught over the years?
Before becoming a professor, I ran a full-time grant-funded research lab at CSUMB until about 2006. We worked on watershed science in the Central Coast and on snow hydrology, remote sensing, and wildlife ecology in Yellowstone National Park. Since becoming a professor, I've taught Plant Communities of California, Remote Sensing, California Transect, Environmental Modeling, Watershed Systems, Research Methods, and Professional Environmental Science. I really enjoy the breadth of these courses, the way that they're different every year, and that all but one of them has a fieldwork component.
What is your background? (Educational, professional)
I bounced around majors a bit before settling on a BA in Geography and Computer Science and PhD in Environmental Engineering, both at the University of Melbourne, Australia. I also bounced around careers a bit before settling in as an environmental research consultant and finally as a professor in environmental science. While I was still figuring things out I tried a bunch of different things that ended up helping me a lot with what I do now. I was a salesman, a furniture mover, a street canvasser, a kiosk attendant, a conference host, a TV station technician, a theater supervisor, and a theatrical lighting designer.
What hobbies do you like to participate in during your free time?
Pretty much anything outdoors, especially if it's with my family - hiking, botanizing, birding, mountain biking, trail running, canoeing, road trips, plein air painting, and playing guitar.
Anything else you would like to share?
When you're young, there's plenty of time to sort things out. Take it from someone who took seven years to get a bachelor's degree, with a few years in the middle dealing with low grades and broken bones. If you like the outdoors, stick with environmental science. I've been paid to work on five continents doing anything from backcountry skiing in Yellowstone to sleeping under the stars for weeks in the African savannah.
Thank you for being a valued part of the CSUMB Community, Dr. Watson! Check out his latest paper about wildebeest migration in southern Africa.