Alumni Participate in Watershed Stewards Program
Kesley Trammell and Natalie Vaughn immersed themselves in environmental courses during their undergraduate studies at CSUMB. Following graduation, both have embarked on professional opportunities that have helped pave their early careers. Their paths recently crossed when they jointly participated in the Watershed Stewards Program.
The Watersheds Stewards Program (WSP) is a special program from the California Conservation Corps, in partnership with Americorps, that focuses on salmonid conservation and habitat restoration throughout the state of California. This program requires corpsmembers to complete a minimum of 1700 hours of national service. WSP places corpsmembers with scientists at environmental organizations around the state to assist with watershed data collection and analysis, restoration project development and maintenance, watershed education, and community volunteer recruitment.
We recently touched base with them both to learn more about their experiences as Watershed Stewards. Check out their interviews below!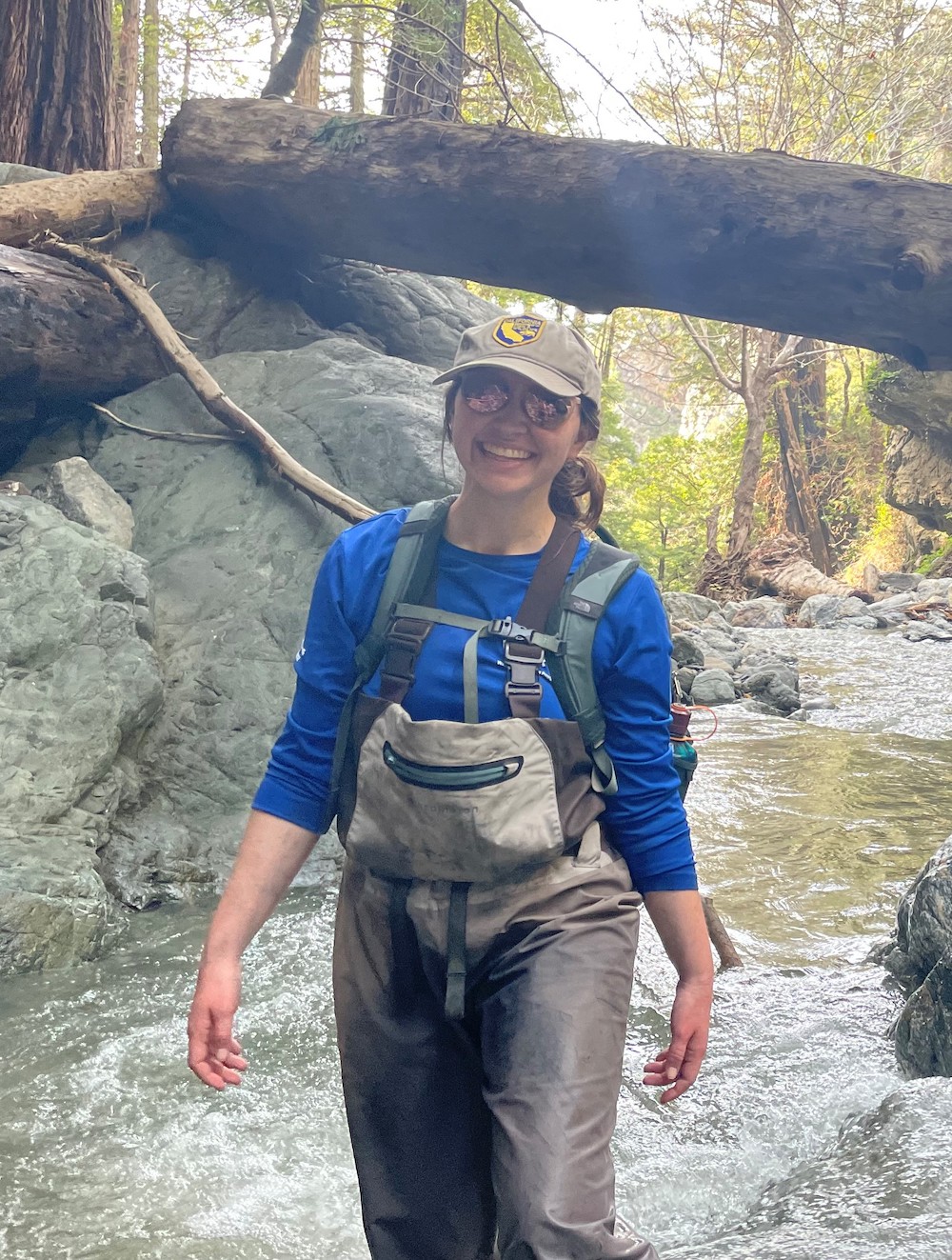 Kelsey Trammell
What does participation in the Watershed Stewards Program (WSP) entail?
Corpsmembers are sent to serve with environmental organizations throughout the state of California. Every placement site is unique and brings different responsibilities. In our case, Natalie and I were placed with the California Department of Fish and Wildlife in Big Sur to monitor steelhead.
Our tasks include analyzing sonar data to count and measure steelhead in the Big Sur River, hiking to determine end of anadromy points of streams throughout the region, spawner surveys, mapping, and water quality monitoring. The fact that we get to do this in a place as beautiful as Big Sur is a major bonus.
Another important aspect of WSP is community outreach. As part of our service, corpsmembers go to classrooms in underserved communities to teach lessons about watersheds and salmonids, as well as host Watershed Awareness Volunteer Events that benefit salmonid habitat.
What was your favorite part of the program?
The field work in Big Sur!
How does this program contribute to your career goals?
I was already interested in fisheries and working with threatened or endangered species, so WSP is a perfect opportunity for me to get real experience in that field. I get to work with experienced professionals who have been doing this for years.
Did your undergraduate degree at CSUMB prepare you for participation in the program?
Yes. Specifically, taking freshwater ecology was most helpful, but a lot of what I learned as a Marine Science major comes through in what we do.
What comes next for you?
Right now I'm getting ready to look for a job for when the program ends in August. My current plan is to continue working before deciding on grad school.
Natalie Vaughn
What has been your favorite aspect of the Watershed Stewards Program?
My favorite part of the program so far has been getting to explore the back country in Big Sur conducting surveys along the Big Sur River and its tributaries to find the limits of anadromy for steelhead. A close second favorite has to be teaching fourth graders at Natividad Elementary and dissecting a Coho Salmon for them in class.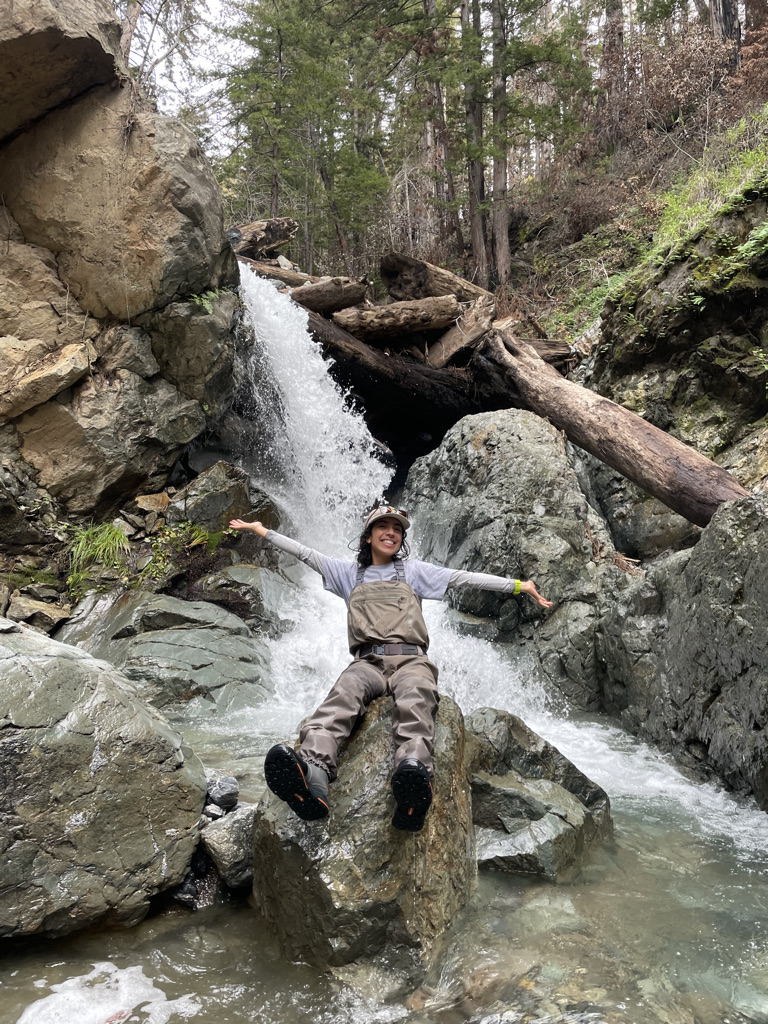 Did your experience as a science student at CSUMB contribute to your current position?
Yes, my experience as a science student contributed to my current career pathway, because while at CSUMB I was a Coastal and Marine Ecosystems Undergraduate Fellow which gave me the opportunity to work with John Olson on a Freshwater Ecology research project, which I really enjoyed. I also knew that I enjoyed education and outreach, because I also worked as a tutor on campus at the Cooperative Learning Center, and both of these experiences pushed me to apply for the Watershed Stewards Program. Although I'm not certain where my career pathway will take me, I feel as though all of these opportunities will open many new doors for me in the near future.
What was your favorite course as an undergraduate student at CSUMB?
My favorite course in undergrad was 'ENVS 303: California Transect' with Dr. Fred Watson. This course led up to a 15-day field trip from Monterey to the Eastern Sierras and back. On this field trip, nature was our classroom and I learned so much about the flora and fauna in California.
Were there any specific skills you gained as an undergraduate that helped prepare you for the Watershed Stewards Program?
Through different opportunities at CSUMB, I gained experience in fieldwork and peer education, as well as skills in scientific writing, and data manipulation and analysis which has all helped contribute to my current success.
How does this program contribute to your career goals?
This program is helping to contribute to my career goals because it allows me to explore my two interests, research and education/outreach, in great depth. I feel confident that the skills that I'm gaining from this program are preparing me for a career in either of these fields. After my role ends in August, I hope to find a job in the Monterey area with an environmental agency to continue to gain more experience in the field before eventually applying for grad school.
Keep up the incredible work, Kelsey & Natalie! We look forward to seeing where your WSP participation leads you :)