ESTP Student Attends National Leadership Summit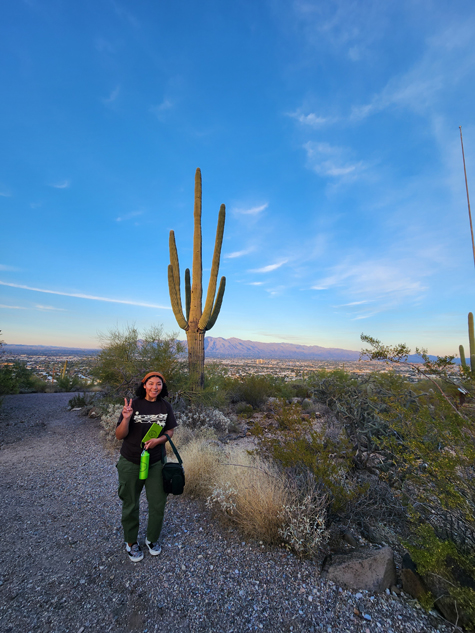 The SEEDS program is an award-winning education program of the Ecological Society of America. The program's mission is to diversify and advance the ecology profession through opportunities that stimulate and nurture the interest of underrepresented students to participate and lead in ecology.
We recently touched base with Elise to learn more about the meeting and her overall CSUMB experience. Check out her interview below.
What led you to participate in this opportunity?
Dr. Duggan nominated me to participate in this event, I hadn't been familiar with trips from SEEDS and I was eager to get involved! When I got the email that I was accepted, I was super excited! I like that ecology is a diverse field of science, there is not a single subject it covers and I enjoy learning about the variety of topics, so I was really looking forward to participating in the trip.
What was your favorite part of the event?
I was amazed to see all of the biodiversity in Arizona. Coming from California, I have always assumed that Arizona was just a desert. Going up Mt. Lemmon was an unforgettable experience.
The mountain covered a variety of biomes and it was surprising to drive from a complete desert,to oak woodlands, maritime chaparral, then find myself surrounded by pine trees before even making it to the top of the mountain, the views were breathtaking.
What did you gain from this experience?
It was very inspiring to hear how scientific contributions are being made by students all across the US. There were a variety of interests from all students, but the one thing that brought us all
together was our interest in ecology. I have no doubt that these students will make positive impactful contributions to the field of ecology and that is very motivating to me.
Another thing that was very important to me, was gaining scientific communication skills. As a scientist, I often find myself using unnecessary jargon which makes it difficult to share my research with the general public. We practiced simplifying our communication, with "elevator speeches" where we explained why a scientific topic is important. It was difficult at first to simplify my interests and passions about a topic to summarize it within about a minute. But improvement on communication skills is very important if we want the general public to acknowledge the importance of ecology.
The topic of resilience was emphasized throughout the trip, one example was about how the saguaro cactus have been standing for many years with little to no moisture, however they have made their adaptations to withstand the Arizona heat. As an environmental science student, I often hear about the dangers and challenges faced by Earth and it could be difficult to be hopeful of improvement. When I look around and realize how organisms on Earth have become resilient to withstand environmental issues, it gives me hope that things will improve and I want to continue learning more to contribute to environmental resilience.
Does this experience contribute to your career goals?
Yes, I have been interested in environmental consulting and I was actually able to hear from an environmental consultant and she was able to give me more information and I am still interested in this position!
What are your future plans? (Career goals, etc.)
I recently applied to the CSUMB Environmental Science, Master's of Science Program and I am hoping everything works out! I have made many impactful connections with my professors and other faculty on campus and it would be amazing to continue learning from them! I hope that I am able to stay to complete my master's degree. If that does not work out, I plan to work with local environmental organizations focused on conservation and sustainability.
Anything else you'd like to share
The SEEDS trip was very impactful on me and I recently applied to another seeds trip. They have a great mission and I hope that I am able to stay involved with the organization! I encourage all students to apply, having the opportunity to gain perspectives from others is very beneficial!