AES Professor is Passionate About Sustainability and Fog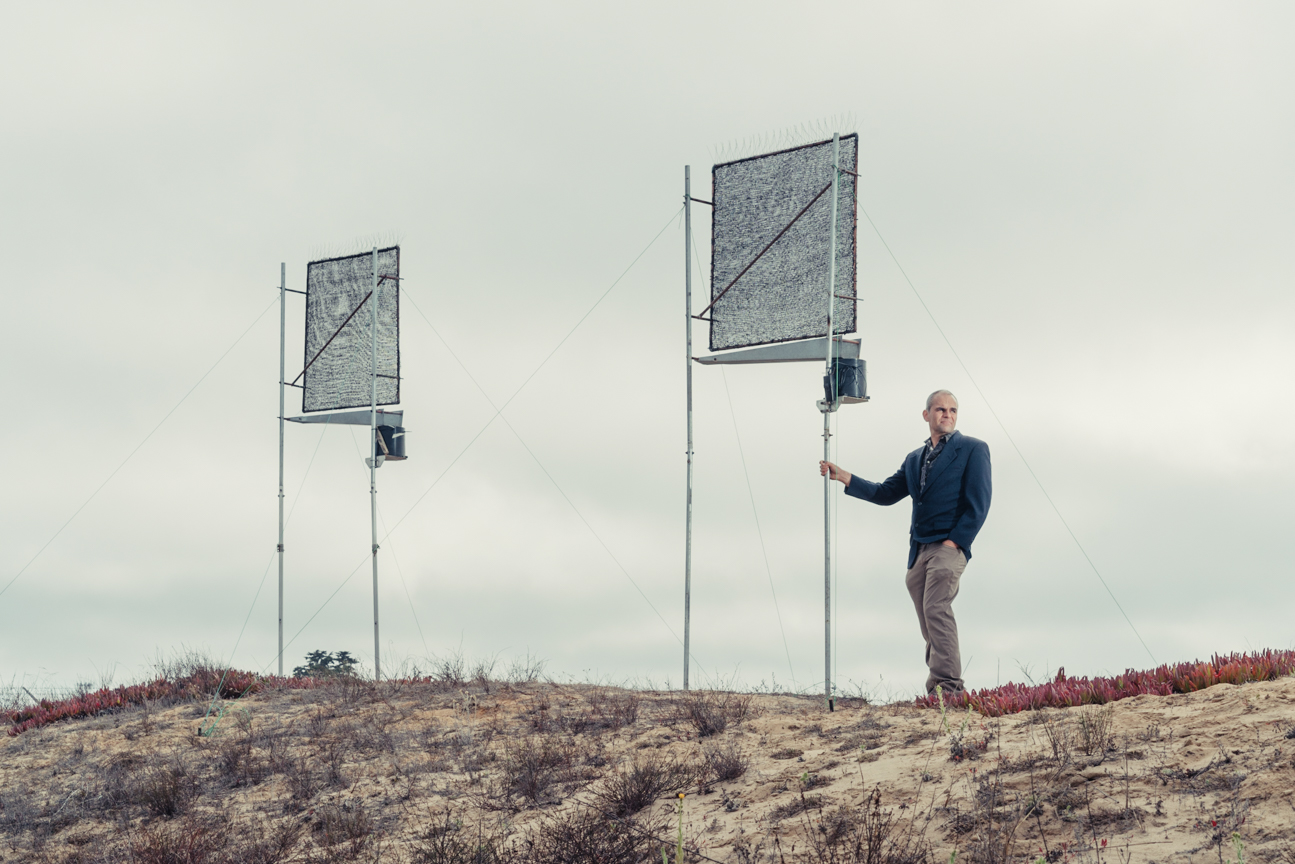 Dr. Dan Fernandez is a well-known professor in the AES and CSUMB community. In addition to teaching many physics and environmental science courses, he's well known for his fog water collection research.
Additionally, Dan created/founded the Sustainable City Year Program and runs the Fernandez Lab. When he's not conducting research or teaching classes, Dan can be found hiking, riding his bike, and building things such as his fog collectors (some of which can be seen around campus).
We recently reached out to Dan to learn more about what brought him to CSUMB and his career.
What led you to CSUMB?
I was a postdoctorate researcher at UC Santa Cruz, and before that, I had been a graduate student at Stanford. I conducted my graduate research in this vicinity and loved this area. My wife and I also had two young children and were interested in staying somewhere in coastal California. The opening of CSUMB in 1995 really piqued my interest and the mission and the vision of the university aligned with my personal ethics, so I was excited about the possibility of working here!
What is your favorite part of being a Professor?
I love working with students. I appreciate when they are engaged and passionate about the topics we address in class. I also learn a lot from them, not only about the content I teach, but in how it can be more clearly taught, more relevant, and what is an appropriate level of content given the context of their program of study.
What are the courses that you've taught/are currently teaching?
I was originally hired in 1996 to teach physics for science students, which, I am happy to say, I still do. In addition, I teach a number of courses in the Environmental Studies program, including Systems Thinking, Infrastructure Systems, and senior-level capstone where students engage in projects with regional cities and other municipalities on projects intended to both enhance the sustainability of these municipalities and provide experiences and opportunities for my students to obtain meaningful and relevant employment. I have also taught other courses along the way, including programming, chemistry lab, and signal processing.
What is your background? (Educational, professional)
All of my degrees (BS, MS, and PhD) are in electrical engineering. I did my undergraduate work at Purdue University and my graduate work at Stanford University. My research as a graduate student was interdisciplinary (which was my interest in general) and it involved environmental measurements, specifically measuring ocean surface currents and waves using radar. That led me to my postdoctoral research at UC Santa Cruz and it provided me the opportunity to apply to CSUMB to teach physics. While CSUMB did not have an engineering program at the time (we are in the process of starting one now!), my work in environmental measurements fit well with the needs and interests of the science program here and the university was looking for science faculty with an interdisciplinary focus. That probably helped me get the position that I now hold, and have had for nearly 27 years!
What hobbies do you like to participate in during your free time?
I enjoy many things. I like to hike and bike and I love being able to get around campus and the community by bike. I meditate daily. I also like to surf occasionally and I lift weights as often as I can. I also like to tinker and build things, such as the many fog collectors I use in my research now. Since 2016, I have also gotten very involved in a martial art known as Brazilian Jiu Jitsu (BJJ) which, except for injuries, illness, and the pandemic, I do that as often as I am able. BJJ is a little bit like wrestling, except that the goal isn't to pin the other person, but get them into a situation where they have to tap. It is a lot like chess, but in a very physical context. It has expanded my perspective on many of the topics I teach, including physics and systems thinking.
What has been your greatest professional accomplishment thus far?
CSUMB has given me many opportunities to grow and develop myself in ways I have not expected. I have been chair of the academic senate and chair of what was the Division of Science and Environmental Policy. I have also started the Sustainable City Year Program, where students in my classes and in other classes across campus work on projects desired by a regional city to make their practices more sustainable. However, what I think is my greatest professional accomplishment is my work in fog water collection and in fog research in general. Over the past 18 years, since I started looking at fog, I have worked with over 200 students, whether in classes, through grants, with UROC, or in independent research. I have also established collaborations with dozens of researchers both nationally and internationally, and I have deployed and I maintain dozens of fog collection research sites throughout the state, one of which is behind our library. The work my collaborators, students and I are doing is expanding our knowledge of fog and how water from fog can be collected and used for many purposes, including agriculture, forest regrowth and even, with proper treatment, human consumption. I have also had the opportunity to participate in numerous media stories and even a TEDX talk on the topic.
Anything else you would like to share?
I am thrilled to have been for 27 years, and continue to be, a CSUMB faculty member and work with my wonderful faculty, staff and administrative colleagues on campus as well as our outstanding and engaged students. I often say that I came to CSUMB as a "freshman" (new and eager, but with a lot to learn!) and have grown along with the university. I think I am somewhere in my senior year now! Who knows when I will "graduate" ...?
Thank you for all that you do, Dr. Fernandez!