ENSCI Graduate Received CSUMB President's Graduate Award for Exemplary Regional Stewardship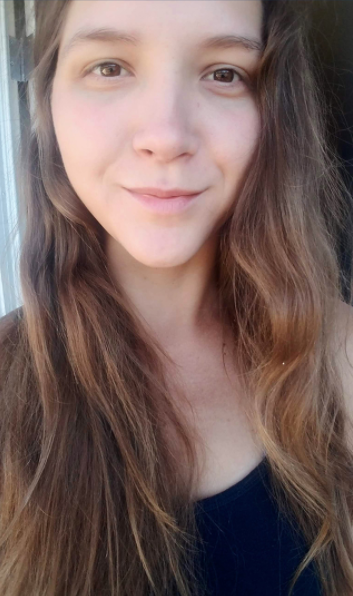 Mikaela Bogdan, a recent graduate of the Environmental Science master's program, was awarded the President's Graduate Award for Exemplary Regional Stewardship in Spring 2021.
The President's Graduate Award for Exemplary Regional Stewardship is granted to a well-rounded graduate student who has best demonstrated the values and commitments of CSUMB via a notable contribution to the community as a student leader, is a positive agent of innovation and action, and has demonstrated service to the region.
For more details about this incredible accomplishment, check out the excerpt below.
An excerpt from "CSUMB honors graduates for academic excellence, regional stewardship" by Sophia Huang McKenzie (2021)
As a master's degree candidate, Mikaela Bogdan expected to gain invaluable skill sets to make her more employable. She didn't expect to gain a strong desire and rekindled passion to use those skill sets to serve.
"My experiences at CSUMB have taught me that being an environmental scientist requires a careful balance between producing objective, defensible results, and nurturing a service-oriented mindset. Combined, these assets can be used to bridge the divide between scientists and the public to enact real change," Bogdan said.
She has helped foster a relationship between CSUMB and the Esselen Tribe of Monterey County by mapping wildfire on the tribe's reacquired ancestral land in Big Sur. Bogdan and her colleagues produced a quantitative assessment showing how reintroducing indigenous cultural practices could benefit the natural landscape. This provided the tribe with information useful for acquiring future funding for fuel reduction and vegetation management projects.
She worked as an Education Associate for the Carmel River Watershed Conservancy for three years, teaching watershed curriculum to local elementary through high school students and inspiring them to pursue science careers and environmental stewardship.
Bogdan created the first Carmel River Watershed Health Report Card to communicate scientific research and complex analyses in a format understandable to the public, policymakers, and land use managers. The report card is being used to prioritize funding allocation toward management and restoration projects focused on recovering endangered wildlife populations, alleviating flood risks to human communities, and restoring natural flows in the Carmel River, Bogdan said.
We recently touched base with Mikaela to learn more about her experience as a graduate student. For additional insight, explore her interview below.
What was your favorite part about being a graduate student at CSUMB?
My favorite part about being a graduate student at CSUMB was the challenge. I was constantly being pushed by my teachers to reach greater potential. I came out of the graduate program more knowledgeable, more capable, and more confident than I'd been going into the program. My teachers at CSUMB truly empowered me and I will be forever grateful to them for sending me off into the world feeling fully prepared to succeed in my field.
What did your graduate project entail?
I did my graduate project with the Carmel River Watershed Conservancy. My project consisted of creating a watershed health report card for the Carmel River watershed. This entailed collating and analyzing several datasets to obtain scores for certain watershed health indicators as well as an overall score for the entire watershed. Some of the indicators analyzed included baseflow trends of tributaries, surface water chemistry, bird species diversity, and river-floodplain connectivity. The purpose of the report card is to provide a holistic assessment of watershed health that is readily accessible and easily understood by a diverse audience. The report card is posted on the Carmel River Watershed Conservancy's website and will be used for education outreach, public engagement, and prioritization of restoration projects within the Carmel River watershed.
How has your graduate degree contributed to your career goals?
My graduate degree has directly benefited me in my career. My degree opened several career opportunities for me even amidst a global pandemic. CSUMB prepared me to launch into a career in my field immediately after graduate school by providing me with a comprehensive and unique skill set that gave me a competitive edge when applying for positions. I went to graduate school with the longer-term goal of becoming a scientist at a local environmental consulting firm and I am now employed as a staff scientist at a firm in Monterey!
What have you been up to since graduation?
After graduation, I started working as a staff scientist with Burleson Consulting, a Terracon Company. I have been able to focus more on my favorite hobbies, so I have been playing a lot of disc golf, reading, playing music, and occasionally sailing! I have also enjoyed staying in touch with several members of my cohort; I feel very fortunate to have been part of a cohort that resulted in a lot of lasting friendships. A group of us went on a trip to San Francisco after graduation, which was a blast, and I'm looking forward to more adventures with them in the near future.
Congratulations on this incredible achievement, Mikaela!