ESTP Student Named Ernest F. Hollings Scholar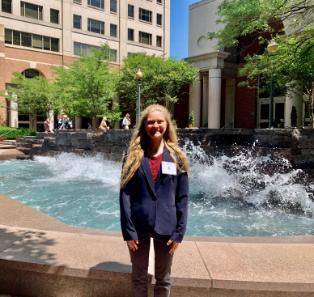 Avalon Provance, a current Environmental Science, Technology, & Policy major, was named an Ernest F. Hollings NOAA Scholar.
We recently touched base with Avalon to learn about what she's looking forward to and how this program will help her with her professional goals.
The Ernest F. Hollings Undergraduate Scholarship provides successful undergraduate applicants with awards that include academic assistance for two years of full-time study and a 10-week, full-time paid internship at a NOAA facility during the summer
What is your favorite part of the program so far?
My favorite part of the program so far was meeting all of the wonderful people at the orientation in Maryland in May.
What are you most excited about, being an Ernest Hollings scholar?
As a Hollings scholar, I am most excited to do the research next summer.
What are your professional goals, and does this program help you reach your goals?
My professional goals are to be a scientist and also to get a master's degree related to environmental sciences. This program will help me to reach these goals as it provides research experience and networking in the general field of environmental sciences.
Congratulations, Avalon!