Student Housing Evacuation Plans
What to expect during an evacuation
During an evacuation, your entire building and residential buildings around you may be activated in an emergency situation. Both audible and visual notification systems will be activated requiring all individuals within the building to evacuate. You should expect flashing lights, as well as pulsating siren noises. You will be directed by housing staff towards your emergency assembly point.
It is important that you evacuate the building completely and do not reenter the building until you are notified by a housing representative.
Area 1 evacuation plan
Main Campus buildings that include Cypress, Asilomar, and Willet and Manzanita will evacuate near the library on Divarty Street.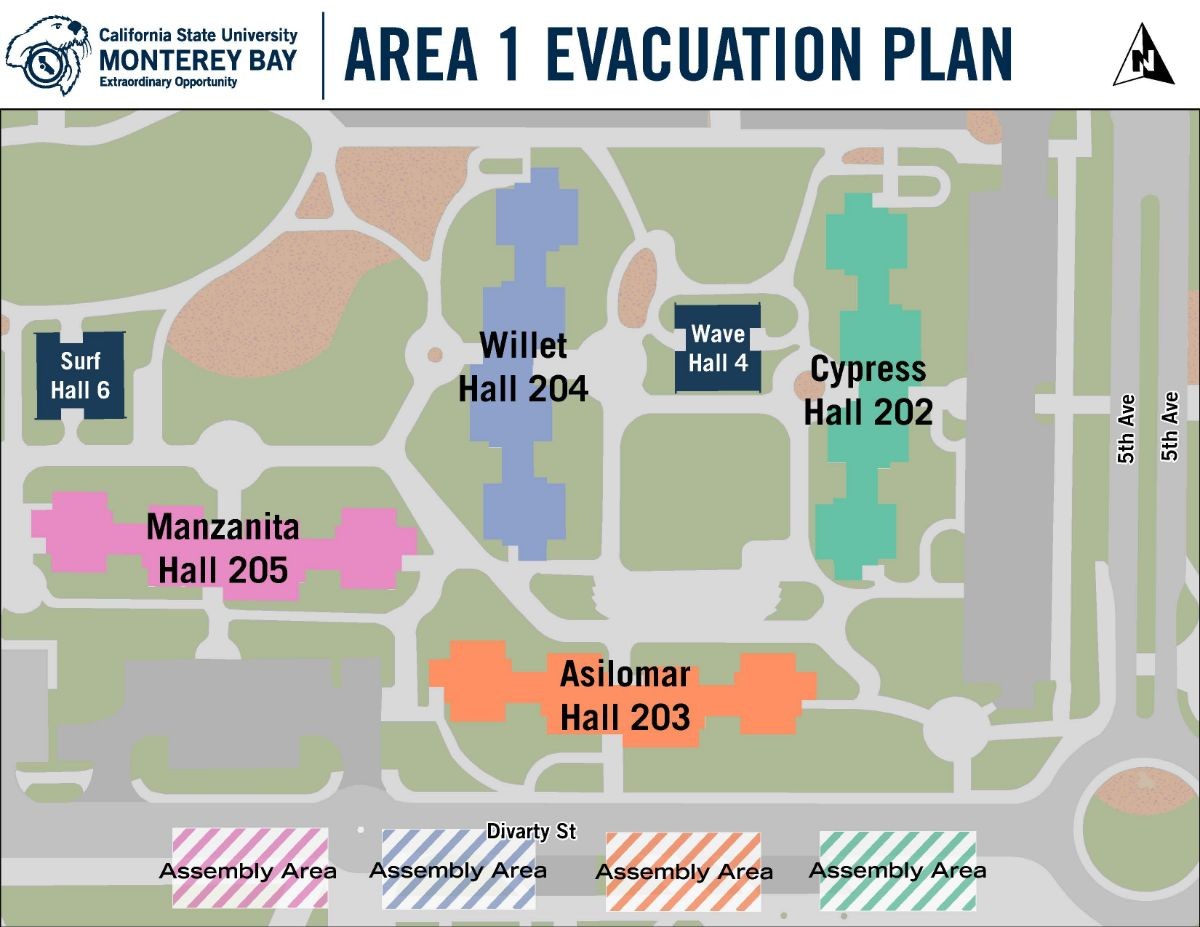 Area 2 evacuation plan
Main Campus buildings that include Yarrow, Avocet, Tortuga, and Sanderling will evacuate to the sidewalk area in front of the Otter Express, Dining Commons, and Heron Hall respectively.
North Quad evacuation plan
North Quad buildings that include Pinnacles, Vineyard, and Strawberry will evacuate behind the volleyball court, the north entrance of Vineyard, and the basketball court respectively.
Promontory evacuation plan
Promontory buildings that include Promontory West, Center, East will evacuate towards the west, center, and east parking lots respectively.
Frederick Park I Evacuation Plan
Assembly Area for each court is in the center island of the court.
Frederick Park II Evacuation Plan
Assembly Area for each court is in the center island of the court.
FOR ALL RESIDENTS LIVING IN STUDENT HOUSING: In the event of an actual emergency you are asked to:
Know where each Entrance/Exit for your residence hall is located.
Leave your residence hall quickly and calmly at the first sound of a Fire Alarm.
Report to your designated evacuation location where the RA's and professional staff will give you further instruction.
If you live with a roommate who has special needs or who is physically disabled---Please make sure to assist them in exiting the apartment and getting to safety. Should you need help in assisting a disabled resident---you are asked to immediately report your need for help to the first RA, professional staff person or any rescue personnel who are at the scene.
Please note: it is always a good idea to keep near you at night: a flashlight, your identification, keys, shoes and clothing that you could grab easily and put on quickly should you be required to evacuate your apartment or building.
Additional Resources
Below are some basic resource links to support your learning and basic safety and your living environment.
There are volumes of information available on disaster preparedness and what to do in the event of an emergency. Here is a list of some great and free resources: