2022 College of Business Showcase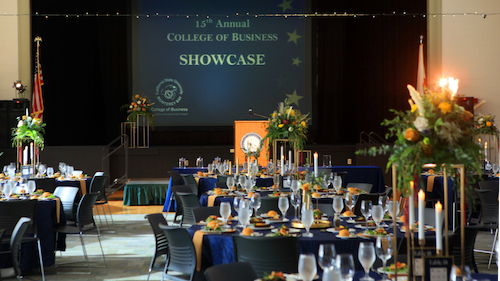 May 10, 2022, Seaside, CA – The 15th Annual College of Business Showcase was held on May 10, 2022,
in the University Center Ballroom on campus.
The event is a gala celebration honoring our outstanding graduates, staff, faculty, and local community and business leaders. College of Business staff and Sustainable Hospitality Management program student volunteers created an elegant and festive atmosphere for the first in-person Showcase since 2019, with beautiful tablescapes, music, and a sit-down dinner. All graduating seniors were invited to attend and were seated with College of Business administration, faculty, and
community partners at donor-hosted tables.
In addition to awards honoring outstanding students in the College's three degree programs, there was a tribute to the College of Business faculty and staff, highlights of 2022 Senior Capstone teams by Professor Joel Ryman, and recognition of seniors who graduated with a major GPA of 3.50 or higher with the bestowing of kukui necklaces to be worn at graduation.
Two individuals from the local community were honored for their exemplary leadership and positive impact in the region. The Community Leadership Award was presented to Mayor Kimbley Craig of Salinas and the Business Leadership Award was presented to Monterey Bay Area visionary business leader Luis Alvarez. (Please view photos and bios of all awardees below.)

Special recognition was also given to four key contributors to the College of Business. Dr. Shyam Kamath was honored as "Emeritus Founding Dean of the College of Business" for his service from 2013 until his retirement in July of 2021. Dr. John Avella was honored as "Executive Director Emeritus, Sustainable Hospitality Management Program" for his role in the creation and implementation of the only hospitality management program in the country focused on sustainability. Adjunct professor, Fane Opperman, received The Davis, Froshman, and Shockley Lecturer Faculty Award for his dedicated service to the education and mentorship of College of Business students. And finally, CSU Monterey Bay's President Eduardo Ochoa was honored upon his retirement with the President's Commemorative Award for his support of the College of Business's goals and initiatives.
The College of Business wishes to thank the table sponsors for making this year's event possible. Special appreciation goes to the organizing committee, led by Paige Viren and Cheri Rainwater, for all the hard work that went into producing an outstanding event.
Outstanding Graduate Awards
Outstanding MBA Graduate
Blair Orlando began her educational journey at California Polytechnic State University, San Luis Obispo where she received a Bachelor of Science degree in Recreation, Parks & Tourism Management in 2019. After graduating, Blair's career in events began in San Francisco, California while working for the global leader in experiential marketing.
Between January 2021 and July 2022, Blair completed her Master of Business Administration (MBA) degree at CSUMB, graduating at the top of her class, while simultaneously working as an Event Manager at George P. Johnson, where she still remains today. Blair plans to use the communication, leadership, strategy, and responsible business skills learned through CSUMB's MBA program throughout her career. In the future, Blair hopes to work as an Accounts Director at the Executive Level within the field of experiential and event marketing.
Blair is most proud of her passionate and driven mindset and believes in paying it forward and is directly involved in recruiting young talent within the events industry and building programs to help them succeed. Blair credits her success to her close friends and family and thanks them for their patience, guidance, and continuous encouragement during this journey.
Outstanding BSBA Graduate
Adam Errahebi holds an Associate in Business Administration from Monterey Peninsula College and he completed his Bachelor of Science in Business Administration, with a concentration in accounting, at CSUMB in May of 2022.
Adam is a Veteran Services Representative responsible for connecting the Veterans of Monterey County and their families with Veterans Affairs and State of California benefits. Adam is also responsible for providing homeless at-risk Veterans with disability, pension, education, and housing benefits. Prior to attending school, Adam served in the United States Air Force for six years. During this time Adam gained key skills and experiences that would lead him to develop a passion for Business and helping others.
Outstanding BSSHM Graduate
Holly was born in Salinas and raised in Hollister, California. After graduating from San Benito High School, Holly earned her Associate of Arts in Business Administration at Gavilan Community College before enrolling at CSUMB for Sustainable Hospitality Management.
Holly persevered to complete her degrees in spite of two major health scares, one of which resulted in brain surgery at age 19, followed by a diagnosis of stage two ovarian cancer requiring three rounds of chemo. Fortunately, during that time school was still online so Holly could still attend and participate in classes on her laptop while in the hospital.
In addition to her role as Student Volunteer Coordinator for the BSSHM program, she served as a volunteer at the Sea Otter Classic at Laguna Seca and the Monterey County Hospitality Association's Annual Dinner Gala. During the Summer of 2021, Holly was one of fourteen students selected to participate in the Pebble Beach Special Events Management Team program, serving as a hospitality patio manager at the annual Pebble Beach Concours d'Elegance. Due to her outstanding performance, in February 2022, Pebble Beach asked her back to be a manager of a corporate sky suite for the AT&T Pro Am.
Holly enjoys helping out with her family's businesses, including a commercial pumpkin patch in San Juan Bautista and raising white homing doves which are released at multiple events around the Monterey Bay Area including, weddings, funerals, rodeos, Relay for Life, graduations, etc. Holly is extremely grateful to her family, friends, and CSUMB faculty for their support during her cancer journey while obtaining her degree. She is also appreciative of the opportunities given to her through the hospitality program and will cherish those memories forever.
Community Leadership Award
Kimbley Craig is the current Salinas Mayor, Executive Director of Leadership Monterey County, and CEO of Monterey County Business Council, where she forges cross-sector partnerships between private, public, and nonprofit agencies. Kimbley has balanced her career with an unwavering commitment to Salinas and Monterey County. Kimbley is on the Rodeo Committee and has held positions on the Board of Directors for the Junior League, Salinas Valley Chamber of Commerce, Big Brothers Big Sisters, and SVMHS Heart & Sole 10K Race. She is a founder of Monterey Bay Derby Dames, a local non-profit organizational women's roller derby team. Kimbley is widely recognized for her ability to mobilize resources and volunteers. She was the youngest woman ever elected to office in Salinas. Additionally, she completed the Naval Postgraduate School's Center for Homeland Defense and Security Master's degree program. Kimbley and her partner Bobby live in Salinas with their Corgi, Lucy.
Business Leadership Award
Since founding the Alvarez Technology Group (ATG) in 2001, Luis Alvarez has led the company to grow from a small, two-person consultancy to a premier technology solutions provider in California, delivering Security, Internet-of-Things (IoT) and information technology (IT) services.
The company's vision is to keep it's clients safe, secure, and successful, a challenge that is enthusiastically embraced by Luis and the team of professionals at ATG. A visionary who never shies away from exploring exciting new technologies that will give his clients a competitive advantage, Luis specializes in working with executives and stakeholders of small- and mid-sized businesses, sharing his expertise by advising them on trends, analyzing their systems for
Luis has lived and worked in the Monterey Bay area since 1986, after 21 years of combined active and reserve duty with the United States Air Force. While in the Air Force, he served in various command positions, including the Air Force Information Warfare Center/Air Force Computer Emergency Response Team (AFIWC/AFCERT) and the Defense Intelligence Agency.
Luis has been received numerous accolades and awards, most notably landing on the CRN MSP 500 list as well as leading the company to an appearance on the Inc. 5000 Fastest-Growing Private Companies five years in a row. He is also recognized as a community leader, serving on the board of numerous organizations, including the Ranch Cielo Youth Camp, Montage Health, the Monterey County Business Council, and is an advisor to the STEM Taskforce and California State University, Monterey Bay School of Business.
Luis lives in Monterey with his wife, Ronni, and is an avid sailor. He has a BA in information technology and an MBA from the University of Phoenix.
Otter Awards for Special Recognition
Executive Director Emeritus, Sustainable Hospitality Management Program at CSUMB
John's background includes 45 years of human resource development and operations experience in the hospitality industry. He has been Vice President of Human Resources for Marriott Corporation, The Rainbow Room and Windows on the World. He was also the Human Resource Director at the 2002 Olympics for all food service facilities (125,000 meals per day). John partnered with Mick Fleetwood of Fleetwood Mac to create and operate a Blues club in the DC area.
John is presently the Executive Director Emeritus of the Sustainable Hospitality Management Program at Cal State University, Monterey Bay. Where he created and implemented a BS degree in Sustainable Hospitality Management, the only program like it in the country. He is President of EQ International Perspectives (New York and Monterey). Their clients include: Google, Coca-Cola, Toyota, Columbia University, New Jersey Restaurant Association, Sony Pictures, and Metro-North Railways, to mention a few. He has a Doctoral degree from Columbia University, with a concentration in Adult and Organizational Learning. Dr. Avella has spoken nationally and internationally about the application of Emotional Intelligence to Customer loyalty and leadership.
He is a member of the Board of Directors for the California Travel Association and the Monterey County Hospitality Association. He is also co-founder of the Monterey Bay Ecotourism, Responsible/Sustainable Tourism Group. John has co-coordinated two international summits on Ecotourism and Responsible/Sustainable Tourism. The speakers were international experts from Costa Rica and Croatia. The US speakers were respected experts in Responsible Tourism, Sustainable Hospitality and the ROI of Sustainable Tourism.
John has also competed nationally and internationally in Triathlons for the past 24 years.
During his 60's he was ranked nationally in the top 20 in his age group.
Emeritus Founding Dean of the College of Business at CSUMB
Dr. Kamath is the Founding Dean of the College of Business, serving in that role from 2013 through July 2, 2021. He has more than 35 years of experience in international education, international development and management, sustainable enterprise formation, global business consulting and university teaching. The College's Institute for Innovation and Economic Development grew its Startup Challenge event series into a regional powerhouse of entrepreneurial startup development. The college—and, by extension, the university—vastly expanded its connections with the regional business community, built international relationships, and established the vision of Responsible Business. In eight eventful years under Dr. Kamath's leadership, the Business program at CSUMB transformed from one of several majors housed in the former College of Professional Studies into a dynamic and cohesive free-standing College of Business, highly regarded regionally and nationally, functioning as a principal connector between the university and the surrounding community, and placing its graduates in successful career paths. Dr. Kamath also guided the long and laborious process toward AACSB accreditation which is on the path to completion.
Shyam Kamath, Ph.D., is an internationally recognized scholar and educator who has gained recognition as a global innovator and expert in the area of community development, experiential learning, and business program innovation. His distinguished career has also focused on building programs and institutions that benefit those who are underserved and underrepresented while focusing on economic opportunity and human excellence.
Dr. Kamath has held academic and administrative positions at leading universities in the U.S., Canada, Asia, and Europe. He is the recipient of numerous teaching and research awards including the Distinguished North American Lasallian Educator of the Year in 2012, the prestigious Leavey Award for Excellence in Private Enterprise Education and multiple outstanding professor and educator awards. He teaches classes in international business, global management, and economics. Previously, he was an entrepreneur, as a co-founder of three start-ups, has pioneered a number of academic start-ups, and has worked for leading international firms in the energy, equipment, and consumer goods areas.
He has been a consultant to four governments and over 100 companies and non-profits worldwide. He has published over 80 articles in leading peer-reviewed scholarly and trade journals and is the author or co-author of three books: Excellence in Exporting (Govt. of Canada Press, 1986), Political Economy of Suppressed Markets (Oxford University Press, 1992), and Corporate Governance Failures (University of Pennsylvania Press, 2011). In addition to his academic responsibilities and work, Dean Kamath serves on the boards of four non-profits and one for-profit company, including being the CEO of a Monterey-based non-profit organization.
The Davis, Froshman, and Shockley Lecturer Faculty Award
Fane Opperman is an adjunct professor teaching Personal Financial Management and Human Resource Strategies for the past seven years in the College of Business at CSUMB. He is also Managing Director of Investments at Wells Fargo Advisors.
He has served on school boards for several decades. He is a graduate of The University of Minnesota and holds the Certified Financial Planner (CFP®) designation.
President's Commemorative Award