Interim Dean Dr. Marylou Shockley
Dr. Marylou Shockley joined the College of Business in 2006 as Business Department Chair. She brings her passion for leadership, international business, and organizational behavior to her role as Interim Dean. She is the author of several books and her work in the fields of diversity and social application of network technologies is well-known and is based on her significant business experience with At&T and Pacific Bell.
Dr. Shockley earned her doctorate in business from Oxford University in England.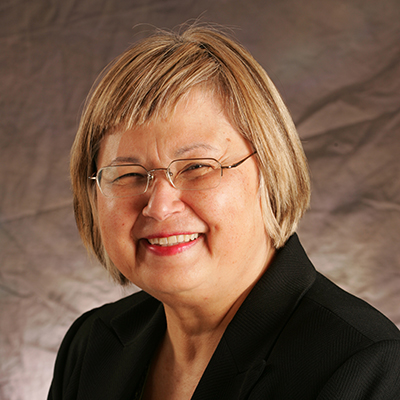 Unveiling of plaques to commemorate donations by Marylou Shockley
December 14, 2021 – CSUMB Provost Katherine Kantardjieff and Vice President for University Advancement Barabar Zappas will host a ceremony to unveil two special plaques commemorating donations by College of Business Interim Dean Marylou Shockley. The plaques will be displayed in the Business and Information Technology Building inscribed as follows:
Classroom 112: "Shockley Family in Memory of Raymond and Sandra Shockley"
Room 316 - Staff & Faculty Workroom: "With appreciation to Marylou L. Shockley for her support of CSUMB and the generous snack donations to the College of Business Faculty Breakroom over the years."
Since joining the College of Business in 2006, Dr. Shockley has been a generous supporter of the students, faculty, and staff.
Business professor establishes three endowed awards for fellow employees
Marylou L. Shockley, Interim Dean of the College of Business, is the first CSUMB employee to establish endowed fellowship awards for fellow employees.
In March, Provost Katherine A. Kantardjieff announced that three endowment awards had been created by Shockley and members of her family through the Foundation of CSUMB.
"I feel that the CSUMB team that serves students is dedicated, hardworking, and caring," Shockley said. "We couldn't fulfill the Otter Promise to students without all of us as a team."
The inaugural awards and their respective recipients are:
2021 Callie Chastain Distinguished Staff Award: Sathyan Sundaram, research analyst in Institutional Assessment & Research
2021 Marylou L. Shockley Faculty Fellowship: Megan Sulsberger, assistant professor in the Department of Education and Leadership, College of Education
2021 Davis, Froshman, and Shockley Lecture Faculty Fellowship: Jennifer Lucido, lecturer in the School of Social, Behavioral and Global Studies of the College of Arts, Humanities, and Social Sciences
Read the full article by Walter Ryce.
With the recent announcement of Dean Shyam Kamath's retirement later this summer, I am pleased to announce that Dr. Marylou Shockley will serve as Interim Dean in the College of Business effective July 1, 2021. Dr. Shockley is well-prepared to advance the priorities of the college, in particular AACSB accreditation.

Dr. Shockley served as chair for the College of Business since joining CSUMB in Fall 2006. Marylou co-developed and successfully launched the MBA program with Dr. Murray Millson in 2008, designed nine courses for the college, and secured over $1.4 million in grant funding. While serving as chair, she has continued her research and consistently published. Marylou has participated in countless committees throughout the College of Business.

Outside of the college, she served on the University RTP committee for four years. She served on ASEC for the last four years, on faculty affairs for two years, and was part of the Senate Curriculum Committee Counsel as the College of Business representative for the previous six years. Before Dean Kamath arrived in Fall 2013, Marylou helped establish the Tanimura Family Foundation, an annual scholarship that provides full tuition to four agribusiness students. In addition, Marylou worked with Carol Davis to set up the Friends and Family Scholarship. She recently helped establish and donated to two faculty fellowships and one staff award, given annually. In the local community, Marylou has served as the president and board member for the Grower-Shipper Association Foundation, been involved with the Small Business Development Center, and as an external reviewer of "Salute to Small Business" applications for the KSBW news station.

Dr. Shockley earned a bachelor's degree in business and economics from the University of Hawaii; a master's degree in business administration from the University of Southern California; and a PhD in philosophy-business from Oxford University in England.

Please join me in welcoming Dr. Marylou Shockley to her new role at CSUMB.
Katherine A. Kantardjieff, PhD
Provost and Vice President for Academic Affairs
California State University, Monterey Bay

Dr. Kamath is the Founding Dean of the College of Business, serving in that role from 2013 through July 2, 2021. He has more than 35 years of experience in international education, international development and management, sustainable enterprise formation, global business consulting and university teaching.

The College's Institute for Innovation and Economic Development grew its Startup Challenge event series into a regional powerhouse of entrepreneurial startup development. The college—and, by extension, the university—vastly expanded its connections with the regional business community, built international relationships, and established the vision of Responsible Business. And finally, the long and laborious process toward AACSB accreditation has been brought to imminent completion. The college has become AACSB's shining example for best practices in assessing learning outcomes.

In eight eventful years under Shyam's leadership of the College's outstanding faculty and staff, the Business program at CSUMB transformed from one of several miscellaneous majors housed in the former College of Professional Studies into a dynamic and cohesive free-standing College of Business, highly regarded regionally and nationally, functioning as principal connector between the university and the surrounding community, and placing its graduates in successful career paths.

Shyam Kamath, Ph.D., is an internationally recognized scholar and educator who has gained recognition as a global innovator and expert in the area of community development, experiential learning, and business program innovation. His distinguished career has also focused on building programs and institutions that benefit those who are underserved and underrepresented while focusing on economic opportunity and human excellence.

Dr. Kamath has held academic and administrative positions at leading universities in the U.S., Canada, Asia, and Europe. He is the recipient of numerous teaching and research awards including the Distinguished North American Lasallian Educator of the Year in 2012, the prestigious Leavey Award for Excellence in Private Enterprise Education and multiple outstanding professor and educator awards. He teaches classes in international business, global management, and economics. Previously, he was an entrepreneur, as a co-founder of three start-ups, has pioneered a number of academic start-ups, and has worked for leading international firms in the energy, equipment, and consumer goods areas. He has been a consultant to four governments and over 100 companies and non-profits worldwide.

He has published over 80 articles in leading peer-reviewed scholarly and trade journals and is the author or co-author of three books: Excellence in Exporting (Govt. of Canada Press, 1986), Political Economy of Suppressed Markets (Oxford University Press, 1992), and Corporate Governance Failures (University of Pennsylvania Press, 2011). In addition to his academic responsibilities and work, Dean Kamath serves on the boards of four non-profits and one for-profit company, including being the CEO of a Monterey-based non-profit organization.