Interested in applying to UROC Scholars?
If you are interested in applying to the UROC Scholars/McNair Scholars Program, the best first step is to attend an informational and drop-in sessions to learn more about the Scholars program. You will get a general overview, hear more about the expectations and benefits of the program, get helpful advice in preparing your application, and have a chance to ask any questions. Applications for the UROC Scholars/McNair Scholars Program open in October of each year.
UROC Scholars are:
from all disciplines and majors.
dedicated to scholarship, leadership, and high-achievement.
striving for intensive research experiences.
intellectually curious.
willing to work hard and master new skills.
committed to pursuing a research-based graduate degree.

Note: We are not able to support students pursuing professional programs such as medical or law school.
Scholars commit:
to 2 summers of undergraduate research.
to 4 consecutive semesters of RSCH courses to prepare them for professional development opportunities.
Eligibility:
A GPA of at least 3.0 OR a significant upward trajectory in GPA over the last few semesters.
Applicants must be committed to pursuing a graduate degree, especially a Ph.D. with a research focus. Students interested in pursuing a research based Masters degree may also be considered.
Students must be able to fit each of UROC's mandatory RSCH courses into their upcoming course schedule, and each subsequent semester until completion of the Scholars program.

Note: Students typically apply during the fall of their sophomore year and must have four semesters remaining at CSUMB. Applicants who do not align with that timeline may be eligible to complete the Mid-Cycle Application.

Applicants must be enrolled as a CSUMB student by the first semester of their participation in the UROC Scholars program.
Interested in applying to UROC Researchers?
If you are interested in applying for the UROC Researchers program, the first step is find a research mentor and/or project. You can find a research mentor or project by exploring your major's list of faculty or research projects and contacting them expressing your interest. Be sure to find one that aligns with your own research interests. Applications open towards the end of the semester for the following term.
After identifying a willing research mentor and research project, students may begin the application process. Ideally, at the time of application submission, applicants will have already spent some time engaged in research under their mentor's guidance.
Research mentors may be scientists, faculty, or graduate students (at CSUMB or a regional partner institution) with the experience and willingness to mentor the student along a developmental trajectory toward independence, originality, and autonomy. In the process, mentors help their mentee develop critical thinking, inquiry, communication, and analytical skills through authentic contributions to real-world research.
You can also explore our Open Research Opportunities page to find more opportunities.
Applicant Eligibility
Applicants must be currently enrolled as a CSUMB undergraduate student.

6 units minimum to be eligible for student employment (Researcher = Student Assistant).

Applicants must have a cumulative GPA of 2.75 or above.

Exceptions to this rule may be considered but must be discussed with UROC staff before submitting the UROC Researcher Application.

UROC Researchers must maintain a GPA of 2.75 or above each semester they are supported by UROC.

CSUMB students may be

financially s

upported as UROC Researchers for a

total of 3 academic terms

, including summer term

(research terms do not have to be consecutive).

Students may receive course credit for additional academic terms.
UROC Researchers Commitment
Engagement with research mentors from within the CSUMB faculty or the Monterey Bay

region (amount of hours worked is determined by the student and research mentor).

Participation in program development workshops each term you are supported by UROC (see below).
Follow all UROC and University Corporation undergraduate research funding policies.
Program Deliverables
UROC strives to ensure that student researchers are actively and consistently taking advantage of campus and community resources that will contribute to their development as researchers, students, and professionals. UROC Researchers must participate in workshops, create an ePortfolio, and guidance meetings.
Visit UROC Benefits and Expectations for more details on this requirement.
Research Dissemination
While presentation of research conducted while a UROC Researcher is strongly supported, it is not an official requirement.
UROC Researchers are expected to pursue opportunities to present their research, such as campus research presentation events (e.g. Fall and Spring Showcases, CSUMB Summer Research Symposium, or Undergraduate Research Week) or national and regional conferences.
A lack of initiative by the UROC Researcher towards fulfilling this requirement will negatively affect the Researcher's chances of continued UROC Researcher funding.
Preparing your application:
Plan ahead! The application has several pieces that will take time to prepare.
Tips for preparing:
Identify two potential CSUMB faculty mentors. Talk to them about your personal and professional goals and why you think the Scholars program will get you closer to those goals.
Meet with a UROC staff person to discuss your application and research interests.
Talk to current UROC Scholars and ask them what they love about the program.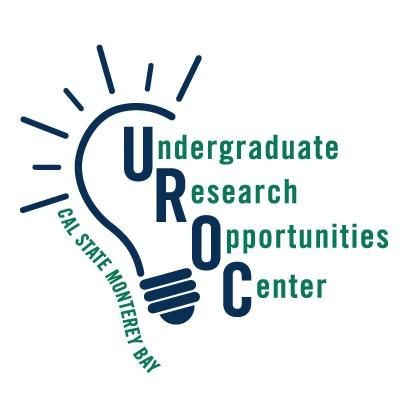 Still have questions? Schedule a one-on-one consultation with a UROC staff that will help answer your questions.