Introductory College Apprentice Research Experience
Thanks to the National Science Foundation (NSF) Improving Undergraduate STEM Education grant, CSUMB is proud to partner with Monterey Peninsula College (MPC) to offer the Introductory College Apprentice Research Experience (iCARE) program to MPC and CSUMB undergraduate students at the CSUMB campus. Students will participate in faculty-mentored undergraduate STEM research that is composed of rigorous, authentic, and calibrated scholarly activities by providing first-hand experiences through innovative and distinctive activities. The iCARE program will be a 10-week summer program geared towards students with no to very little research experience.
Participating students will work in guided teams with a CSUMB faculty research mentor and senior CSUMB undergraduate researchers to learn how research is conducted by reading scientific literature, contributing to original scientific research, and learning how to present research findings. Participating students will also engage in a series of weekly workshops that focus on written and oral communication, community building, graduate school preparedness and career development as part of the Undergraduate Research Opportunities Center (UROC) summer professional development program.
Program Contact: Dr. Jessica Bautista, UROC Research Associate
Program Benefits
10-week hands-on research guided by CSUMB faculty

Support from senior CSUMB undergraduate researchers

Advising and support for transfer to a 4-year institution

~$2,800 scholarship for 10 week participation

Limited research supply funding

Participants are eligible to submit a UROC Travel Award Request to present their research products at a Fall 2023 conference. Travel Allowance is limited to only travel directly related to the summer research project.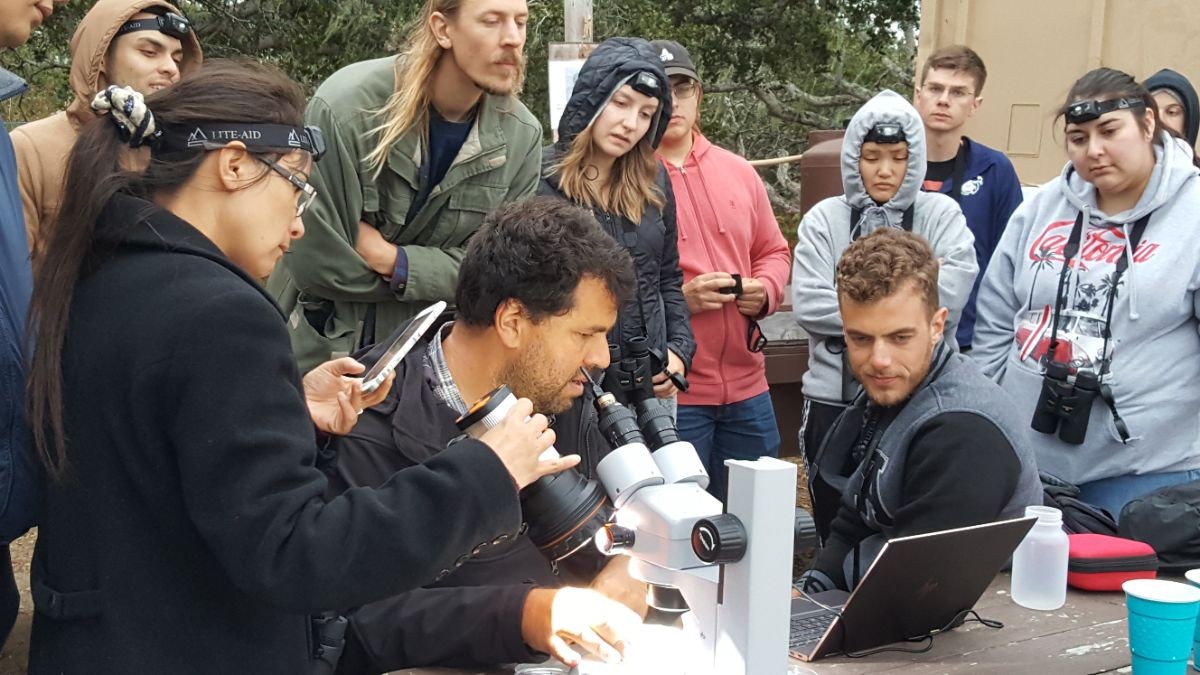 Dr. Bergsma reviewing field research protocols.
Program Overview
Students will have the opportunity to participate in 10 week research projects during the summer.

Program date:

10-week program: June 5 to August 11, 2023

Research projects are available in a variety of STEM disciplines (Agriculture Plant and Soil Science, Biology, Computer Science, Environmental Science, Environmental Studies, Marine Science, Math, Psychology, and/or Statistics)

Weekly professional development workshops (virtual)

Research presentation at the

UROC Summer Research Symposium

on August 11, 2023

Required for all students participating in the 10 week program
U.S. citizen

Applicants must be currently enrolled at a MPC or CSUMB

MPC students: preference will be given to MPC students who will transferring to CSUMB in Fall 2023

High school students who are co-enrolled in college courses are not eligible.

Willing to make a full-time commitment to the 10-week program

Must be majoring in a STEM discipline

MPC eligible majors: Astronomy, Biology, Chemistry, Computer Science, Engineering, Geology, Math, Physics, or Psychology

CSUMB eligible majors: Ag Plant and Soil Science, Biology, Chemistry, Computer Science, Environmental Science, Environmental Studies, Marine Science, Math, Psychology, or Statistics

Students are expected to have a 2.75 GPA or higher

Successful completion of two college-level STEM courses by June 2023

We are particularly interested in supporting those who have little or no experience with research

Women, minorities, veterans, first-in-family to attend college, and persons with disabilities are encouraged to apply.

The deadline to apply is April 19, 2023 @ 3pm PST. Students must complete the application form, personal statement, a resume/CV, an unofficial transcript, and 1 letter of recommendation. For more information regarding application components, please see below.

Applicant Information

Academic Background

Demographic Information

Titles of three projects chosen from the 2023 Projects List. Please read all the project descriptions below

Personal Statement

(200-500 words maximum for each question.)

Tell us about yourself. Please describe your background and the personal experiences that have led you to where you are today in your educational and professional career. Do not hesitate to express relevant circumstances or obstacles in your personal or academic background.

Please explain why you are interested in participating in the

iCARE program

at CSUMB.

Discuss your research interests. What topics and interests are you drawn to? Why?

Looking forward, what are your academic and career goals?

Academic Resume or Curriculum Vitae

Upload an Academic Resume/Curriculum Vitae (CV). Suggested length is one-two pages, but longer or short Academic Resumes are accepted.

Your Academic Resume or Curriculum Vitae (CV) should include relevant coursework and academic performance, college-level academic honors, professional or student organization memberships, examples of student leadership, research or internship experiences, and work experience.

Copy of unofficial transcripts including Fall 2022 grades

1 Letter of recommendation




Using the Reference section of the online application, each applicant will enter the name and email of their letter of recommendation writer. Using this information, the application system will send this person an email asking them to provide a letter of recommendation.

Visit our Frequently Asked Questions page.

Jose Pablo Dundore‐Arias, Ph.D.

Dr. Dundore-Arias' research interests center on investigating the biology, ecology and management of plant-associated microbiomes, with the ultimate goal of developing practical applications for enhancing plant and soil health, and promoting biological suppression of plant pathogens. Their goal as an educator is to spark enthusiasm for agriculture, and specifically how plant pathogens impact agricultural production. In the classroom, Dr. Dundore-Arias strives to make the learning process and concepts interesting, engaging, and ultimately helping all my students apply the concepts learned in the classroom to real-life situations. Before coming to the US, Dr. Dundore-Arias worked growing and selling fresh produce, and later, as a crop consultant to the coffee industry in Costa Rica.

Joshua Gross, Ph.D.

Dr. Gross is a former software engineer who returned to academia to study the human factors of programming. His research is in programming pedagogy and computer science education.

John Olson, Ph.D.

John Olson is a freshwater scientist who studies how rivers, lakes, and streams are influenced by their watersheds and then develops ways to use this knowledge to improve river health and management. Some of his recent projects include empirically modeling natural water chemistry to establish water chemistry baselines and nutrient criteria nationwide, determining how invertebrate distributions are affected by geology, and developing predictive models of fish and algae distributions based on environmental DNA samples and satellite data. John has studied streams for over 15 years, first in the south-eastern U.S. during his Master's work, later in the Great Basin, Rockies, and Desert South-west for his Ph.D. Prior to this he was an Army infantry officer.

Dan Fernandez, Ph.D.

Dr. Dan Fernandez teaches classes in first-year physics, Sustainability Systems, and Infrastructure Systems. He also co-coordinates the Environmental Studies program at CSUMB. Dr. Fernandez research focuses on the collection of water from fog, studying techniques to assess the presence of fog and to maximize the collection of fog water. Dr. Fernandez is also engaged with campus-wide sustainability initiatives, and he manages the incipient Sustainable City Year Program.

Nathaniel Jue, Ph.D.

Dr. Jue's research is thematically focused on using evolutionary, ecological and functional genomics to understand the connection between genotypic and phenotypic diversity. Currently, Dr. Jue is looking to further develop dedicated research projects in the functional and ecological genetics of bacteria, the evolution of complex organs (e.g.the placenta) in fishes, the genetics underlying reproductive strategies in fish, computational cancer systems biology, and the evolutionary genomics of marine species. Student researchers will likely be working on projects related to using genomic tools on microbial targets in order to develop new approaches to bioremediation of harmful pollutants such as pesticides and/or microplastics.

Alison Haupt, Ph.D.

Dr. Alison Haupt's research lab focuses on answering applied ecological questions that promote improved marine management and conservation by focusing on species and ecosystems confronting anthropogenic stressors such as urbanization, climate change, and fishing pressure. To address questions of applied ecology, Dr. Haupt's lab uses and applies a wide variety of tools ranging from population genetics to forensic genetics to ecological modeling to traditional field ecology.
Past Research Areas and Mentors
Dr. Jose Pablo Dundore-Arias, Department of Biology and Chemistry

Project #1: Assessing the efficacy of long-term storage of microbial plant pathogens

Project Description: 1- Is storage in sterile water a good alternative for maintaining isolates of plant pathogens? 2- Does the addition of nutrients (seeds) to the water enhance the recovery success of the target organism?
Skills desired: Basic aseptic technique and introductory knowledge of microbiology
Learning Outcomes: Gain an understanding of common methods for storing cultures of plant pathogens and the role of potential nutrient sources in microbial growth
Project Timeline: 5 weeks (1st 5 weeks: June 6-July 8 or 2nd 5 weeks: July 11-August 12)

Project #2: Fishing for Plant Pathogens

Project Description: Development and optimization of existing methods for 'baiting' Pythium plant pathogens from soil
Skills desired: Basic skills in aseptic technique and microbiology, ability/willingness to work with soil and plants
Learning Outcomes: 1- Become familiar with techniques to isolate and characterize oomycete plant pathogens such as Pythium, 2- Recognize variation in populations of Pythium pathogens in soils from the Salinas Valley
Project Timeline: 10 weeks (June 6-August 12)

Dr. Nathaniel Jue, Department of Biology and Chemistry

Project #1: Using genetic mutation to identify gene involved in pesticide remediation

Project Description:

Our lab works on a suite of bacteria that have evolved the ability to metabolize pesticide in order to develop methods for removing pesticides from agricultural wastewater. While we have identified bacteria that can accomplish this task, we do not know how they are doing it. This project will focus on identifying which genes are essential to this bioremediation process for these bacteria and involved in the genetic mechanisms of bioremediation. To accomplish this goal, the researcher will conduct TN-seq experiments in which we conduct broad-scale genetic mutation screens of bacteria by introducing transposon throughout the bacterial genome using genetic transformation and then growing these bacteria in media where the only thing they can metabolize is a pesticide. The surviving bacteria will then be sequenced and compared to reference genome sequences since any surviving bacteria must have no mutations in the genes that are essential for them to metabolize their target pesticide. Student researchers will conduct the genetic transformation experiments, be responsible for bacterial culturing, generate sequencing libraries, and be introduced to genomic and bioinformatic data analysis.

Skills desired:

Previous experience with sterile technique and standard molecular biology skills (e.g. micropipetting, microbial culturing techniques, etc.), familiarity with statistics and/or programming or command-line skills

Learning Outcomes:

Students will become adept at sterile technique, genome sequencing and familiar with advanced genomic/bioinformatics data analysis. Students will gain a deep understanding of functional genetics and the role of mutational screens in understanding biological function.

Ideal project for a student interested in interested in molecular biology, genetics and data analysis
Project Timeline:

10 weeks (June 6-August 12)

Project #2: Growth assays of pesticide-remediating bacteria

Project Description:

For this project, we will be assessing and comparing the capacity of various strains of bacteria to metabolize pesticide. Our lab works on developing microbial-based solutions for removing pesticides from agricultural wastewater and have isolated many strains of bacteria that have naturally evolved the capacity to metabolize various pesticides. However, it remains unclear which of these strains are best suited for bioremediation activity. Thus, this project will focus on conducting growth assay on these bacterial strains in various media types, including those where a pesticide is the only carbon source, to evaluate their potential as bioremediators. iCARE students will be involved in bacterial culturing, running experimental trials, and analyzing data.

Skills desired:

Preferred basic molecular biology/microbiology skills

Learning Outcomes:

Students will become adept at standard laboratory practice including sterile technique, understand classic experimental design, and become familiar with advanced data analysis.

Project Timeline:

5 weeks (1st 5 weeks: June 6-July 8)

or

10 weeks (June 6-August 12)

Dr. Gerick Bergsma, Department of Biology and Chemistry

Project #1: Gull Foraging & Behavioral Ecology

Project #1: Gull Foraging & Behavioral Ecology

Project Description:

Gulls are important members of coastal and nearshore marine communities. They are resilient and adaptable, actively feeding in diverse prey on both land and sea. This project will investigate the diversity of foraging strategies, habitats, and prey that gulls use along the Monterey Peninsula. Students will use standardized scan surveys and targeted behavioral observations to document how, where, and on what gulls are feeding.

Skills desired:

Desire to work in the field, and attention to detail. Students with statistics and computer skills will have opportunities to work with a large set of previously collected data.

Learning Outcomes:

Students will learn and practice bird identification, standard abundance and behavior surveys, and data management.

*Ability to get themselves to the field sites in Pacific Grove is a plus.

Project Timeline: 2nd 5 weeks only: July 11-August 12

Cancelled to due to COVID-19 Pandemic

Dan Fernandez - Department of Applied Environmental Science

Project 1

Under the guidance of Dr. Fernandez, the UROC Summer Researcher will assist with the deployment, maintenance, data collection, and analysis of information collected from a broad array of instrumentation that being used to help characterize the development, duration, dispersal and water collected from a variety of surfaces during regional advective fog events that are characteristic of the western coast of the Americas. For events routinely occur in regions that experience significant temperature and/or elevational gradients near the coast. Along the California coast, most fog events tend to occur during the time of year from late spring through mid-fall. While Dr. Fernandez has been collecting and analyzing fog water collection data from standard fog collectors that he and his students (J. McCabe, C. Swann, C. Rickard) have deployed over the past decade, this research effort will entail the use of recently granted and purchased, state-of-the-art instrumentation that will allow much more comprehensive measurements. This includes (1) up to three FM-120 fog droplet counters that will measure and record the size and number of droplets in fog water volumes collected; (2) two ceilometers that use laser reflections to measure the base height of the overhead cloud layer; (3) three chilled-mirror hygrometers to measure to high temporal and spatial precision the dew point and (4) three sonic anemometers that will provide an accurate and reliable measurement of the win speed and wind direction at three distinct locations. Students working on this project will gain experience and expertise in working with some of these instruments and in analyzing that data they generate. They will also work to relate these advanced measurements to patterns in fog water collection in an attempt to answer some long-held questions about the efficiencies of various fog collectors.

Project 2

Students with less research experience will assist with the deployment and maintenance of the various pieces of equipment, particularly so that they can gain a context for the data that they generate. They will likely focus more on working with the standard fog collectors that have been used for over a decade to measure how the water collected from fog varies by spatial location as well as by time period. They will dedicate time to maintaining, collecting data from, processing, analyzing and archiving data from the 30 or so fog collectors deployed within a couple of miles of campus (many located right on the campus!). While experience in Excel is helpful, we will work with practice and development of Excel tools and methods to most effectively process and analyze existing data and new data sets to better understand the contributions of fog to the regional water cycle. Students new to research will also have the opportunity to work with and process data from the state-of-the-art instruments described above, and they will be give the necessary support and training to do so.

In addition, students with and without previous research experience will have the opportunity to test and explore other types of fog collecting devices that will be deployed in the Monterey region so as to test their effectiveness. Recently, new advances in surface coatings placed on vertical strands of fog collector mesh have been developed by researchers at Virginia Tech. These techniques have received international attention as a means to significantly improve the fog water collection capability. Our sites in Monterey have been chosen as a test bed given our long-term, ongoing and extensive field deployments of fog collectors and this represents an ideal and unique opportunity for students to collect and explore publishable, timely, and relevant results.

Learning Outcomes

how to build, deploy, maintain, and analyze data from standard fog collectors (SFCs)
how to store, process, and analyze data from the SFCs
about a variety of other meteorological data relevant to the fog collection work
how to deploy , maintain, and collect data from the FM-120 fog droplet sensors, the cloud ceilometer, the chilled-mirror hygrometer, and the sonic anemometer
what data and analyses are relevant and worth considering to address a particular scientific question regarding fog formation and dissipation and collection of water from fog.

Preferred Skills

Lab skills - will learn what's needed in Dr. Fernandez' workshop.
Statistics - some experience with analyzing and processing data. Will also learn on the job.
Programming - Capacity to code in R or other language enormously helpful but experience not necessary
Willingness to travel - travel will be local

John Goeltz - Department of Biology & Chemistry

Project 1

An ongoing project in our involves making redox active fluids from organic chemicals. The resulting fluids are highly concentrated and hold promise for providing safer, faster charging batteries for electric vehicles and consumer electronics. A student working on this project will work with the mentor an senior undergraduate student in making fluids at different molecular ratios and testing chemical, physical, and energy storage properties. The student will emerge proficient in UV-vis, conductivity, viscosity, and electrochemical measurements. This project is appropriate for a student with some experience in the safe handling of hazardous chemicals and is comfortable gaining more.

Project 2

An ongoing project in our lab involves gels composed of acids and metals at high concentrations. These are as far as we know of a totally new class of material, one that holds promise in high temperature batteries and flexible batteries. A student working on this project would work with the mentor to complete one or both of two sub-projects started by earlier students: 1. solution interactions that stabilize Mn(III) ions; and 2. application of the gels in a battery. Students working on this project will learn a combination of solution characterization methods such as UV-vis spectroscopy and battery testing and analysis methods such as variable temperature cell cycling.

Learning Outcomes

Students working on either project will emerge ready to begin undergraduate research in labs focused on electrochemistry. They will be proficient in cyclic voltammetry and other electrochemical methods and ready for work in energy conversion and storage as well as some fields in the life sciences.

Preferred Skills

Students should have completed at least one semester of general chemistry with lab, preferably two, and be comfortable with being trained to work with hazardous materials. Students from each of the past two cohorts have been co-authors on published and submitted peer reviewed papers to date.

Gerick Bergsma - Department of Biology & Chemistry

Project 1 - Oak Woodland Community Ecology Project

Lichens growing on trees dramitcally change the physical habitat structure in oak woodlands and have the potential to affect organisms living in and around the trees. Our study will investigate the cascading effects of lichens on animal communities by measuring the abundance and diversity of insects and birds living on or around the trees. Depending on the student's interest, they would survey vegetation and birds in the field, and collect insects to identify and count in the lab.

Project 2 - Gull Foraging Ecology Project

Gulls are important members of coastal and nearshore marine communities. They are resilient and adaptable, actively feeding on diverse prey on both land and sea. This project will investigate the diversity of foraging strategies, habitats, and prey that gulls use along the Monterey Peninsula. The student will use standardized scan surveys and targeted behavioral observations to document how, where, and what gulls are feeding. The study also focuses on how gulls interact with other species, including human, to find food.

Learning Outcomes

Field Research Techniques: Conduct standardized wildlife sampling and surveying techniques, behavioral observations, and habitat measurements; care and use instruments and field equipment.
Research Documentation and Record Keeping: Keep detailed field/lab notebook and collect and manage research data
Professionalism & Field/Lab Practices: Understand norms of conduct and demonstrate high standards of professionalism and work ethic; participate in on-going field/lab maintenance practices.

Preferred Skills

For both projects, students will need to be able to independently travel to the study sites. Having a car is ideal, but bicycling to the UC Fort Ord Natural Reserve is possible for the oak woodland project, and there is limited bus access to several of the research sites for the gull foraging project.

Both field projects also would involve extended periods of time in variable weather in the field. The oak woodland project would require the student to be able to walk to a mile on uneven terrain. The gull foraging project is accessible for students with physical disabilities (most sites are wheelchair accessible), but would require regular movement from site to site.

Project 3 - Biological Collection Curation Project

Collections of preserved biological specimens are widely used for education and research into taxonomy, systematics, and biodiversity. CSUMB maintains a growing collection of preserved specimens for use in the classroom, and is currently working to document and catalog a large collection of insects that were donated to the university. The student would help with the identification, maintenance, and cataloging of insect specimens and work to organize the collection for academic use.

Arlene Haffa - Department of Biology and Chemistry

The Haffa Lab currently has 2 graduate students and half a dozen or so undergraduates. There is a variety of equipment available is a student wants to explore individualized experiments (thermocycler, lachat, ion chromatography, microscopes, etc.).

Project 1

As part of an effort to monitor greenhouse gas emissions in agricultural settings, the students will assist with field data collection and data entry / quality checks in the lab. The instrument used is an FTIR. Students will learn experimental study design (sampling frequency, randomized block layout, etc.), how to prepare the field for sampling, and operation of the instrument. No experience necessary.

Project 2

This student will set up controlled laboratory experiments that utilize a data logger. They will learn to analyze the FTIR Spectra. If funded, then a project to verify the FTIR data using the GC will be included as well as soil analysis for carbon and nitrogen. Some background in either chemistry or computer programming, in addition to helping in the field (as in with Primary Investigator).

Learning Outcomes

FTIR data analysis
Data loggers
Experimental design
Possibly GC (gas chromatography)

Preferred Skills

Laboratory: Basic Chemistry
Statistics: Useful, but not required
Computer: Excel; will learn data vents
Programming: Useful, but not required
Field Work: Will be in agricultural setting and lab
Willingness to travel: in area of field sites
Other: Willingness to collaborate with others.

Nathaniel Jue - Department of Biology and Chemistry

Project 1 - Pesticide-remediation through the field testing of a bioreactor system

This project focuses on testing the efficacy of a constructed bioreactor system that uses bacteria with pesticide-metabolizing capacity in an agricultural field setting in removing pesticide targets from agricultural field setting in removing pesticide targets from agricultural wastewaters. Students will be involved in daily running and sampling of the bioreactor and chemical analysis of pesticides. Additionally, students will also contribute to overall microbial lab activities. Student participating in this project will learn standard field sampling methods for water quality assessment, microbial community sampling, and data analysis protocols. No research experience is necessary for this project.

Project 2 - Bacterial adaptation to pesticide remediation

This project will examine the phenotypic and genetic differences among various strains of bacteria that have the ability to metabolize pesticides. Our lab works with many bacteria that have the ability to breakdown pesticides and use them as carbon-sources for growth. Students will work to generate growth-rate phenotypes for these pesticide-remediating strains and examine their assembled genomes to look for genetic differences associated with improved pesticide-remediation activity in order for us to better understand the genetic nature of these adaptations. Additionally, students will also contribute to overall microbial lab activities. Students participating in this project will learn sterile technique and culturing methods, how to conduct large-scale phenotyping growth assays, comparative genomic analyses, and advanced data analysis skills fro examining growth rate data.

Learning Outcomes

Students will understand how to design experiments and execute them to address a specific research question / hypothesis.
Students will gain ownership of a project and build their identity as a scientist.
Students will gain confidence in their ability to think critically and work independently.
Students will master skills related to microbiological field and laboratory skills.

Relevant Details

Any student with computational background would have the ability to further their work work with some other associated projects.
Any student interested in genomics and bioinformatics would be appropriate for this position.
Must be able to work independently.

Be sure to click each of the collapsible headings for more information on the projects provided by each mentor. You'll be asked to identify your top choice mentors in your application so take the time to find the mentor and project that interests you most!

Psychology

Dr. Kevin Grobman - Educational Psychology of Science Fairs

Dr. Grobman's Project Description

For middle and high school students, science fairs offer a months-long authentic project-based learning experience culminating in a chance to present their research to real scientists. How do students understand this experience? How much do they learn? What do they think about judges, science, scientists, and their classmates (e.g., are judges fair, do they stereotype scientists)?We have collected five years of detailed data from students, judges, and previous college student raters. This summer our lab plans to enter and code all this data into a comprehensive form we can statistically analyze. As we enter all the data, we'll discuss hypotheses we can test. Each CCARE UROC lab member will form a hypothesis of interest to you, extract relevant data to test it, analyze the data, and present it at the UROC Summer Research Symposium. Lab members with interest, can continue with our lab in the Fall as we design new studies for upcoming science fairs.

What skills should a candidate who wants to work with Dr. Grobman have? Or what skills should they be willing to learn?

Computer Skills - Some experience with basic software, like Excel. Experience with SPSS is also beneficial, but not necessary. CCARE students will be trained on how to complete all analyses.
Statistics - Having taken an introductory statistics class would be helpful, but not strictly necessary.
All applicants should have a desire to learn and should be willing to take on the challenge of a project that at some moments may be tedious and detail oriented.

What will a student on Dr. Grobman's research team learn?

Students will learn

How to enter data into a comprehensive database.
How to code qualitative data (e.g., drawings) into a quantitative system allowing for statistical analysis.
How to organize data into a meaningful format for data analysis.
How to form testable hypotheses.
How to analyze data that is less structured than datasets normally provided in introductory statistics classes.

Mathematics & Statistics

Dr. Steven Kim - Modeling of Cancer Risk Using Dose-Response Models

Dr. Kim's Project Description

A dose-response model can describe and quantify the expected change in outcome as a function of exposure level. For example, scientists often use animals (e.g., rats) to study the probability of developing cancer with respect to dose of a carcinogen (cancer-causing substance). We may assume that the probability of developing cancer increases with respect to dose of a carcinogen (monotonic assumption). Alternatively, we may assume that the probability of developing cancer is constant at low doses and increases at high doses (threshold assumption). Alternatively, we may assume that the probability of developing cancer decreases at low doses and increases at high doses (non-monotonic assumption). In this research project, we want to (i) develop a dose-response model which can describe the three types of assumptions, (ii) study the operating characteristics of the model via simulation, and (iii) explore the impact of various experimental designs (i.e., how to allocate animals to various doses) on the operating characteristics. This study will be a pilot study of future study.

What skills should a candidate who wants to work with Dr. Kim have? Or what skills should they be willing to learn?

Statistics - Applicant should understand (or have potential to learn) the concept of sampling distribution and hypothesis testing.
Computer Skills - This project will require the student researcher to use the statistical software called R. A candidate student should be willing to learn a programming language, and they should enjoy the process of learning. Knowing a programming language already would be great. Otherwise, students must have logical thinking and strong desire to learn.
Mathematical Foundation - Algebra skills such as logarithmic rules, exponent rules, product, summation, etc. are required. We will take derivative to maximize a function, so calculus skills (e.g., derivative rules) are needed.

What will a student on Dr. Kim's research team learn?

Students will be able to model dose-response relationship, perform hypothesis testing, simulate data under the model, evaluate simulation results to compare methods of hypothesis testing, and present simulation results in both verbal and visual forms.

Environmental Science

Dr. Daniel Fernandez - Fog Water Collection & Analysis

Dr. Fernandez's Project Description

The collection of water from fog offers a unique opportunity to engage with an environmental feature endemic to the Monterey area (fog). Worldwide, numerous countries capitalize upon the presence of fog to produce potable water in regions that receive little rainfall. In some cases entire communities utilize fog water to meet their basic needs (Henderson et al. and Edwards et al.). Indeed, such deployments exist in Chile, Guatemala, Israel, Yemen, Eritrea, Morocco, Spain, and many other countries throughout the world. A simple mesh mounted properly on a square frame provides a surface for the fog water to coalesce. Once the droplets reach a suitable size, their weight causes them to fall off and collect in a trough below. From a single square meter of vertically-mounted mesh up to several gallons of water have been produced in a single day under foggy conditions with sufficient wind. Actual amounts collected are very location dependent and under foggy conditions are more typically about a liter. (excerpt from https://csumb.edu/fernandezlab/fog-collection-project)

Research projects for Summer 2019 CCARE students will entail building, deployment and maintenance of fog collectors located on or near campus and, potentially, at other locations within the state. Part of the work this summer will also involve the design and construction of a large fog collector near campus.

Additionally, the CCARE summer researchers will have ample opportunity to analyze the data collected by many of the fog collectors located within the network over the past several years.

What skills should a candidate who wants to work with Dr. Fernandez have? Or what skills should they be willing to learn?

It is helpful, but not necessary, for student applicants to have some experience building mechanical devices and working with materials such as wood or metal.
It is helpful, but not necessary, for student applicants to be conversant with Microsoft excel and/or have some programming experience.
It is helpful, but not necessary, for student applicants to have taken a course in statistics and feel comfortable working with data.
Field/Outdoor work - Our research team will be going into the field. There can be ticks and poison oak. We will take precautions, but field work is a part of the experience. The applicant must be willing to join their team in the outdoor field work components of the research.

What will a student on Dr. Fernandez's research team learn?

By the end of the CCARE program the student researcher will be able to construct a 'standard' research fog collector and will be able to maintain and repair fog collectors in the field.

In addition, the student researcher will work in a team to design and construct a large fog collector.

The student researcher will also become conversant enough in Microsoft Excel to create some basic analyses and useful plots of the data collected.

Professor Timothy Thomas - Impact of Nutrients on Plant Communities in Elkhorn Slough

Professor Thomas's Project Description

Elkhorn Slough has been substantially impacted by runoff from the Salinas Valley. Nutrient-rich runoff from the valley's farms drains into the Old Salinas River and is tidally driven into the Elkhorn Slough estuary. Excessive nutrient concentrations stimulate the growth of algae and can lead to hypoxia in the water column. Additionally, some algae such as sea lettuce (Ulva sp.) will form large aggregations at the surface of the water. These mats are carried by the tides and, as the water recedes, get entangled with and deposited on top of marsh plants such as pickleweed (Sarcocornia sp.) effectively limiting the plants' ability to photosynthesize. Pickleweed is habitat for a diverse invertebrate community and provides important foraging and nesting habitat for several bird species. Additionally, pickleweed retains sediment, improving the water quality of the slough and providing stability for the terrestrial plant community.

Potential Projects: There are many potential projects involving this system and exact methods can be tailored to fit student interest.

Assessing coverage of pickleweed marshes by algal cover through surveys, image analysis (or both) and relating the coverage to nutrient concentrations in surrounding waters.
Measuring the nutrient concentrations in the Old Salinas River and along the length of Elkhorn Slough.

What skills should a candidate who wants to work with Professor Thomas have? Or what skills should they be willing to learn?

Students will be trained on how to perform basic water quality tests using a HACH colorimeter.
Students will perform basic descriptive statistics, but do not need a substantial background in statistics.
Students will need to travel between the study sites and campus, but the actual field portion of the project will be limited to water collection and taking photographs for image analysis. Students must be willing to travel to field sites. Having access to a personal vehicle is not necessary but could be advantageous.

What will a student on Professor Thomas's research team learn?

Students will conduct a literature review, learn basic water quality testing (Nitrate, Phosphate, salinity, Dissolved Oxygen), learn basic image analysis in ImageJ, perform basic descriptive statistics in Microsoft Excel, and present their findings in a poster presentation.

Professor John Silveus - BioReactors & Water Quality Research

Professor John Silveus' Project Description

John Silveus is one of the Instructors of the CSUMB Bioremediation Research Group. The groups focus is the remediation of agricultural effluent using biological methods. The group is divided into two subdivisions; water quality monitoring and bacterial bioremediation. Water quality monitoring involves traveling to local waterways, collecting water samples, and using laboratory methods to assess the samples for parameters such as temperature, pH, turbidity, dissolved oxygen, nitrates, phosphates, and pesticides. Bacterial bioremediation involves the use of naturally occurring bacteria in experimental bioreactors to remove unwanted chemicals and toxins such as nitrates, phosphates, and pesticides from agricultural runoff.

Animal Ecology & Behavior

Dr. Jennifer Duggan - Mammal Habitat Distributions

Dr. Duggan's Project Description

The project conducted through the Terrestrial Wildlife Ecology lab will include sampling ornate shrews throughout central California. The Salinas ornate shrew (Sorex ornatus salaries) is a subspecies of ornate shrew listed as a California species of special concern. Although information on habitat preferences and population densities for this species is limited, recent capture data suggests it may occur in a variety of habitats and be more common throughout its distribution than previously thought. Surveys of ornate shrews will allow us to collect genetic samples to test if shrews found in a variety of habitats belong to one wide ranging subspecies. Describing the taxonomy of Sorex ornatus across habitat types in this region will be the first step in determining if the state listing status of this subspecies is currently warranted. Surveys will also provide the opportunity to compare the efficacy of multiple sampling methods (i.e., pitfall traps vs. box traps) so that research on ornate shrews can be continued safely and efficiently.

What skills should a candidate who wants to work with Dr. Duggan have? Or what skills should they be willing to learn?

Students participating in this project should enjoy working outdoors and should be willing to tolerate conditions characteristic of field work in central California (i.e., heat, exposure to poison oak and ticks). Students participating in this project should also be aware that sampling a small mammal listed as a Species of Special Concern can be very tedious; though many of the sites will be quite beautiful, the project will require many hours of driving to study sites throughout Monterey and Santa Cruz Counties, and the probability of capturing our focal species at some sites will be very low.

Specific skills needed will include:

Statistics - Tasks will include basic statistical analyses (e.g., Chi-square tests, ANOVAs)
Computer skills - Computer-based tasks will include primarily data entry.
Field based sampling methods - Sampling methods will be taught as part of the project, but students should be comfortable with short hikes in local habitats.
Animal Handling/Care - Handling skills will be taught as part of the project, but students should be comfortable observing collection of blood/tissue from live animals.
Willingness to travel - This project will include many hours of local travel in a car/truck. Overnight lodging in hotels or campgrounds may occasionally be scheduled.

What will a student on Dr. Duggan's research team learn?

Students participating in this project will gain experience reading and interpreting primary literature in the fields of natural history, ecology, and evolutionary biology. Primary literature will be used to develop hypotheses regarding the efficacy of various methods used to sample ornate shrews. Students participating in this project will also gain experience sampling and identifying local small mammals, as well as recording data on observations in the field. Students will also have the opportunity to observe methods for collecting tissue and fecal samples from small mammals.

Chemistry

Dr. Arlene Haffa - Agricultural Biochemistry

Dr. Haffa's Project Description

Research conducted in the Haffa lab revolves around identifying how best management farming practices (BMPs) impact economic and environmental sustainability. This includes work on the nitrogen cycle as well as pesticides. Dr. Haffa is also interested in finding ways to mitigate point source nitrogen and pesticide contamination of surface waters using bioreactors. In addition to BMPs, Dr. Haffa's research group studies how microbes in wood-chip bioreactors can be optimized to help remediate impacts from nitrogen and pesticides in surface waters.A CCARE applicant would be integrated into a research project that examines agricultural biogeochemistry and bioremediation OR will assist in quantifying nitrous oxide emissions under different on-farm BMPs.

What skills should a candidate who wants to work with Dr. Haffa have? Or what skills should they be willing to learn?

Students interested in agricultural research may be the best-suited; however, because the goals are to mitigate pesticides on the environment and human communities any science student would be suitable.

Student must be willing to learn about microbial populations, available to travel to field sites in Santa Cruz County if necessary, and eager to learn new skills!
Must be willing to work both indoors and outside

Dr. John Goeltz - Battery Development with Deep Eutectic Solvents

Dr. Goeltz's Project Description

Read on for a description of the projects and questions that Dr. Goeltz's lab focuses on...

Deep eutectic solvents are salts that are liquid but still ionic at or near room temperature. Our laboratory build redox functionality directly into the solvent through molecular design. We seek students interested in helping to design and study new mixtures by electrochemistry and spectroscopy,. Student researchers will formulate and combine mixtures of chemicals, measure freezing points, and learn electrochemistry and spectroelectrochemistry, as well as analysis and presentation of their own data in concert with earlier data, all skills and techniques of broad applicability throughout the sciences.

Dr. Goeltz and his lab seek to build and test batteries made from a new type of gel electrolyte discovered by undergraduate researchers in our laboratory. As many different metals and organics can be incorporated into these gels, we seek researchers to formulate and test new compositions via electrochemistry and battery test cells.

What skills should a candidate who wants to work with Dr. Goeltz have? Or what skills should they be willing to learn?

General chemistry - Applicants must have completed at lease one semester of general chemistry (required), and two is preferred but not a deal breaker.
Laboratory skills - Applicants must have the ability to be safe and responsible when working with hazardous materials, but the selected candidate will be trained and supervised in the majority of other relevant laboratory skills
Research Environment - Applicant must be willing to work potentially long hours in an indoor laboratory environment. There is no opportunity for field work with this research opportunity.

What will a student on Dr. Goeltz's research team learn?

At the end of the summer, student researchers will be able to

safely work with, store, and dispose of hazardous materials
use stoichiometry to formulate molar compositions
perform 2- and 3-electrode voltammetry (electrochemistry) experiments, present the data, draw preliminary conclusions, and identity appropriate follow-up experiments.
perform UV-vis spectroelectrochemistry to measure absorption spectra at various states of charge
present their results in the context of their project to technical and non-technical audiences

Biology

Dr. Nathaniel Jue - Sequencing Genomes of Pesticide-Remediating Bacterial Strains

Dr. Jue's Project Description

Pesticide usage is necessary for modern commercial agricultural production in both conventional and organic cropping systems. With around 200 million pounds of pesticides reported to be used annually and greater than 1.8 billion pounds of pesticides purchased in 2016 in the state of California, the persistence and unintended dispersal of pesticides is of major concern. Pesticide usage effects agricultural businesses and communities directly by the evolution of resistance to pesticide treatments and overexposure contributing to poor health and indirectly through adverse broad environmental issues such as the contamination of groundwater. Bioremediation and the usage of bioreactors are promising solutions for mitigating the negative impacts of pesticides. Naturally-occurring microbes are known to evolve the ability to metabolize and breakdown various environmental pollutants such as organophosphate-based pesticides like Diazinon. In this project we plan to use genomic studies to discover new pesticide remediating bacteria, identify the genetic mechanisms that allow them to remediate pesticides, and describe what ecological factors facilitate this remediation in order to improve bioreactor design.

To accomplish this goal, we are sequencing strains of pesticide remediating bacteria isolated, assessing their potential for pesticide remediation, conducting functional genetic studies to identify genes associated with pesticide remediation, and associating ecological contexts and conditions with naturally occurring pesticide remediation. The focus of work for this summer will include the isolation, characterization and genome sequencing of pesticide-remediating bacterial strains.

What will a student on Dr. Jue's research team learn?

CCARE student researchers will ...

Learn aseptic technique and basic molecular biology practices
Learn proper lab etiquette and safety
Learn how to generate and sequence DNA libraries
Learn how to communicate statistics outcomes
Learn about Team Science and working on interdisciplinary teams
Learn about reproducible research and how to practice reproducible research

Dr. Robin Pelc - Enhancing Sustainable Seafood Consumption through Science

Dr. Pelc's Project Description

Project Goal: We will work in collaboration with the Seafood Watch Program of the Monterey Bay Aquarium to help elucidate relationships between life history traits (e.g., average lifespan, reproductive rate, age at maturity) and population trends in marine species.

The Monterey Bay Aquarium's Seafood Watch program evaluates the ecological sustainability of wild-caught and farmed seafood commonly found in the United States marketplace. Seafood Watch defines sustainable seafood as originating from sources, whether wild-caught or farmed, which can maintain or increase production in the long-term without jeopardizing the structure or function of affected ecosystems. The program's goals are to raise awareness of important ocean conservation issues and empower seafood consumers and businesses to make choices for healthy oceans.

Seafood Watch uses scientific information to determine the sustainability of wild-caught fisheries. Where detailed assessments of population health are not available for fished species, Seafood Watch may have to rely on risk-based approaches that take into account the natural vulnerability of a species to overfishing, based on its life history traits.

CCARE Student Role: The role of this student will be to compile existing information on life history traits of marine fish and other fished species into a database, and then compare this information with other metrics of population abundance and trends, such as data from the IUCN Red List. This work will include reviewing scientific literature, interacting with Seafood Watch scientists, creating a database in Excel, and performing simple statistical tests such as correlations. Some proficiency in computer tools including Excel and some basic statistical background is preferred, but training in these techniques can be provided by the mentor.

The resulting product will help Seafood Watch to produce more accurate recommendations for fisheries that are data-poor, such as small-scale and developing world fisheries. The work will help the student to develop an understanding of fisheries biology and sustainability.

What skills should a candidate who wants to work with Dr. Pelc have? Or what skills should they be willing to learn?

Statistics & Computer Skills - Some proficiency in computer tools including Excel and some basic statistical background is preferred, but training in these techniques can be provided.
Fish Biology - Basic knowledge of fish biology is desired, but not required. Training can be provided.

What will a student on Dr. Pelc's research team learn?

Understand the factors that make species more vulnerable to overfishing
Learn to compare patterns and test for correlations between potentially related factors, such as vulnerability and population trends
Understand the main principles of sustainable fisheries
Understand how the sustainable seafood movement works to promote fisheries sustainability

Computer Science

Dr. Chandrika Satyavolu - Software Defined Networks

Dr. Satyavolu's Project Description

Software Defined Network (SDN) architecture provides the ability to build programmable networks. This means we can take proprietary network devices like Cisco routers and program them to function to cater to our needs and applications at hand. In other words, we can customize the network functions based on the application that the router will be used for. Research claims that the performance of the network gets better in a SDN architecture. Data transfer is much faster with fewer packet losses and lesser congestion in such a network. As a part of this research project, the undergraduate researcher and I will build a Software Defined Network and compare its performance with a traditional network. We will do this in two ways:

Using simulations on the Mininet virtual machine on the Virtual Box.
Take some network routers, flush them off the proprietary software that they come with, and implement our programs on them.

This study will help us with further research to build applications in the field of Software Defined Networks.

What skills should a candidate who wants to work with Dr. Satyavolu have? Or what skills should they be willing to learn?

Laboratory Skills - Be willing and comfortable to learn to plug and unplug network routers, connect using Ethernet cables.
Statistics - Need to understand some basic statistics – averages, confidence intervals etc. to plot some comparison graphs
Computer Skills - Should be able to work on windows laptop (which will be provided by the mentor)
Programming - Need to know C and Python programming

Dr. Drew Clinkenbeard - Design & Build an Interactive Aquarium Model

Dr. Clinkenbeard's Project Description

The proposed research project will follow up on the work done by Peckham et. al. titled "Increasing Student Retention in Computer Science through Research Programs for Undergraduates" [1][see link below]. This has been shown to be especially effective for women, a group typically underrepresented in computer science [2][see link below]. For this project the undergraduate research and Dr. Clinkenbeard will use the Unreal Game Engine (computer hardware located at CSUMB) to build an interactive aquarium model to exhibit sea life that is typically difficult to house or display, specifically creatures such as Dumbo Octopus (Grimpoteuthis) or giant Pacific octopus (Enteroctopus dofleini). The goal would be to create a framework that could be expanded upon in future programs to include more creatures and additional features. This will allow people with varying levels of education or interest to interact with and learn about sea life that would ordinarily be inaccessible. This project can easily be expanded to include information about conservation or oceanographic research.

The student(s) would be responsible for learning and working with the Unreal Engine to develop an extensible software package to display sea creatures in a realistically rendered environment. Additionally, students will be mentored on finding material for supporting research, preparing posters for presentations, programming best practices, and the process of computer science research.

[1] J. Peckham, P. Stephenson, J.-Y. Hervé, R. Hutt, and M. Encarnação, "Increasing Student Retention in Computer Science Through Research Programs for Undergraduates," in Proceedings of the 38th SIGCSE Technical Symposium on Computer Science Education, New York, NY, USA, 2007, pp. 124–128.[2] T. M. Press, "Unlocking the Clubhouse," The MIT Press. [Online]. Available: https://mitpress.mit.edu/books/unlocking-clubhouse. [Accessed: 18-Jan-2019].

What skills should a candidate who wants to work with Dr. Clinkenbeard have? Or what skills should they be willing to learn?

Computer Skills - This project will rely heavily on using computers. The ability to download, install, and configure software will be vital.
Programming Skills - Some familiarity with programming will be important. The primary programming language used will be C++. Dr. Clinkenbeard is planning on offering a primer/refresher in C++, so familiarity with any programming language is fine.

What will a student on Dr. Clinkenbeard's research team learn?

Learn to develop software for the Unreal Game Engine. Likely topics would include:

Learn how to work with the Unreal Game Engine

Learning / increasing proficiency with the C++ programming language
Developing interactive user interfaces
Implementing Water physics
Forward Kinematics
Inverse Kinematics
Basic movement artificial intelligence.

Develop knowledge of computer science research

How to find relevant sources and prepare a literature review

Creating and submitting posters for presentations
Working, learning, and collaborating with a diverse set of peers

Learn about sea life

This project would necessitate learning about the creatures being modeled.

Summer 2018

CCARE & UROC Mentees presenting their research poster, 2018 Summer Research Symposium

Statistics - Dr. Judith Canner

Prerequisites:

One course in ordinary differential equations (offered at most community colleges as either a single class or joint with Linear Algebra) or Calculus II if the course included a basic introduction to ordinary differential equations. Basic programming experience.

Project Description:

Modeling the growth of tumors via mathematical and statistical models can help researchers evaluate treatment methods without harming the patient. If we can fit simple mathematical models to tumor growth data then the model will be clinically more easily interpreted and useful in practice. The problem is that in order to fit even simple mathematical models we need frequent and numerous observations to find a reliable and useful model. We want to explore methods for fitting tumor growth models to small data sets. The project will require an understanding of ordinary differential equations (e.g. logistic growth, exponential growth, power law), a basic understanding of ordinary least squares regression (e.g., simple linear regression), and some programming experience. We will evaluate each basic model to determine the minimum number of observations needed to reliably fit the model to tumor growth data and whether that is feasible in laboratory and clinical settings. In addition, we will explore the methods for fitting different models to our data and how to assess the "best" model.

Environmental Science - Dr. Dan Fernandez

Project Description:

Students will assist with the construction, deployment and maintenance of standard fog water collector instrumentation within the local Monterey Bay area. They will assist in the data collection and analysis from these instruments and focus their research questions on the spatial variability of fog water collected, as well as comparisons of the effectiveness of different types of mesh in different types of conditions.

Environmental Science - Professor John Silveus

Project Description #1 - Water Quality

Possible projects include water quality (WQ) research into the status of the Carmel River, Elkhorn Slough, the Salinas River, and Tembladero Slough. WQ parameters include temperature, conductivity, turbidity, total suspended sediment, dissolved oxygen, pH, phosphates, nitrates, fecal coliform, and heavy metals.

Students will work with a mentor to develop WQ research projects in specified areas based on student interest, including sampling locations, sample timing, WQ parameters of interest, and desired deliverables of the project. Students will sample surface waters and test collected samples for WQ in the lab. Students will manage the collected data, analyze the data, and produce tables and graphs of the data. Students will author a poster detailing the background information of their project, the methods employed, the results of their findings, and their conclusions based on background research and data collected. Posters will be presented to local stakeholders, at local symposia or conferences as applicable.

Project Description #2 - Bioremediation of Agricultural Effluent Project:

Students will work with existing CSUMB student researchers at the CSUMB Bioreactor Field Laboratory to assess the efficacy of the bioremediation of nitrates from agricultural effluent using wood chip bioreactors and bacterial communities.

Students will collect and manage data, analyze the data, and produce tables and graphs of the data. Students will author a poster detailing the background information of their project, the methods employed, the results of their findings, and their conclusions based on background research and data collected. Posters will be presented to local stakeholders, at local symposia or conferences as applicable.

Animal Ecology - Dr. Jenny Duggan

Prerequisites

All training will be provided, but students should be motivated & enthusiastic

Field work will require hiking in areas with dense poison oak. Although protective gear will be provided, this project may not be a good fit for students with severe reactions to poison oak.

Project Description

The project will examine whether human activity at a camp site on the UC Fort Ord Natural Reserve influences habitat use and home ranges of dusky-footed woodrats (Neotoma fuscipes) near the camp site. Students will use radio telemetry to track and record locations of radio collared woodrats on the UC Fort Ord Natural Reserve throughout the summer. At the end of the summer, students will conduct preliminary statistical analyses to test the relationships between human activity and the habitat use, home range size, and home range shape of woodrats near the camp site on the UC Fort Ord Natural Reserve.

Anticipated Learning Outcomes

Students will demonstrate knowledge of safety and ethical standards for the conduct of field research, and will implement safety and ethics practices in a research setting.
Students will keep detailed field notebooks and collect and manage research data.
Students will demonstrate knowledge of radio telemetry equipment and will implement radio tracking methods to locate radiocollared woodrats.

Chemistry - Dr. John Goeltz

Prerequisites:

One semester of general chemistry.

Project Description #1 - Deep Eutectic Solvents

Deep eutectic solvents are salts that are liquid but still ionic at or near room temperature. Our laboratory builds redox functionality directly into the solvent through molecular design. We seek students interested in helping to design and study new mixtures by electrochemistry and spectroscopy. Student researchers will formulate and combine mixtures of chemicals, measure freezing points, and learn electrochemistry and spectroelectrochemistry, as well as analysis and presentation of their own data in concert with earlier data -- all skills and techniques of broad applicability throughout the sciences.

Project Description #1 - Gel Electrolyte Batteries

We seek to build and test batteries made from a new type of gel electrolyte discovered by undergraduate researchers in our laboratory. As many different metals and organics can be incorporated into these gels, we seek researchers to formulate and test new compositions via electrochemistry and battery test cells.

Biology - Dr. Nate Jue

Prerequisites:

See the lab agreement below that Dr. Jue expects all students to sign when working in the lab.

Also, any student with computational or programming programming (R, Python, UNIX, C++, Java, etc) skills would be beneficial to successful completion of the project, but not necessary.

Agreement for Jue Lab Membership

Students accepted into the Jue Lab will be asked to agree to these expectations.

Expectations for all undergraduate mentees:

Be consistent with your lab schedule. All students will schedule to work a minimum of 10 hours weekly throughout the semester, unless other arrangements are made with Dr. Jue. This time must be accounted for on the lab Google Calendar and you are held responsible for being in the lab during these times. This is the minimum amount of time you will need to commit in order to grow as a researcher and make progress on your projects. All independent research student must sign up for at least 1 credit of either BIO297, BIO397, or BIO497. For each credit, you are expected to dedicate a minimum of 3 hours per week of your time unpaid to your research. This allows for an additional 7+ hours per week to be paid work, if funding is available. Up to 3 credits earned in BIO397 and BIO497 can be used as elective credits toward your major requirements.
Attend lab meeting. The entire lab assembles approximately once a week to discuss our research. You should be prepared to present a summary of your pasts weeks work, lead discussion on any work you have currently undertaking, and propose the next necessary steps to accomplish your scientific goal. You are expected to fully participate and engage with your labmates in discussion of lab projects. You should read any materials assigned by Dr. Jue or your peers and come prepared to participate actively in the discussion. Please be open and engaged in all discussions. It is a time to address any questions or troubles you had. Important things to include: project you've worked on, broken equipment, storage/equip conflicts, if your data look weird.
Be organized. There is a lot of overlap in projects, and it is essential that you keep track of all of the samples in the way that I specify. This includes updating the data spreadsheets, following lab data organization protocols and lab notebooks immediately.
Take responsibility for your own scholarship and read background information and protocols about our projects and the Jue lab research. This includes the protocol handout, the Wiki, and related journal articles from the lab that I've suggested. I'd love to discuss any journal article or protocol, if you have questions.
Be independent. I am periodically away and frequently unable to be in the lab while you are there. While I will do my best to get your trained and supported in your work, I expect you to get things done well without me. Ask questions when I am around, but don't be afraid to try to do detective work on your own if I am not. We have a helpful, experienced lab so know that folks other than me may be excellent resources.
Respect the lab area and your colleagues. Safety is our first concern in everything we do so please be careful at all times when working in the lab or field. Keep the lab neat and ask if you have questions on equipment use, cleaning, etc. It is very important that you tell me if a piece of equipment breaks. Do not be worried that I will be angry. These things happen all the time in labs and the important thing is that I know it is broken and can arrange to have it fixed. Remember you are responsible for professional behavior at all times while working in the lab and we work as a team in the lab so expect to be asked to participate in lab activities that may not be directly part of your research project. This is normal. Our success as a lab depends on our ability to support each other. I expect all of us to treat each other with respect in all cases. Failure to do so is grounds for being asked to leave the lab.
Sharing lab intellectual property must be cleared with Dr. Jue. All work done in the lab is considered to be the intellectual property of Dr. Jue and CSUMB. Therefore, you must receive my approval for any communication and/or presentation of lab data. All original records of work (e.g. notebooks, data files, etc.) must remain with me who will manage at their future access. Additionally, I will provide you with training on how to professionally engage peers, mentors, and collaborators.
Let me know if you need anything from me as a mentor, or if you have questions. Be up front and I will do the same. I have an "open door" policy. Let me know if you hare having troubles or concerns that you want to talk about with me. Know that I am committed to your success as a student and will work with you to help that happen.

Project Description

Pesticide usage is necessary for modern commercial agricultural production in both conventional and organic cropping systems. With around 200 million pounds of pesticides reported to be used annually and greater than 1.8 billion pounds of pesticides purchased in 2016 in the state of California, the persistence and unintended dispersal of pesticides is of major concern. Pesticide usage effects agricultural businesses and communities directly by the evolution of resistance to pesticide treatments and overexposure contributing to poor health and indirectly through adverse broad environmental issues such as the contamination of groundwater. Bioremediation and the usage of bioreactors are promising solutions for mitigating the negative impacts of pesticides. Naturally-occurring microbes are known to evolve the ability to metabolize and breakdown various environmental pollutants such as organophosphate-based pesticides like Diazinon. In this project we plan to use genomic studies to discover new pesticide remediating bacteria, identify the genetic mechanisms that allow them to remediate pesticides, and describe what ecological factors facilitate this remediation in order to improve bioreactor design. To accomplish this goal, we are sequencing strains of pesticide remediating bacteria isolated, conducting functional genetic studies to identify genes associated with pesticide remediation, and associating ecological contexts and conditions with naturally occurring pesticide remediation. The focus of work for this summer will include the isolation and genome sequencing of pesticide-remediating bacterial strains.

Anticipated Learning Outcomes

Student researchers will ...

1. Learn aseptic technique and basic molecular biology practices
2. Learn proper lab etiquette and safety
3. Learn how to generate and sequence DNA libraries
4. Learn how to communicate statistics outcomes
5. Learn about Team Science and working on interdisciplinary teams
6. Learn about reproducible research and how to practice reproducible research

Environmental Science - Dr. Arlene Haffa

Prerequisites:

Students interested in agricultural research may be the best-suited; however, because the goals are to mitigate pesticides on the environment and human communities any science student would be suitable.

Ideally, students who have had at least one laboratory class in chemistry of biology are desired
Must be willing to work both indoors and outside
Student must be willing to learn about microbial populations, available to travel to field sites in Santa Cruz County if necessary, and eager to learn new skills!

Project Description #1 - Bioremediation of Agricultural Effluent

Bioremediation of pesticides using woodchip bioreactors. This work is done in collaboration with John Silveus (described above). Students will help to isolate and characterize bacteria from the environment that are capable of degrading pesticides of concern. Work may be done in a combination of the laboratory and the bioreactor site.

Anticipated Learning Outcomes: Student researcher on Project 1 will

Learn about aseptic technique
Learn how to establish and maintain microbial cultures
Learn how to evaluate the growth of microbes in the laboratory and in the bioreactors
Learn how to isolate and amplify DNA from microbes
Learn how to model observed data from the bioreactors
Learn how to perform literature searches and summarize the literature
Learn how to share research in written and oral formats
Learn about Team Science and working on interdisciplinary teams
Learn about reproducible research and how to practice reproducible research

Project Description #2 - Assessing the Efficacy of Anaerobic Soil Disinfestation

This project will assess the efficacy of Anaerobic Soil Disinfestation as an alternative to fumigant pesticides in strawberries. This work is done in collaboration with Stefanie Kortman (CSUMB) and Joji Muramoto and Carol Shennan (UCSC). The work will be a combination of pot trials in the laboratory and field trials.

Anticipated Learning Outcomes: Student researchers on Project 2 will ...

Learn how to establish and maintain pot trials in a controlled growth chamber
Learn how to collect and evaluate greenhouse gas and volatile organic solvent emission data
Learn how to search a microbial/emission database to determine microbial populations
Learn how to model observed data from the pot trials
Help with field scale data collection (if crop established prior to end of summer)
Learn how to perform literature searches and summarize the literature
Learn how to share research in written and oral formats
Learn about Team Science and working on interdisciplinary teams
Learn about reproducible research and how to practice reproducible research