Step & Prep
Join Professor Jenny Duggan for informal chats about science careers while enjoying the trails at Fort Ord National Monument.
Walks are at 1:00 PM on Saturdays during the fall and spring semesters.
All friends and leashed dogs are welcome, but please come prepared to wear a face mask and/or maintain social distancing! You'll know you have the right spot when you see a black dog with a huge, fuzzy tail- that's Benson!
Please send an email to jduggan@csumb.edu in advance so I'll know to look for you!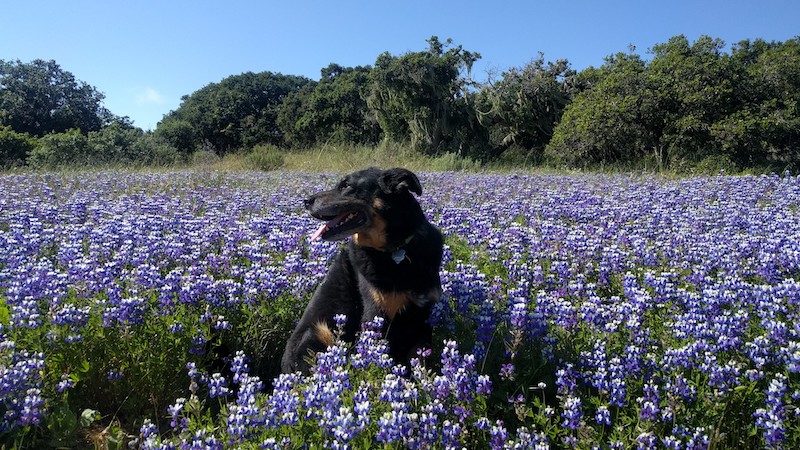 Benson, the Step & Prep mascot
Meeting Locations
The meeting locations for the next few weeks are described below:
| Date | Meeting Location | Description |
| --- | --- | --- |
| September 2, 2023 | Parking lot off Intergarrison Rd (just East of Schoonover Dr) | Meeting location is a parking lot a short walk from East Campus or bike/bus ride from main campus. We'll see lots of California tiger salamander habitat. |
| September 9, 2023 | Intersection of Watkins Gate Rd and W Camp St in the East Garrison neighborhood. | Meeting location is a short drive from campus/East Campus and street parking is available. Not many students know about this entrance to the Fort Ord National Monument! |
| September 16, 2023 | Intersection of Watkins Gate Rd and Sloat St in the East Garrison neighborhood. | Meeting location is a short drive from campus/East Campus and street parking is available. We'll tackle some hills on this walk- good exercise and great scenery! |
| September 23, 2023 | Intersection of 8th Ave and Gigling Rd. | Meeting location is a parking lot a short walk or bike ride from main campus. We have the potential to see lots of great wildlife in this area, including birds, reptiles, and bobcats! |
| September 30, 2023 | Parking lot off Intergarrison Rd (just East of Schoonover Dr) | Meeting location is a parking lot a short walk from East Campus or bike/bus ride from main campus. We'll see lots of California tiger salamander habitat. |