Physician Assistants (PAs) are professional healthcare practitioners who expand quality and affordable care to diverse patient populations.
The CSUMB Master of Science Physician Assistant (MSPA) program prepares students with rigorous medical education, teaching how to obtain medical histories, perform physical examinations, diagnose illnesses and prescribe medications.
The MSPA Program at CSUMB focuses on providing primary care to underserved patient populations, in keeping with the CSUMB Vision Statement. In this way, the MSPA program not only serves a critical regional educational need; it also strengthens the health of communities that future CSUMB-trained Physician Assistants serve.
Information Sessions
Physician Assistant Information Session
March 19, 2020 6:00pm — 8:00pm
MSPA program
1450 N. Main St
Salinas, CA 93960
The information session will be held at the MSPA program in North Salinas at 1450 N. Main St, Salinas, CA 93960
Are you interested in learning more about CSUMB Physician Assistant (PA) program? Attend our information session to find out what a PA can do, meet our current students in the program, and tour the facilities.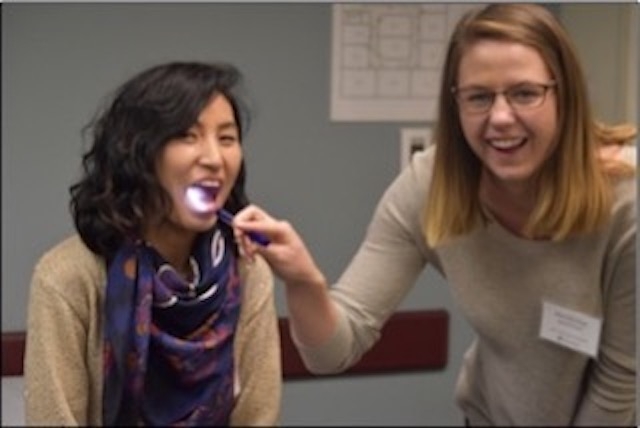 Next Information Sessions for Spring 2020: February 19, 2020 • March 19, 2020 • April 20, 2020 • May 13, 2020 at 6:00 pm. This is an opportunity to learn more about the program, tour the facility, and get to know some of the faculty, staff, and students. For more information, click on the button below.
Info Session
Admission Requirements
Tuition & Fees
Quick Links
Contact Information
Mailing List
About Our Program
Our Students
CASPA Applications
Applications are currently being accepted through CASPA until April 1, 2020 for the class that will begin January 2021.
How to apply
Employment of physician assistants is projected to grow 31% from 2018 to 2028, much faster than the average for all occupations. - U.S. Bureau of Labor Statistics, January 2020

—

U.S. Bureau of Labor Statistics
MSPA Inaugural Cohort, Class of 2021
ARC-PA Accreditation Status
The ARC-PA has granted Accreditation-Provisional status to the California State University, Monterey Bay Physician Assistant Program sponsored by California State University, Monterey Bay.
Accreditation-Provisional is an accreditation status granted when the plans and resource allocation, if fully implemented as planned, of a proposed program that has not yet enrolled students appear to demonstrate the program's ability to meet the ARC-PA Standards or when a program holding Accreditation-Provisional status appears to demonstrate continued progress in complying with the Standards as it prepares for the graduation of the first cohorts of students.
Accreditation-Provisional does not ensure any subsequent accreditation status. It is limited to no more than five years from matriculation of the first class.