Business Intern stands out from the crowd
Senior Business major, with a marketing concentration and a Communications Design minor, Sophia Saw took advantage of the College of Business Internship Excellence Program to help her secure a Sales and Marketing Internship at Mazda Raceway Laguna Seca.
As a Sales and Marketing Intern she was able to apply the knowledge to real world situations. Her responsibilities included planning and promoting races, designing promotional flyers and signage, and coordinating fan activities such as autograph sessions.
Jeanie Sumners Marketing Manager Mazda Raceway Laguna Seca and Sophia Saw
Students who register with our program are able to receive customized services to help them secure an internship that complements their skills and career interests. I encourage any Business students looking for an internship (or even thinking about one) to request an appointment and meet with our team.

—

Suzanne Kroeze, Internship Excellence Program Coordinator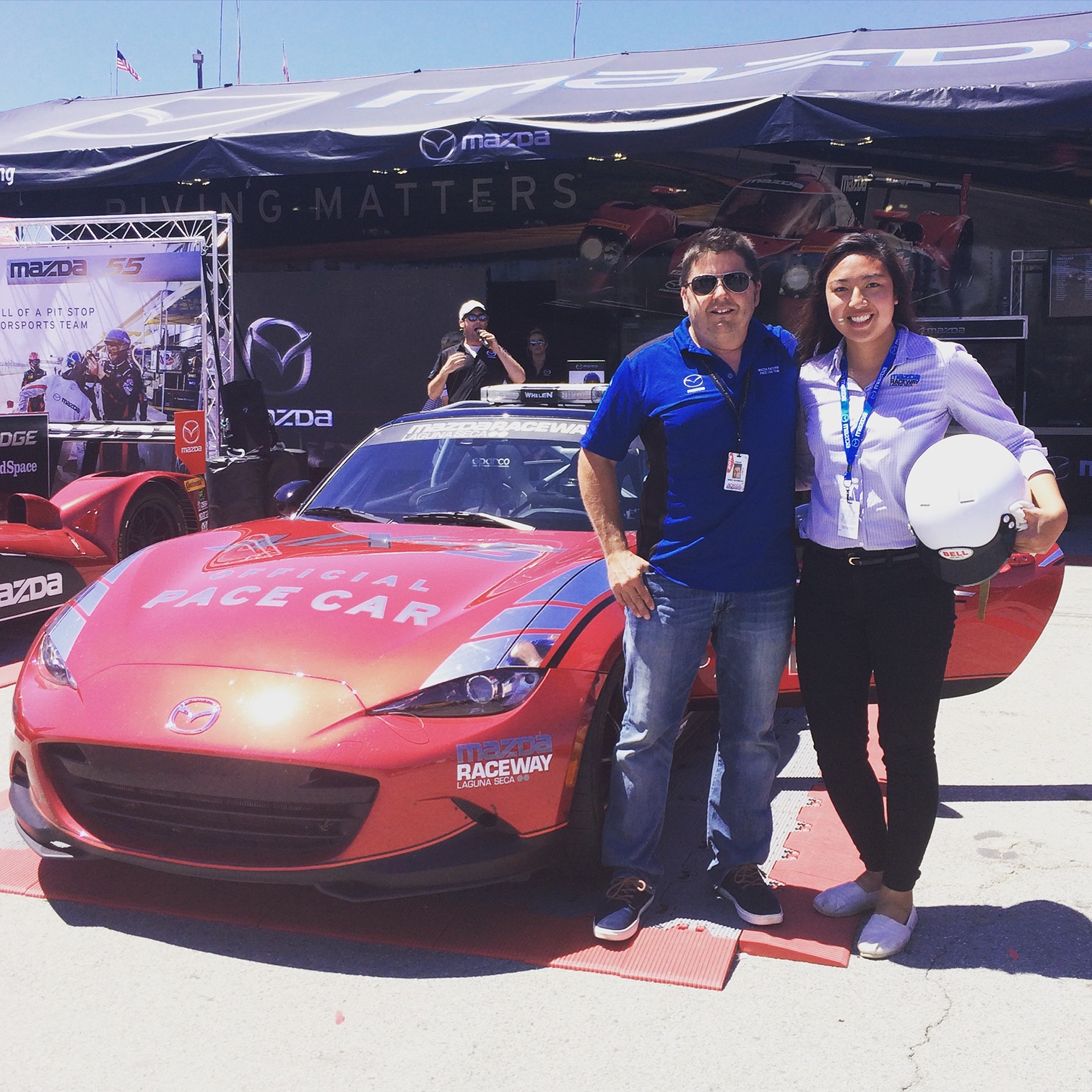 Greg Garneau, Pace Car Driver and Sophia Saw
The COB Internship Excellence Program not only provided connections to internship opportunities, but it also helped Sophia bridge the application and interview gap that many college students and recent alumni face.
Staff helped Sophia edit her resume and cover letter to ensure that she stood out as a strong candidate, articulating her skills and experience. Sophia did a mock interview where she was given immediate feedback on how she presented herself through her responses. Sophia used the helpful tips and pointers during her interview where she gave a lasting first impression, making her stand out in a field of candidates.
Once Sophia's internship ended she was hired as the Sales and Marketing Coordinator with Mazda Raceway Laguna Seca.
For more information on the College of Business Internship Excellence Program visit the website: