Business and Information Technology Building
Cal State Monterey Bay kicks off a new era of innovation.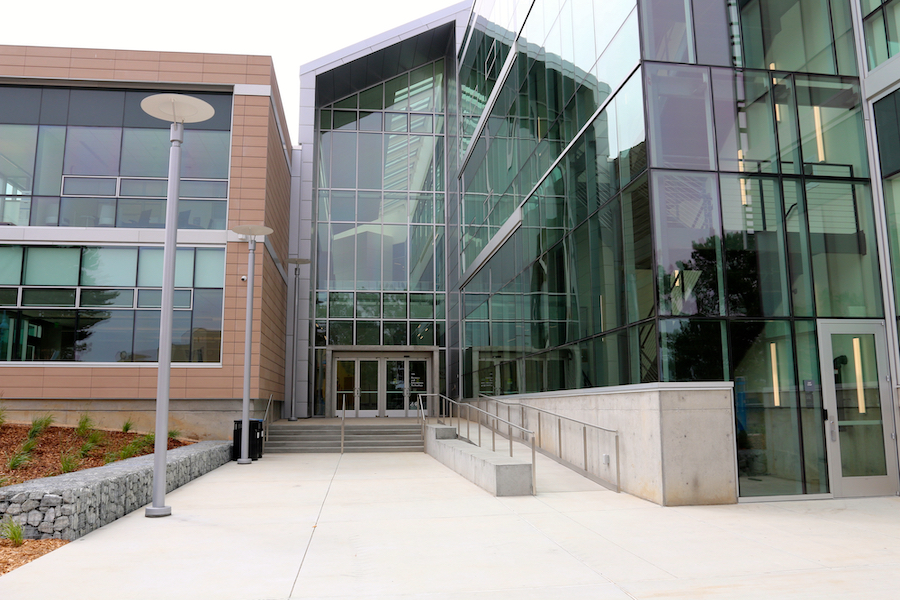 Front entrance of the BIT Building at Cal State Monterey Bay.
The 58,000-square-foot sustainable structure, the new home for the College of Business and the School of Computing and Design, will allow students pursuing separate degrees to learn side-by-side and collaborate in multidisciplinary teams similar to the business world.
View more images of the Business and Information Technology Building:
Features: two and three levels tied together by an atrium, including eight classrooms; 12 laboratories; offices for faculty members, departments and the dean of the College of Business; conference rooms; student study areas; and a graduate student lounge
Cost of construction: $43 million, funded with state funds ($33 million for construction and $10 million for indirect costs including architects and engineer fees, construction management and contingency fees, specialty consultants, agency code approvals and compliance fees, furniture and equipment)
Start of construction: November 2013
Completion: For the 2015-16 academic year
Architect: HMC Architects of San Jose (other projects include San Francisco State University library renovation and expansion; UC San Diego School of Management; College of the Desert Nursing Complex)
Construction Manager: Rudolph and Sletten, whose other projects include the Green Music Center at Sonoma State University, and the Monterey Bay Aquarium
Location: Divarty Street, next to the Tanimura & Antle Family Memorial Library

We are raising the bar in business and technology with limited environmental impact. Sustainability strategies for the Business and Information Technology Building include organized spaces to ensure that learning environments and staff areas receive natural light; storm water runoff is contained on site; water conserving plumbing fixtures are used; and heat-producing direct sunlight is kept to a minimum with the exterior screen wall. The building has been designed to be LEED Gold certified, but won the highest Platinum rating.

Water

On-site storm water retention – nothing flows to bay
All native/drought tolerant landscaping
Hot and chilled water comes from campus central plant, radiant heating integrated
No-flow and low-flow features on bathroom fixtures designed to achieve a 43.58 percent reduction in water use

Energy

Terracotta panels are used to absorb sunlight
Windows controlled by building management system to provide natural cooling
Shades: full blackout to 50 percent to full sun
46kW of the 945kW of the campus solar panel system has been dedicated to building energy use to achieve an energy cost savings of 43.4 percent (per ASHRAE 90.1-2007)

Transportation

EV charging station (planned with wiring in place but charger not installed)
Bicycle parking (40 parking spots)
Showers on first floor

Waste

97 percent or 1,222 tons of construction waste diverted (mainly concrete)
Recycling waste receptacles have been provided for storage and collection of recyclables

Indoor environmental quality

Low-emitting materials used for paints, adhesives, flooring, etc.
Low-emitting materials used in furniture and seating
Views to outside for 90 percent of spaces
Indoor chemical and pollutant source control
Outdoor air delivery monitoring to promote occupant comfort and well-being
Increased ventilation to improve indoor air quality

Help us equip students with the skills today's marketplace demands. Help inspire and enable them to create new solutions, products, and businesses.

Take advantage of sponsorship and naming opportunities for funding scholarships, faculty recruitment, research projects and student capstone competitions.

Contact us today for more information:

Clarisa Avila

Director of Development

claavila@csumb.edu