Under New Management: The MBA Program has new leadership as of fall 2023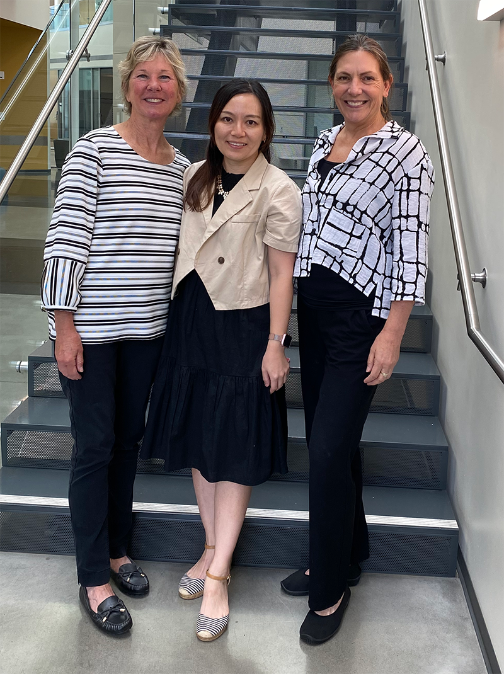 August 17, 2023
Seaside, CA – In a recent memo, Business Department Chair Dr. Leslie Boni stated, "I am pleased to announce that we have a strong team assembled to lead the MBA going forward."
The new MBA Program Leadership Team includes:
Susan Harker, MBA Program Director

Jenny Lin, MBA Academic Director

Rachael Kehoe, MBA Associate Director
Susan Harker is the new MBA Program Director. Susan has worked at the CSUMB College of Business for 11 years. She started as a lecturer and has been the MBA Associate Director since 2018. Susan got her MBA from UC Berkeley and is working on her Ph.D. in Management at UNC Greensboro. Prior to joining CSUMB, Susan's career spanned finance, operations, and human resources, including managing HR for a large global business unit at Hewlett Packard.
Dr. Jenny Lin, Associate Professor, will be the MBA Academic Director. Dr. Lin received her Ph.D. in marketing at Iowa State University. Her research focuses on marketing and she specializes in consumer behavior topics and issues such as sensory marketing, consumer decision making, consumer wellbeing and neuromarketing. Jenny has been with the CSUMB for 8 years, also serving as the MBA marketing course lead prior her to new role in the MBA program. She will be responsible for assessment of learning, the PIP, and investigation of new academic opportunities for the MBA. She will also teach exclusively in the MBA.
Dr. Rachael Kehoe, who has been a lecturer at the College of Business for 8 years, will become the new MBA Associate Director. Rachael has her MBA from Pepperdine University and her Doctor of Management from the University of Phoenix. She has over 20 years of experience in healthcare and home health marketing, sales, strategic planning, contract negotiations, and business development. She has won numerous awards and accolades during her career and recently retired from her role as Sales Director at Payor Solutions. Rachael will continue to teach in the BSBA program.
Learn more about the MBA Program.