Newly Minted Sustainable Hospitality Management Alum Joanne Rivera Arce Embarks on an Exciting Journey to Switzerland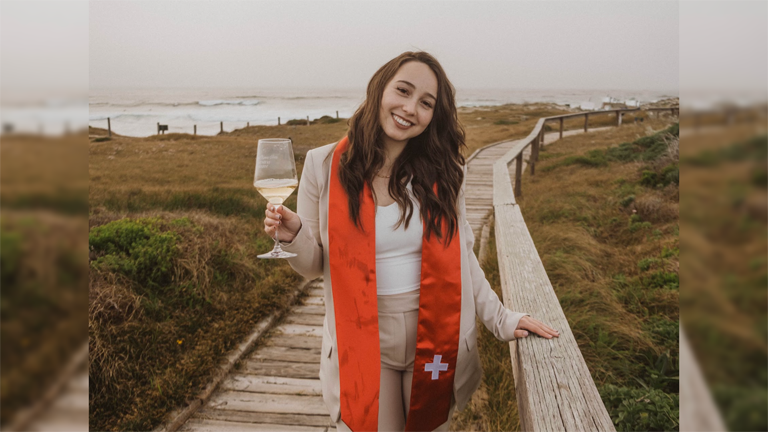 May 29, 2023
We are thrilled to announce the exceptional achievement of Ms. Joanne Arce-Rivera, fondly known as Swiss Miss, as she sets out on a remarkable adventure at the esteemed César Ritz Colleges in Switzerland. Joanne, a recent graduate with a Bachelor of Science in Sustainable Hospitality Management, has been accepted into the Master's degree program in International Business in Entrepreneurship & Hospitality and Tourism.
Throughout her academic journey, Joanne has been an active member of the Hospitality Club, where she held various leadership positions and served as the club President during her final year. Her dedication and involvement in the club have demonstrated her passion for the hospitality industry and her commitment to fostering a sense of community among her peers.
Joanne's pursuit of knowledge will lead her to the serene Brig Campus, situated in the sun-kissed Rhône valley, surrounded by the breathtaking Alps. Over the next six months, she will engage in rigorous academic study, immersing herself in courses tailored to her field of interest. Additionally, Joanne will embark on a valuable 4-6 month internship, allowing her to apply her newfound knowledge and gain practical experience.
The opportunity to study abroad offers Joanne a unique chance to embrace diverse cultures, explore new places, and develop a global perspective while earning credits toward her degree. Her time in Switzerland will not only enhance her intercultural communication skills but also foster adaptability, foreign language proficiency, and problem-solving abilities.
For current students of the Sustainable Hospitality Management program aspiring to follow in Joanne's footsteps, we encourage you to connect with Dr. Angel González, a program graduate who played a pivotal role in Joanne's pursuing this extraordinary opportunity. Dr. González's firsthand experience and guidance will undoubtedly prove invaluable in navigating similar paths toward success.
As Joanne embarks on this exciting chapter of her life, we extend our heartfelt wishes for her continued growth and accomplishments. Her journey serves as an inspiration to fellow hospitality majors, demonstrating the endless possibilities that await those willing to explore the global landscape. We eagerly await the remarkable achievements that lie ahead for Joanne as she forges her path in the international hospitality arena.