International Visitor Program Explores Ecotourism and Environmental Sustainability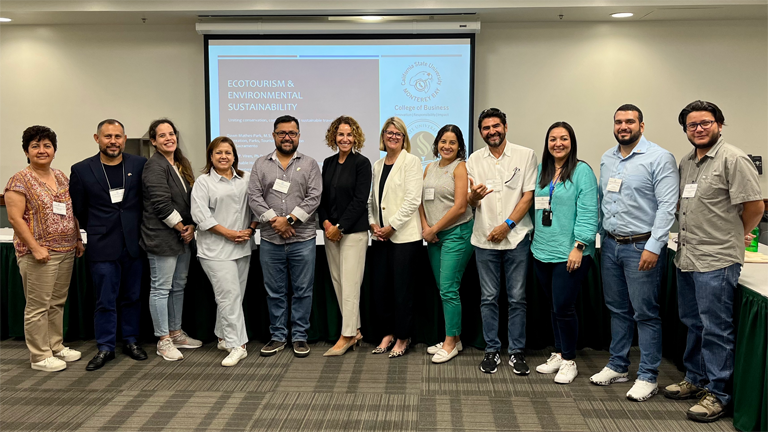 August 15, 2023
On August 15, 2023, Dr. Paige Viren, Executive Director of the Sustainable Hospitality Management (SHM) program at California State University, Monterey Bay, joined forces with Dawn Mathes-Park, a graduate student from the Department of Recreation, Parks, and Tourism Administration at California State University, Sacramento. Together, they presented to a cohort of 10 distinguished international visitors from El Salvador. The event took place at the University Union on the campus of Sacramento State University, highlighting the significance of cross-institutional collaboration.
The participants, meticulously chosen and endorsed by the U.S. Department of State, were part of an exclusive professional exchange initiative to advance tourism planning and development. Orchestrated by Global Ties Sacramento, the program invited professionals from El Salvador to delve into emerging trends and pioneering strategies concerning the environmental stewardship of ecotourism sites. This engagement aimed to strike a delicate balance between conserving natural resources and promoting sustainable tourism.
Global Ties Sacramento, in partnership with the U.S. Department of State, orchestrated the International Visitor Leadership Program (IVLP), an esteemed international exchange platform. This program effectively fosters global connections by uniting individuals worldwide with their counterparts in the United States, promoting the exchange of best practices, and facilitating the establishment of invaluable international relationships.
The keynote presentation, titled "Ecotourism and Environmental Sustainability: Uniting Conservation, Communities, and Sustainable Travel," was centered around the pivotal role of ecotourism in harmonizing the goals of ecological preservation, community empowerment, and ethical travel practices. Esteemed representatives from El Salvador, including figures from the Salvadoran Institute of Tourism and the Ministry of Environment and Natural Resources, were present at the event. The delegation was further accompanied by three U.S. Department of State liaisons, underscoring the program's significance.
This initiative, facilitated under the aegis of the Department of State's International Visitor Leadership Program, granted the participants the opportunity to explore two American cities. The program's focal point was the examination of exemplary strategies and policies that nurture the growth of the ecotourism sector while ensuring the safeguarding of ecologically sensitive regions.
Claudia Ramirez, the International Program Coordinator for Global Ties Sacramento, expressed her enthusiasm regarding the visitors' response to the presentation. "This keynote provided participants the opportunity to understand ecotourism, and the discussion on the delicate balance between promoting sustainable tourism and preserving the environment was eye-opening. The emphasis on responsible travel and its positive effects on local communities and ecosystems was both inspiring and thought-provoking."
The event served as a poignant reminder of the potential of international collaboration and knowledge exchange in championing sustainable tourism practices and environmental conservation. Through initiatives like the International Visitor Leadership Program, professionals from diverse corners of the world come together to share innovative ideas and strategies that possess the power to enact positive global change.
Learn more about CSUMB's B.S. Sustainable Hospitality Management degree program –