California Travel Association Tourism Advocacy Day: SHM Executive Director Paige Viren Joins Forces to Boost California's Thriving Tourism Industry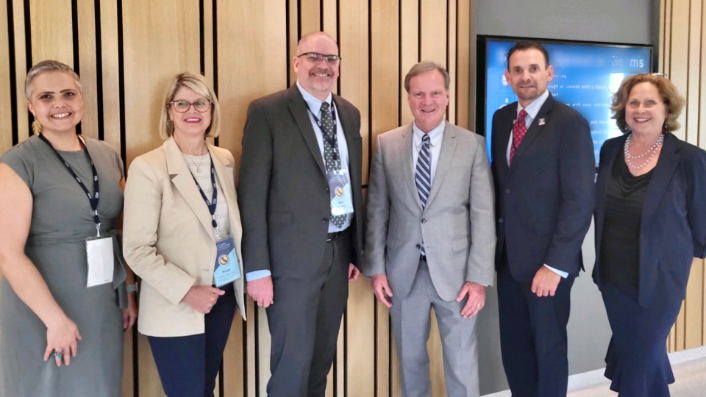 May 16, 2023
Sacramento, CA - It was a day filled with excitement and purpose at the California Travel Association Tourism Advocacy Day as industry leaders and representatives convened to advocate for the state's flourishing tourism sector. Among the participants was Dr. Paige Viren, the executive director of the Sustainable Hospitality Management (SHM) program, who played a pivotal role in advancing the interests of California's travel industry.
Led by Chuck Davison, President & CEO of Visit SLO CAL, and joined by esteemed colleagues including Jerusha Greenwood, a CSU representative and Professor at Cal Poly San Luis Obispo, as well as industry experts Ben Roschke, VP of Research and Strategic Development at Visit San Jose, and Toni LeGras-Price, CEO of Beachside Rentals, Inc., Paige Viren, the SHM executive director, contributed to the collective efforts aimed at advocating for the industry's growth and sustainability.
The event provided an invaluable opportunity for Paige Viren to engage with influential officials, including Assemblymember Dawn Addis (District 30), Assemblymember Ash Kalra (District 25), Quincey Stivers, the staff person for Senator John Laird (District 17), and Senator Dave Cortese (District 15). Through meaningful conversations, Paige Viren and the participants were able to share their experiences, foster relationships, and express sincere gratitude for the ongoing support received from these officials on matters pertaining to tourism.
Advocacy Day holds significant importance as it serves as a platform to champion the interests and innovations of California's travel industry. The impact of travel and tourism on the state's economy cannot be overstated, with an astonishing $135 billion injected into the economy by travelers in 2022 alone. This spending not only supports 1.1 million jobs for fellow Californians but also generates a substantial $12 billion in local and state tax revenue, equivalent to $906 saved per California resident household. Despite the challenges posed by the COVID-19 pandemic, there is an unwavering sense of optimism, with a projected visitor spending of $154.4 billion anticipated in 2023, surpassing pre-pandemic levels from 2019.
The call to action is clear: to continue working collaboratively to strengthen the influence of the travel industry and shape a thriving future for California. By joining forces and advocating for the industry's growth, the collective efforts of Paige Viren, industry leaders, representatives, and officials can make a significant difference.
As the day came to a close, participants left Sacramento with a renewed sense of purpose and determination to propel California's tourism industry forward. With shared dedication and concerted efforts, the future holds immense promise for the state's travel sector. Let us unite, continue the advocacy, and build a vibrant and prosperous California for all.