2022 Accounting Networking Event: A New Horizon for Students
September 22, 2022 – The CSUMB annual Accounting Networking Event (ANE) had a record-breaking number of participants this year: 81 students networked with 61 professionals from 28 accounting firms, financial planners, area ag companies, and other organizations.
They all gathered in the University Center Ballroom to share accounting and finance career opportunities and internship information with both CSUMB and area community college students. The industry and professional representatives were impressed with how well-prepared CSUMB students were; some of them even conducted interviews on the spot during the event; others invited students to apply or interview with them soon.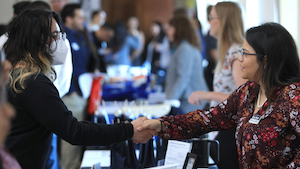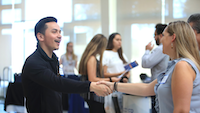 In the past, the ANE has been a great way for CSUMB students to network with practicing professional accountants and financial managers. This year, the ANE Steering Committee decided to add an outreach element to the event by inviting community college students. Exposing these students to the ANE networking opportunities gave them a chance to learn about the many career pathways open to students in CSUMB's accounting and financial planning concentrations.
Many area students don't know about these career opportunities because they do not have family, friends or neighbors employed in business and often haven't learned about accounting or finance jobs. The professionals that attend the ANE are enthusiastic about helping CSUMB faculty get the word out to community college students about these great career opportunities.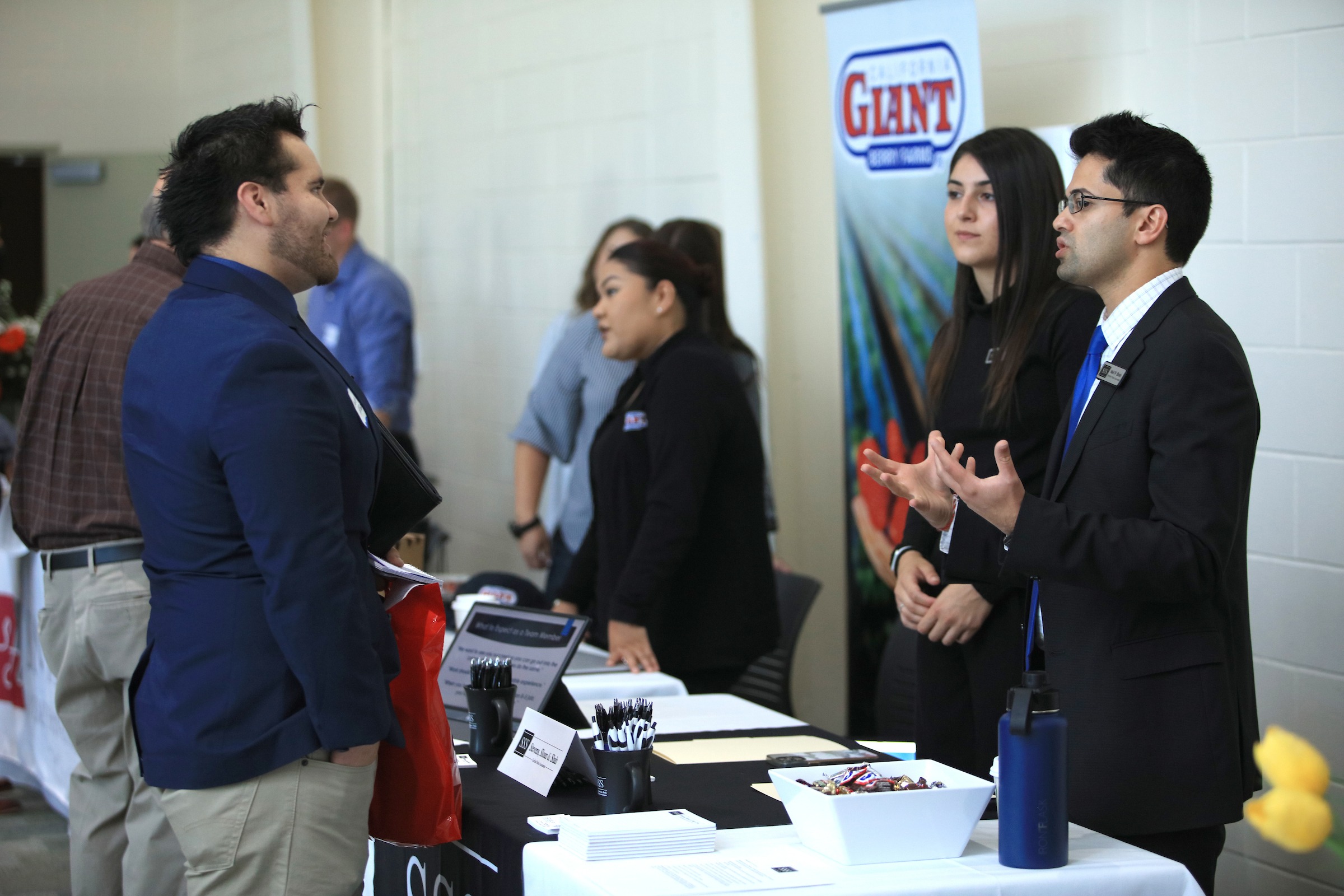 CSUMB accounting faculty members Dr. Sharon Hua and Dr. Gary Schneider have been visiting area community colleges with CSUMB alumni to spread the word about these careers. Sharon and Gary held a Sunday afternoon resumé workshop, along with Dr. Mary Anne Majadillas and ACCESS program coordinators, Maj-Britt Kimm and Susan Harker. CSUMB students who attended received one-on-one coaching to help them prepare for the ANE. Sharon practiced elevator pitches with students; Otter Outfitters and the CSUMB Library provided business attire and briefcases for students attending the ANE.
Students were enthusiastic about their experiences at the event. Their comments included:
"… an excellent opportunity to see the pathway taken by others who used to be in my shoes."

"I met many … CPA and wealth management firms from the central coast… [including] … many that I felt were genuinely interested in me."

"I met […], and he has already offered me a job!"

The College of Business thanks all of our Accounting and Finance industry partners for participating in ANE 2022 including the following firms and organizations:
Becker CPA Review
Bianchi Kasavan & Pope, LLP
Bordeaux Wealth Advisors
Brandon & Tibbs, CPAs
California Giant Berry Farms
Church Brothers Farms
Deloitte, LLP
Dole Fresh Vegetables
Driscoll's
Fitz Fresh Mushrooms
Green & Ward, CPAs
Hayashi Wayland
Hutchinson and Bloodgood, LLP
Integris Wealth Management
KPMG, LLP
McGilloway Ray Brown & Kaufman
Monterey Private Wealth
Moss Adams
Pence Financial Group
PwC
Rudisill Accountancy
Scholl & Company
Stevens, Sloan & Shah, CPAs
University of California - Davis Master of Professional Accountancy Program
United Way Monterey County - IRS Volunteer Income Tax Assistance Program
Vanderbilt, CPAs
Wheeler Accountants, LLP