Services
The Facilities Management Department oversees building maintenance, locksmithing, event setup, mail delivery, landscaping, custodial, space planning, facilities development, design, and construction. The services we provide fall into two categories: Routine Maintenance and Non-Routine Services. For a full list of our services please see below.
Routine Maintenance
Routine or "day to day" Maintenance are services that Facilities Management staff provide that do not add to, change, or alter the current physical environment.
Automotive
Vehicle Inspections

Minor Repairs

Fuel

Electrical Fleet
Building Service Engineers
HVAC – Heating & Air Conditioning

Climate Control

Refrigeration
Carpentry
Fencing

Flooring

Fixtures

Roofs

Repairs
Electrical
Lightbulbs & Lighting Issues

Circuit Breakers

Receptacles
Custodial
Restrooms

Classrooms

Offices

Public Areas
Locksmithing
Keys

Key Card Readers

Re-Keying
Mail delivery - staff & faculty only
Moving
Equipment

Furniture

Fixtures
Painting
Touchups

Repainting

Graffiti Removal
Pest Control
Plumbing
Leaks

Floods

Unclog Drains

Restroom Fixture Repairs
Landscaping
Regular Upkeep of Grounds
Non-Routine Services
Campus Planning & Development is responsible for the planning, design, and construction of campus facilities, or Non-Routine Services which change, alter, or add to the campus's physical environment. The Planning and Development team initiates and develops projects, plans and studies as needed.
Space Planning
Office Moves

Space Requests

Furniture

Building & Space Information

Signage
Energy and Utilities
Electricity

Natural Gas

Sewer

Potable Water

Industrial Hot & Cold Water

Efficiency Improvements

Usage Monitoring
Campus Planning
Projects

Concept Design

Building Permits

Property & Easements

Habitat Management
Design
ADA Compliance

Management

Feasibility

Code Compliance
Construction
Major & Minor Capital Projects

Construction Zones

Inspections

Bidding & Contracts
Landscaping
Fallen Tree/Branch Removal

Beautification

Irrigation Issues
When to Submit a Service Request
Submit a service request for all Routine Maintenance and Non-Routine Services, including moving computers, phones, or faxes. Depending on the type of service requested, an Intake Form may be required.
If you have a maintenance emergency please call 831-582-3700 and then submit a service request.
Examples of a maintenance emergency could be:
Water over flowing or flooding

Electrical smell or sparks

Natural gas smell – If you think you smell natural gas, immediately call the

University Police Department

and then Facilities
All Non-Routine Service Requests require an Intake Form (formerly known as the Project Intake Form or PIF) with submission. The form must be filled out in its entirety included a funding source and a Dean or AVP Signature. A request will not be considered without an intake form attached or if the form is not filled out completely.
Note: All non-move issues related to computers, internet, phones, or faxes must go through the Information Technology Department by submitting an IT Ticket.
How to Submit a Service Request
1. Complete all Required Sections
Enter the title of the request such as, "Cold in building". Add additional information about the request or request a specific date and time the work needs to be completed by.
Select the Department. If you are not sure if it is for a State or Corporation department, the "?" next to the option has additional information.
Fill in your contact information.
Select the location of where the issue is. You can use the search function to quickly search for a specific location. For example, type "Library".
Be as detailed as possible.
2. Attach any Pictures or Documents
Our service request and work order system allow you to attach pictures or documents. If you are submitting a request from your desktop, you will be able to select the picture or document. On mobile devices, photos can be added from your camera or gallery. You also have the option to crop and markup your photo for additional context. If your request requires an Intake Form you will attach it here.
3. Submit your Request
Click Submit!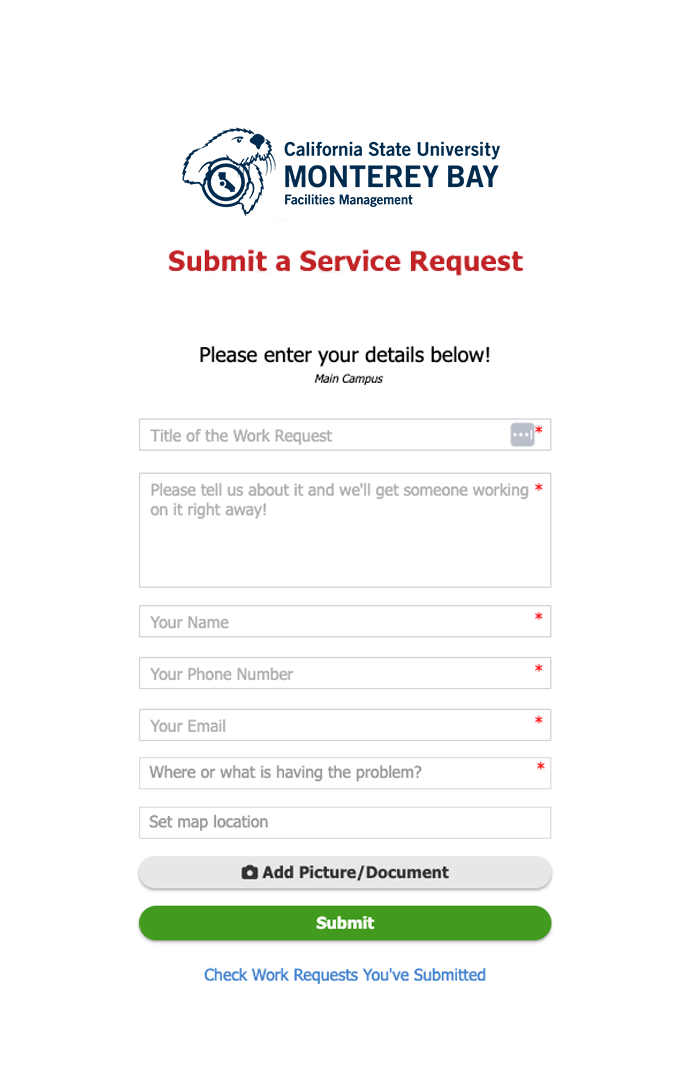 How to Check Your Requests
Check all of your open and completed requests by clicking on Check Service Requests You've Submitted. Enter in your email and click submit.
Note: The first time you check your Service Requests, you will be asked to verify your email.
Helpful Tips:
Write down or save your Service Request number. You can use it as a reference if you need to call x3700

Please allow Facilities Management 24 business hours to respond before checking the status of your Service Request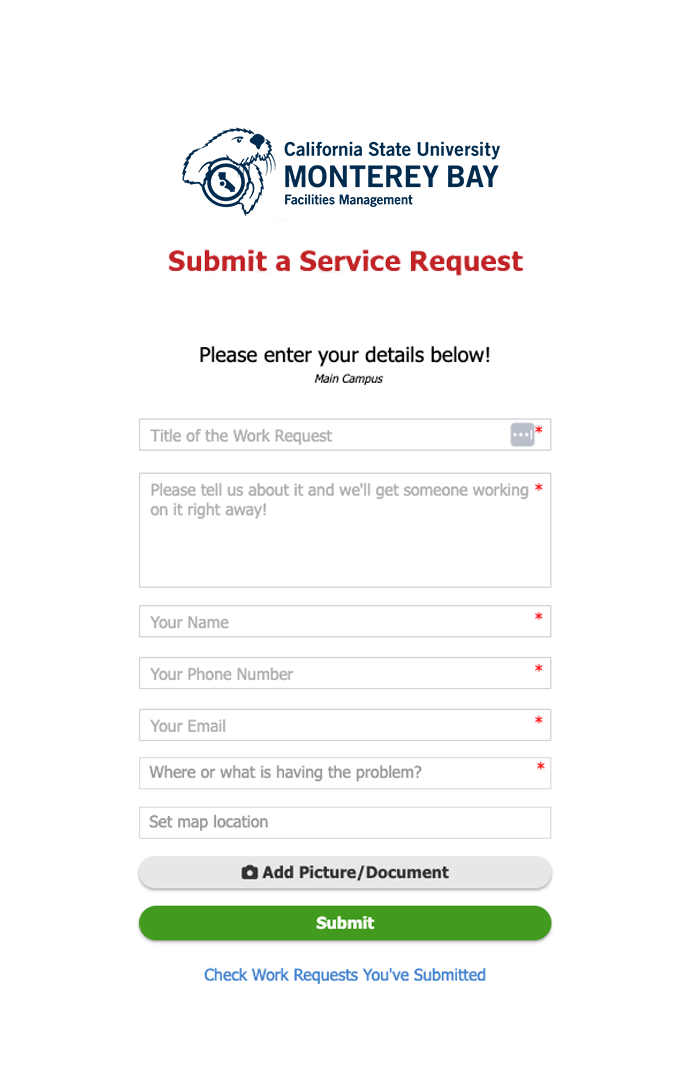 Access Request Form Keys
Access requests are made by the requestor to gain or change key and/or card access to buildings or offices. Fill out the access request form and get your supervisor's approval prior to submitting the work request.
For more information regarding Access Request, please review the page.
Have Questions? Call 831-582-3700 or send an email to FM@CSUMB.edu