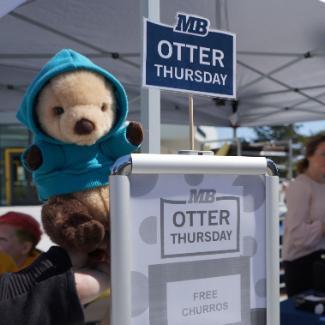 Otter Thursday Pep Rallies at the OSU!
Join us for CSUMB's newest tradition, Otter Thursday, a spirit-driven experience occurring every Thursday which includes a pep rally at the Otter Student Union providing free food, music, activities, and giveaways. Each week we'll be joined by different campus partners, activities, and a new free food item, so make sure you stop by!
Every Thursday starting August 24, 2023 — December 7, 2023
12:00pm — 1:15pm
OSU Main Quad Plaza

About Otter Thursday
Every Thursday, we celebrate Otter Thursday and we invite our entire campus community to come together and show CSUMB pride by wearing school colors. From noon to 1:15 p.m., students, faculty, and staff gather at the Otter Student Union for exciting music, games, giveaways, and free food.
We encourage everyone to bring that excitement and energy to our Thursday night home games and cheer our Monterey Bay Otters to victory. Whether you're a die-hard sports fan or just looking for a fun way to spend your Thursday afternoon, these are great opportunities to get involved with Otter Athletics.
Want to table at a future Otter Thursday event?
We are excited to welcome Otters back to campus this Fall. We are also getting ready to continue to celebrate Otter Thursday with our campus community, every Thursday!
Reasons why you should participate:
Promote CSUMB school spirit

Promote an upcoming event or program you are hosting

Provide a fun activity for students

Take part in creating and engaging in CSUMB traditions
In an effort to capture interest in participation, we have created an Otter Thursday Participation Request Form for campus organizations and departments to request to participate in our weekly event hosted on Thursdays at the Otter Student Union. We invite you to complete this form yourself or share with interested parties.
Important Considerations:
Otter Thursday will be occurring weekly starting Thursday, August 24th through Thursday, December 7th (Spring outreach coming soon)
Requests should be submitted at least 2 weeks in advance of preferred dates
Once approved, requestors will be contacted and will receive additional information regarding next steps
Financial support is always appreciated. If funding is available to support a part of Otter Thursday (games, food, etc.) please note your interest in the form and contact Jeff Rensel at jrensel@csumb.edu.