2022 Monterey Jazz Festival-CSUMB Education Showcase
A big thank you to all Otters--whether your worked behind the scenes, worked at the events, or if you joined us for amazing jazz on campus, attended one of our #GoogleOnCampus workshops, or received a complimentary ticket for the Monterey Jazz Festival from the Music & Performing Arts department, we appreciate your support! Couldn't make it? Visit our flikr album for a few snapshots. We hope to see you at the 2023 Monterey Jazz Festival events on campus-don't miss it!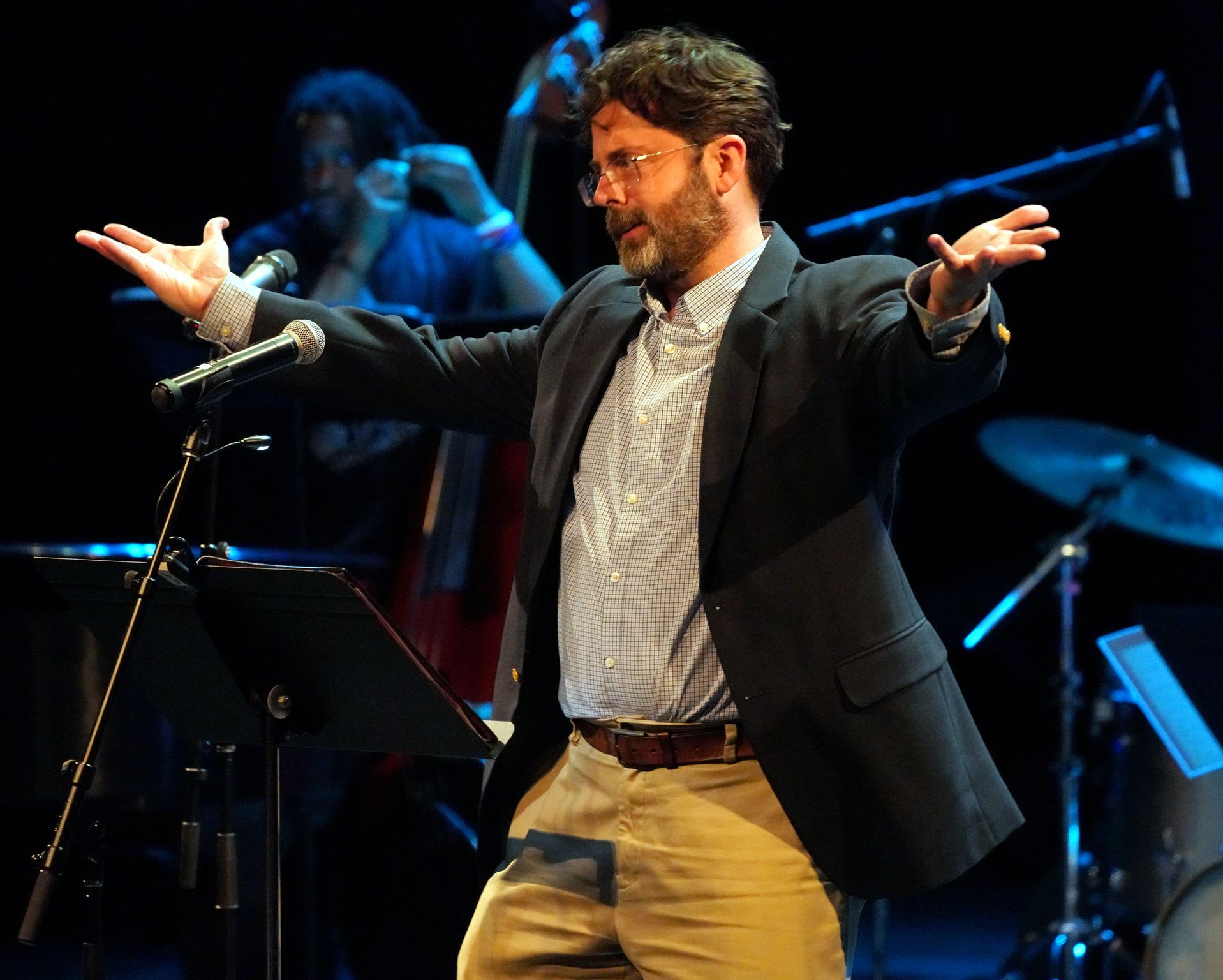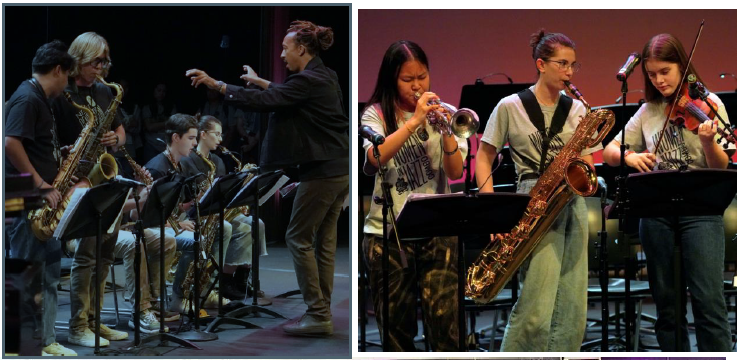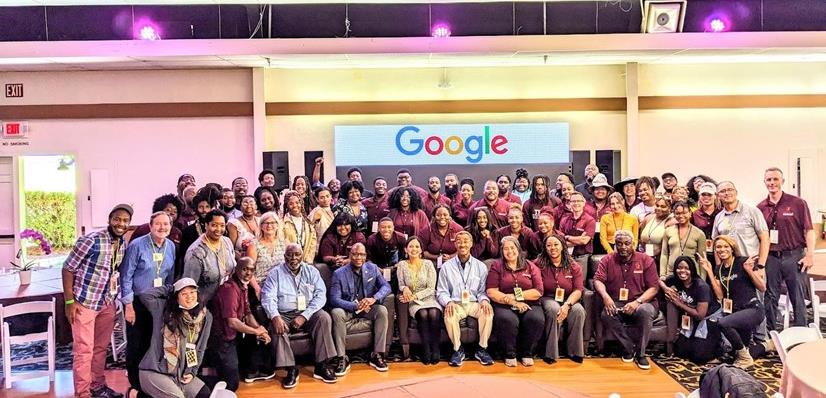 Monterey Jazz Festival - CSUMB 2022 Education Showcase

September 1, 2022
Monterey Jazz Festival (MJF) in partnership with California State University Monterey Bay (CSUMB), presents Education Showcase, a free community concert to celebrate the 65th Monterey Jazz Festival week and National HBCU Week on Thursday, September 22, 6pm-8pm, at the CAHSS World Theater Building 28. The concert is sponsored by McDonalds and is in memory of Dr. Robert "Bob" Danziger, a dear friend of CSUMB and Monterey Jazz Festival. This special evening's program reflects MJF's commitment to supporting the minority communities and increasing the inclusivity of its education and outreach programs. The audience will enjoy performances by the Next Generation Jazz Orchestra, Next Generation Women in Jazz Combo as well as the jazz ensembles and choirs of Morgan State University and Texas Southern University.
This event is free of charge, all are welcome. On behalf of Monterey Jazz Festival; the College of Arts, Humanities, and Social Sciences, and the Music & Performing Arts Department, we look forward to seeing you for an exciting evening of live jazz on campus!
Event Information:
Monterey Jazz Festival-CSUMB Education Showcase
Thursday, September 22, 2022
6pm-8pm at the World Theater, Building 28, CSUMB
RSVP Required (link disabled following event)
Important COVID-19 information:
As of September 12, 2022, CSUMB is a mask-friendly campus, meaning that anyone who chooses to wear a mask indoors is welcome and encouraged to do so.
Please see the RSVP form for the self-attestation statement and visit the
CSUMB COVID-19 Page for the most up to date information.
https://csumb.edu/health/coronavirus-information/
Monterey Jazz Festival-CSUMB 2022 Education Showcase Event: #GoogleOnCampus
GoogleOnCampus comes to CSUMB: Join us for a resume workshop and internship (technical and non-technical) info session on Thursday, September 22, 2022, through our partnership with the Monterey Jazz Festival and the CSUMB Center for Advising, Career, and Student Success.
Resume Workshop: 2-3 pm, University Center Ballroom (Building 29)
Are you submitting applications for internships and full-time opportunities this semester? Join Google for this resume workshop to find out how the format, structure, and detailed content of your resume impacts the chances of receiving an interview opportunity with Google. Don't forget to bring a copy of your most updated resume with you for this workshop.
Building Your Career: 3-3:45 pm, University Center Ballroom (Building 29)
Interested in learning about how to maximize each year of school to ensure that you're industry-ready for internships and full-time opportunities? Join Google to receive detailed tips on updating you resume, preparing for technical interviews, and communicating effectively with your recruiter (non-technical internships with Google will also be discussed).
RSVP Required, sign up early! t.ly/11uG link disabled following event
This event is part of the Monterey Jazz Festival-CSUMB 2022 Education Showcase. From Dean Juanita Cole:
There are many things to be excited about at this year's Monterey Jazz Festival. Mainly, the communion between these young artists and the audience will be amazing to observe. As part of the Education Showcase, MJF partnered with Google to provide the performers, including our CSUMB students, with resume and internship workshops before the concert event. This seamlessly integrates our career development initiative into education activities so that the academic journey is intentional and prepares students for life after graduation, whether that means going on the job market or continuing to graduate school. I am especially thrilled that the event amplifies the talent of HBCU ensembles and leverages the combined power of inclusive excellence, education, and the performing arts.
CSUMB-Monterey Jazz Festival Partnership
About the Partnership:
In 2018, The Monterey Jazz Festival and CSUMB entered into a unique educational partnership launching a series of jazz education activities and events for the campus and community. The partnership includes a master class featuring jazz leaders for Music and Performing Arts students and public performances open to all. We also provide more than 100 student tickets to attend the Monterey Jazz Festival as well as internship opportunities.
The partnership is made possible by a donation from Dr. Robert Danziger and his wife, Dr. Martha Drexler Lynn. Dr. Danziger was the first recipient of an Honorary Doctor of Fine Arts for Music degree from CSUMB (2011). The degree was also awarded for Invention and Pioneering Sustainable Energy. Dr. Lynn is a member of the CSUMB University Art Committee and has written a number of notable books that appear in major libraries around the world.
With live performance sidelined for 2020/21, the master class was transformed to include access to never-before published archival footage from Monterey Jazz Festival performances and interviews (coupled with MJF executives joining in class on Zoom for behind the scenes Q&A sessions) providing a course offered nowhere else in the world. We were thrilled to welcome live jazz back to campus in 2021 with Jazz After Hours, and invite you to share in the 2022 Educational Showcase in memory and celebration of the late Dr. Robert N. Danziger.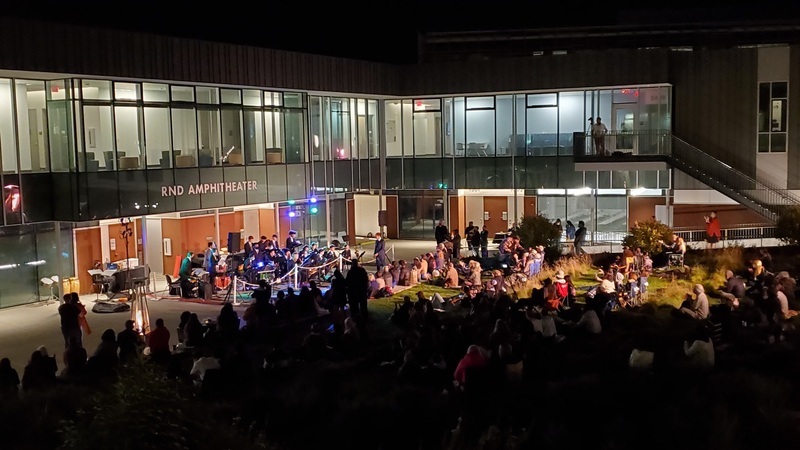 Image courtesy of Bill Steacy
2021 Jazz After Hours
Thank you for joining us for the inaugural event at the RND Amphitheater at CAHSS 504. We hope you enjoyed Jazz After Hours at CSUMB, bringing artists from the 64th Monterey Jazz Festival to campus. For more photos from the evening, visit our flikr album.
2021: Jazz After Hours at CSUMB
Dean Juanita Cole and Music and Performing Arts Chair Jeff Jones have expanded the CSUMB-Monterey Jazz Festival Partnership in 2021 to bring a special free performance of MJF Jazz After Hours to CSUMB. Jazz After Hours at CSUMB will be held Saturday, September 25, 8-10 pm, at the CAHSS 504 RND Amphitheater. This outdoor venue provides an opportunity to enjoy performances by the Next Generation Jazz Orchestra and Texas Southern University Jazz Ensemble under the stars right here at CSUMB. Registration is required for this free event: https://bit.ly/jazzatcsumb
"I am thrilled the Monterey Jazz Festival identified CSUMB to be one the venues to bring jazz to the community through its first-ever After Hours event. Through our strategic partnership, the Monterey Jazz Festival has become a signature event for the College of Arts, Humanities, and Social Sciences. We are leveraging the combined power of the performing arts, education, and community. This promises to be an inspiring musical experience that celebrates creativity by amplifying the talent of student-led musical groups."
--Dr. Juanita Cole
Dean for College of Arts, Humanities, and Social Sciences
"The After Hours event on campus is the latest in a wonderful series of educational and community-building projects that have developed out of the partnership between CSUMB and MJF. From performances like this one, to internships, volunteer and service learning opportunities, classroom visits, and more, we are developing a distinctively excellent educational program that will help our students grow as community leaders and stewards of the rich cultural heritage in our region.
While the performance will be a wonderful experience in-and-of itself, I am especially excited about the way faculty are leveraging it to create high impact educational experiences. For example, in one of our classes, students are exploring how MJF promotes themes related to social justice issues involving race and gender. These students have had classroom experiences to provide a framework for this exploration and will also do fieldwork at the festival. The After Hours experience on campus will allow them to examine important course themes from another viewpoint. Perhaps more importantly, it's an opportunity to share what they're learning with students on campus who are not taking the class. They're excited and their enthusiasm is infectious. "
--Dr. Jeffrey Jones
Chair, Music & Performing Arts Department
As a reminder, parking permits are required on campus at all times, daily permits are $5 available for advance purchase via the CSUMB Parking Management Bureau site (see maps) or purchased day of event at one of the parking kiosks around campus. In addition, all campus Covid-19 protocol and guidelines remain in effect for attendees. Visit the CSUMB COVID-19 Page for the most up to date information. https://csumb.edu/health/coronavirus-information/ Please note, masks are required indoors at all times. While this is an outdoor event, for those passing through the building lobby, masks are required when indoors and recommended outdoors when enjoying the event.
For More Information:
About the Musicians: Monterey Jazz Festival brings together 20 of the most accomplished high school jazz musicians from across the country to form the Next Generation Jazz Orchestra (NGJO) directed by GRAMMY-nominated pianist and composer Gerald Clayton. Established in 1971, the NGJO traditionally gathers for one weekend in the summer to begin rehearsals in preparation for a domestic or international tour. Having received worldwide acclaim, tour performances for the Orchestra have included festivals and venues in the United States, Canada, Japan, Australia, and Europe. Tenure in the NGJO culminates in a main stage performance in September at the Monterey Jazz Festival with the annual Artist-in-Residence. Former members of the NGJO are a formidable list of contemporary stars in the jazz world and include Benny Green, Patrice Rushen, Joshua Redman, Ambrose Akinmusire, and many others. https://bit.ly/MJFNextGen
About Jazz After Hours: The Monterey Jazz Festival has partnered with venues around the Monterey Peninsula to bring jazz from the sold out 64th Monterey Jazz Festival to the community the entire weekend of the Festival, taking place September 24-26 at the Monterey County Fairgrounds. For more about the Monterey Jazz Festival, visit https://montereyjazzfestival.org.
2019 Event: Jazz and New Horizons: A focus on the creation of provocative musical collaborations and blurring lines between musical genres
New York City-based drummer/composer/teacher Allison Miller has been named "Rising Star Drummer" and "Top 20 Jazz Drummers" in DownBeat Magazine's acclaimed Critics Poll. Her band, Boom Tic Boom, is a 2014 recipient of Chamber Music America's "Presenter Consortium for Jazz Grant"; and has been met with critical acclaim, and has been featured on NPR's Tiny Desk Concert, WBGO's The Checkout, and many jazz festivals around the world. Miller is a three-time Jazz Ambassador of the US State Department, conducting clinics and master classes throughout the globe at universities and camps. She has been the rhythmic force behind such artists as Ani DiFranco, Natalie Merchant, the Meredith Vieira Show and Late Night with Seth Meyers, in addition to Dr. Lonnie Smith, Patricia Barber, Marty Ehrlich, Steven Bernstein, Ben Allison, Steve Cardenas, and Ben Goldberg. Miller holds adjunct teaching positions at The New School, Kutztown University, and Jazz Camp West. Miller has performed at the Monterey Jazz Festival in 1998, 2004 and 2006. More information on Allison Miller courtesy of Dr. Danziger's Jazz and Jazz Stories website.
Two-time Grammy Award-winning bassist and Blue Note Recording Artist Derrick Hodge attended Temple University and was the first jazz major to participate in their Symphony Orchestra and New Music Chamber Orchestra. His wide range of accomplishments in many genres include orchestrations and arrangements for Nas with the National Symphony Orchestra, Common, and Kanye West. Hodge has won two R&B Grammys with the Robert Glasper Experiment, and co-produced albums with Quincy Jones and Don Was. Hodge has toured, performed or recorded with Maxwell, Kanye West, Herbie Hancock, Q-Tip, Mos Def, Timbaland, Jill Scott, Musiq Soulchild, Gerald Levert, Common, Bilal, Andre 3000, Sade, Terence Blanchard, Ledisi, Terell Stafford, Donald Byrd, Stefon Harris, and many others. For Blue Note, Hodge has released The Second and Live Today, and has written original music for the Smithsonian National Museum of African American History and Culture and the Chicago Brass Ensemble. Some of his many film score credits include Back to School Mom, the 180 Days documentary series for PBS, Land of Opportunity, Black Candle, The Army Recruiter, and Uneasy Listening. Hodge has performed at the Monterey Jazz Festival multiple times over the years and represented MJF during the 50th Anniversary All-Stars' national tour in 2008. More information on Derrick Hodge courtesy of Dr. Danziger's Jazz and Jazz Stories website.
Inaugural Event 2018: From Beyoncé and Beyond: Music Business, Performance and Leadership
World renowned saxophonist, composer, and Mack Avenue Records recording artist Tia Fuller (top left) presented in-depth discussion of her first-hand experience as a performer and artist on Beyonce's world tours and how that experience led her to her success in the jazz world as a bandleader, performer, businessworman, and educator.
She was joined by international percussionist Marcie Chapa (top right), who performed with Fuller as a touring member of Beyonce's ensemble. The performance also featured bassist Katie Thiroux (bottom left) and pianist Eddie Mendenhall (bottom right).