CAHSS Students
CAHSS welcomes Emily Shim as our 2022/23 Associated Students Senator for the College of Arts, Humanities, and Social Sciences. Emily will be working closely with the Office of the Dean and the CAHSS Dean's Student Advisory Council on joint events and opportunities for all CAHSS students. Interested in joining this council? Complete this google form to get started.
2022-23 Schedule
Dean Cole and CAHSS AS Senator Emily Shim look forward to seeing you on Thursday, October 6, 4:30-5:30 pm, in the CAHSS 504 Atrium Lobby for Cookies with Cole.
Find & Follow Us on Socials!
CAHSS Student & Alumni Stories
Have News to Share?
Current students and alumni of the College of Arts, Humanities, and Social Sciences with news to share: We want to hear from you! This form (https://bit.ly/cahssnews)was designed to make it quick and easy for you to keep us in the loop with your news. Received an award, presenting at a conference, accepted to grad school or other news? Have a new job or want to share information about your current job? Have a particular story, experience, or CAHSS memory to share with your fellow Otters, former professors and staff? We want to share the good news and look forward to hearing from you soon!
In addition to the below stories, we're also excited to celebrate our students continuing their education. Please visit our Graduate School Acceptances page for the list.
CAHSS Student Stories: Hannah Fulton, Japanese Language & Culture major, awarded Toshizo Watanabe Study Abroad Scholarship for 22-23
Congratulations to Hannah Fulton, Japanese Language & Culture major and Visual & Public Art minor, who was recently awarded the Toshizo Watanabe Study Abroad Scholarship for the 2022-23 academic year. Hanna will study at Ritsumeikan University in Kyoto, Japan. Upon her return from Japan, she hopes to complete her degree and apply for the Japan Exchange and Teaching Program (JET). For more information on Hanna, the scholarship, and other awardees, please visit the U.S.-Japan Council's 2022-23 Watanabe Scholars (American Students) page. Congratulations, Hannah!
CAHSS Student & Alumni Stories: Cinematic Arts & Technology Media Arts student work featured in MexiCali Biennial Series
Congratulations to CSUMB students and alumni from the spring 2021 Cinematic Arts & Technology Environmental Media Arts class:
Ross Blackie

Katherine Divas-Juarez

Maritza Juarez

Ranulfo Martinez

Arturo Mejia

Victoria Simmonds

Maddy Willey with crop science research by Grace Hardy
Their films will be featured in the MexiCali Biennial exhibition series. The first exhibition will open at the Santa Cruz Museum of Art and History on September 2 to be followed by an exhibition at the Cheech Marin Center opening on February 11. Three more exhibitions will be announced soon. A poster in the exhibition will link to a program of their films, and a special screening of the films will take place at the Santa Cruz Museum of Art and History on October 16. August, 2022 Congratulations to all!
CAHSS Student & Alumni Stories: Cinematic Arts & Technology Students featured on NASA Site
Congratulations to CSUMB students and alumni from the spring 2021 Cinematic Arts & Technology Visual Design class:
Maddy Willey, Katie Batura, Marco Chavelas, Jiya Day, Leonardo Diaz, Yasmeen Gonzalez, Nicholas Goodnight, Fiona Leahy, Austin Narayan, Ty Ortega, Emma Pearult, Paloma Ronquillo, Victoria Simmonds, Bailey Warner, and Isabella Wilkinson
Their artwork from the course is featured on the JPL-NASA Junocam Mission website. Special congratulations to Maddie Willey, whose image has been curated into a special collection by NASA's Communication team. For more information, please visit Professor Enid Baxter Ryce's page on the project.
CAHSS Student Stories: Cynthia Vargas, Humanities & Communications major, celebrates first published work in Writing Waves
Congratulations to HCOM rising senior Cynthia Vargas, her first poem, "Small Purple Flowers," was published in Volume 4 of Writing Waves. Cynthia noted she enjoyed working with the team to make her dream come true.
The Writing Waves Academic Journal is a compilation of multi-genre submissions from California State University, Monterey Bay (CSUMB) students, and edited by upper-division students, with the goal of promoting student leadership, activism, and resume-building. Writing Waves publishes creative work, research essays, art, and everything in-between by students at CSUMB. Dr. Kelly Medina López, HCOM Assistant Professor, serves as Associate Editor.
CAHSS Student Stories: Nevan Bell Earns First Place at 36th Annual CSU Student Research Competition
Congratulations to PSY student Nevan Bell, who earned first place at the 26th Annual CSU Student Research Competition hosted by San Francisco State University April 29 & 30, 2022!
Competition Category: Behavioral, Social Sciences, and Public Administration
Faculty Mentor: Dr. Jennifer Lovell, Associate Professor of Clinical Psychology
Campus Policing and How to Improve Sense of Safety: Our research highlights the perceptions of campus policing and improving a sense of safety and belonging for students, faculty, staff, and administration. The goal was to help identify the experiences and feelings of the community to better assess ways in which we can meet the needs for more mental health resources, police reform, and bolstered community connection between police and community members. The results of this research will better help the campus community by not only allowing for all students to feel heard, but allows for the voices of the staff, faculty, and admin to influence the next steps in informing for ways to address our police force and safety.
Congratulations to CAHSS students C.K. Choongh, Spencer Winter, and all the CSUMB delegates who competed:
Ellre Villanueva-Ancheta & Lauren Frey~ Master of Science Physician Assistant
The Effects of Near-Peer Mentorship on Aspiring Physician Assistant Student Confidence
Faculty Mentor: Nicole Reichhart, MSPA, PA-C
Competition Category: Education
Gagandeep C.K. Choongh~ Psychology & Business
Cultural Appreciation: A Case Study on Conducting Cross-Cultural Research
Faculty Mentor: Dr. Jenny Lin
Competition Category: Behavioral and Social Sciences
Rachel Frese~ Kinesiology
Rock Steady Boxing Exercise Both Maintains and Improves Physical Function in People with Parkinson's Disease
Faculty Mentor: Dr. Maria Bellumori
Competition Category: Health, Nutrition and Clinical Sciences
Erika Hernandez- Gonzalez~ Business Administration
Green Skepticism: Examining the Role of Social Media Influencers on Consumer Attitudes Towards Green Brands
Faculty Mentor: Dr. Jenny Lin
Competition Category: Business, Economics, and Public Administration
Spencer Winter~ Molecular Biology; Human Development
Speckled Sanddab Cell Proliferation During Adult Neurogenesis
Faculty Mentor: Dr. Zurine De Miguel (Psychology)
Competition Category: Biological and Agricultural Sciences
To read the June 2022 University-level feature article by Kera Abraham, please click here.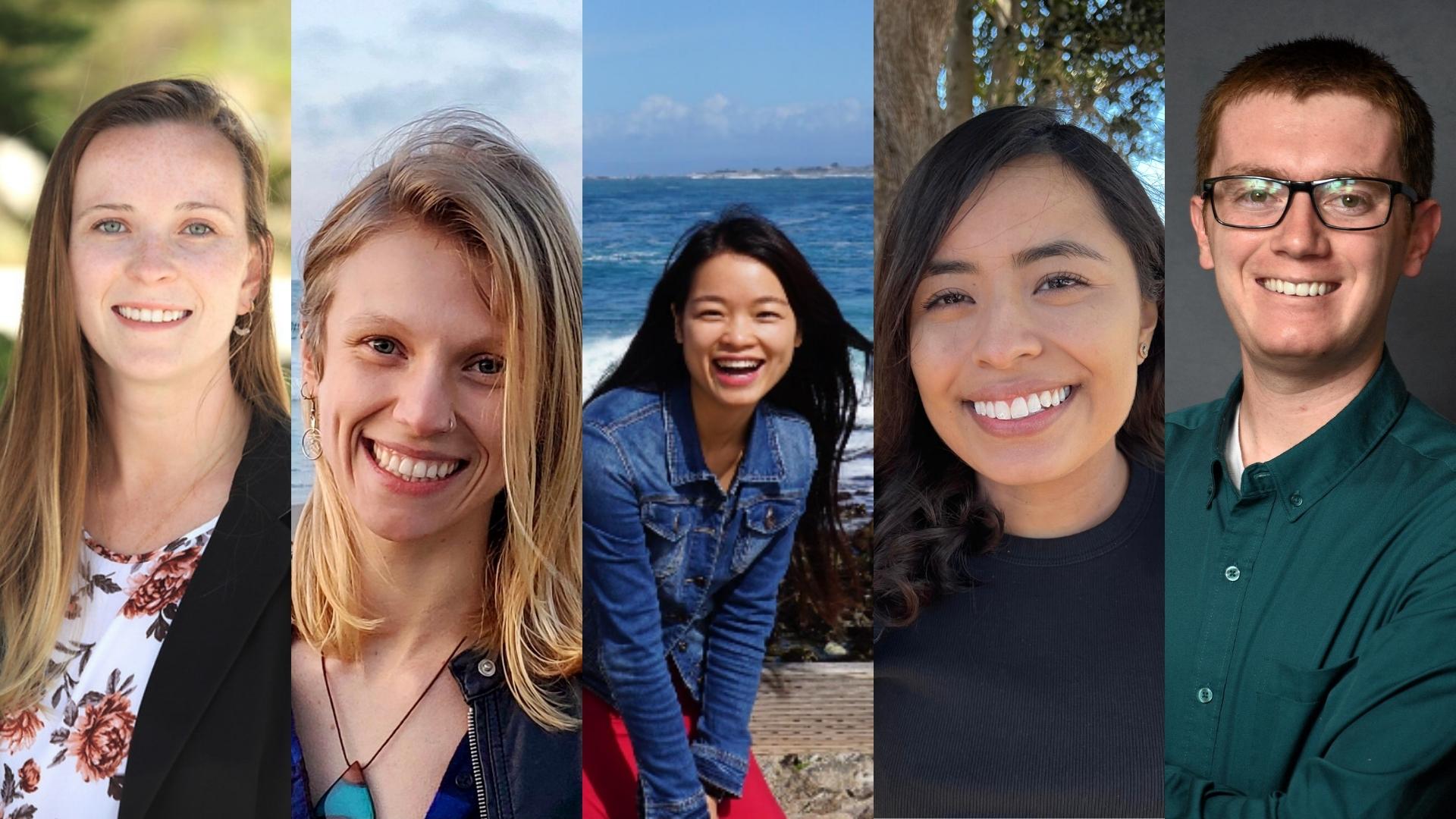 CAHSS Student Stories: Jianshan Chen Khalsa, Psychology, 2022 CAHSS Dean's Medalist Award
Congratulations to Jianshan Chen Khalsa, Psychology major, selected as the 2022 recipient of the Dean's Medalist Award. The deans of CSUMB's five colleges select one outstanding graduating senior each year for the Dean's Medalist award. Recipients must carry a cumulative GPA of 3.5 or higher, have made significant contributions to students or the university, and shown leadership as a positive agent for innovation and action.
Jianshan Chen Khalsa is a first-generation college graduate, earning summa cum laude academic honors. She transferred to CSUMB from Hartnell College in 2020 and will continue her education as a graduate student in CSUMB's School Psychology Program. She grew up in a remote farming village in Guangdong Province, China, where she dropped out of high school to support her family.
She moved to California in 2016 to pursue her dream of becoming an educator. She plans to become a school psychologist to help diverse student populations receive the services they need to help them thrive and succeed.
For the full article from CSUMB's Sophia Huang McKenzie, please visit the Dean's Medalist news listing. Congratulations to all!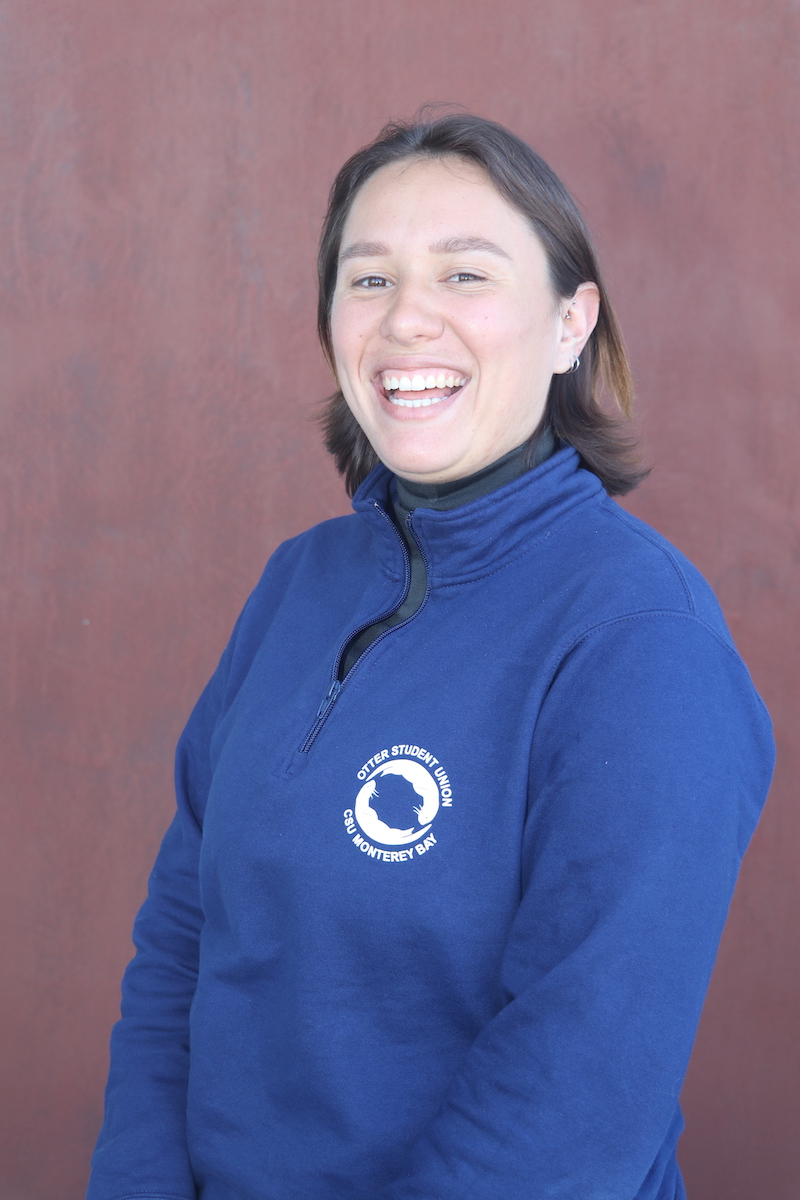 CAHSS Student Stories: Amaris Lopez, Japanese Language & Culture, 2022 Alumni Vision Award
Congratulations to Amaris Luis, Japaense Language and Culture major and Spanish Language and Hispanic Cultures minor, selected as the 2022 recipient of the Alumni Vision Award. This award is given in recognition to the graduating student (graduate or undergraduate) who best exemplifies the Vision of CSU Monterey Bay of preparing leaders for a collaborative, multicultural society. The Alumni Vision Award is awarded to a student who:
manifests the beliefs and tenets of the Vision statement through personal example, voice, and initiative;
is a powerful spokesperson whose words touch and move others in promoting the Vision;
has provided leadership in a project or activity that extended the Vision into the lives of others, especially in the areas of bridging social/economic divides, empowering education, celebrating diversity, and promoting understanding and respect for other cultures and global awareness;
is in good standing and not on probation of any kind;
and is an undergraduate or graduate with a degree award date of Fall 2021, Spring 2022, or Summer 2022.
The award was presented at Honors Convocation Saturday, April 30, 12:30 pm, in the Otter Student Union Ballroom. The program from the event is available online. Congratulations!
CAHSS Student Stories: Taylor Paige Prentiss, VPA Student, 2022 MRWMD Artist in Residence
Congratulations to VPA student Taylor Paige Prentiss, the Monterey Regional Waste Management District Artist in Residence Fellow. Her art installation Home: the Things We Carry will be on display at the Last Chance Mercantile May 3-7, 9 am-4pm, with a special reception and artist meet and greet Thursday, May 5, 2-4 pm.
Paige's AIR art installation will feature sculptures that explore the idea of home. "Home is different for each person and is constantly changing," said Paige. "These pieces are meant to challenge the audience's idea of home while connecting to individuals who do not have traditional homes."
About the Residency: Taylor Paige Prentiss, a Visual and Public Art (VPA) student at California State University, Monterey Bay, is the 2022 Artist in Residence (AIR) at the Monterey Regional Waste Management District (MRWMD) and Last Chance Mercantile. The AIR Program is a partnership between MRWMD, CSUMB's VPA department, and the Last Chance Mercantile. Since 2016, student artists from the Visual and Public Art Department are selected for a fellowship at MRWMD, which is managed by Associate Professor of Sculpture, Installation, and Community Engaged Practice, Dionicio Mendoza. The artists work with materials in the salvage yard at the Last Chance Mercantile. While on-site, they have access to salvaged materials in the store as well as the Materials Recovery Facility that processes the community's recyclable items. The art they create during the residency is displayed in a week-long exhibition at the Last Chance Mercantile.
"We are proud to continue this great tradition and relationship with the local art community and CSU Monterey Bay," said Felipe Melchor, general manager of MRWMD. "Taylor's impactful work will help inspire creative reuse and educate our community about the importance of repurposing and upcycling materials."
About the Artist: Taylor Paige Prentiss is a mixed media artist from Los Angeles. Her mediums include sculpture, illustration, digital art, and photography. She will graduate with a B.A. in Visual and Public Art from CSUMB in May 2022.
Artist Website: www.taylorpaigeart.com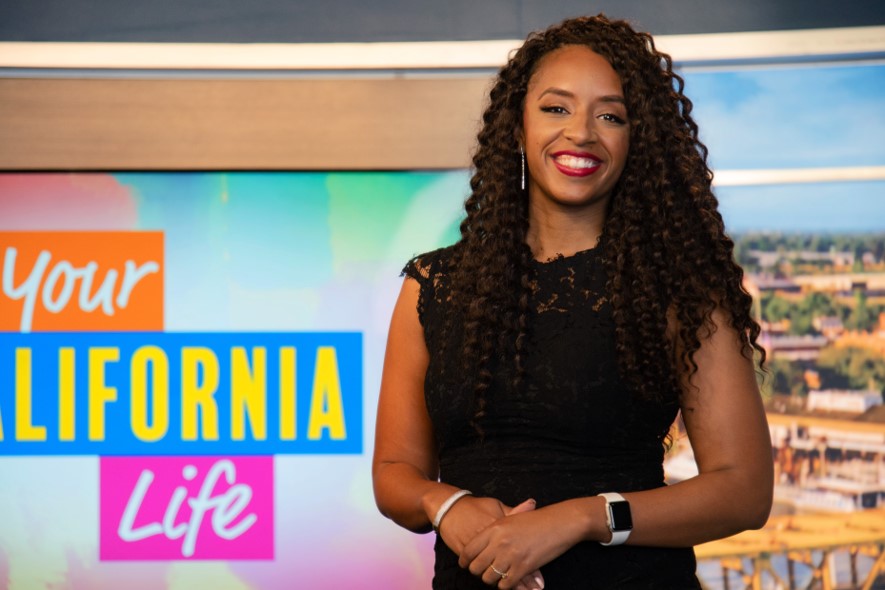 CAHSS Alumni Stories: Desiree Sheppard '12 HCOM
2012 HCOM Alum Desiree Sheppard chose CSUMB because she knew she wanted to work in journalism and media studies after speaking with an advisor at a college fair. Not only did CSUMB's affordable tuition rates influence Sheppard's decision but she also wanted to still enjoy the scenic beach views she grew up seeing in SoCal. Sheppard credits the university's internship program for helping her get to where she is today. She was featured in the March-April 2022 Alma Otter Newsletter, read the full article here.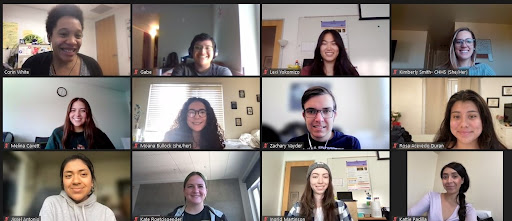 CAHSS Student Stories: Congratulations UROC/McNair Scholars Cohort
CAHSS is proud to celebrate all the new UROC Scholars/McNair Scholars. This cohort of fourteen work with faculty research mentors to secure summer research positions here and across the country as well as present their research at academic conferences and more in support of their career and graduate school pursuits. For more information on our 5 CAHSS students and the full list including mentors, please visit our UROC/McNair Scholars Cohort page.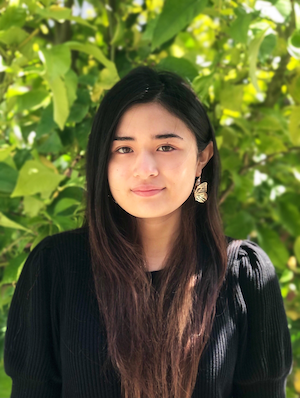 CAHSS Student Stories: Hana Jacinto '22 JAPN(WLC) Accepted to Graduate Program at UCLA
Japanese Language & Culture major and Psychology minor Hana Jacinto was recently accepted to the Teaching Asian Languages MA Program at the University of California at Los Angeles Department of Asian Languages Cultures. Thanks to School of World Languages and Cultures Chair Dr. Shigeko Sekine for sharing the excting news. Congratulations!
Psychology Student Jordan Cursi Awarded $5,000 Research Grant
Psychology student Jordan Cursi was awarded a $5,000 grant by Providence health care for her proposal to conduct a clinical research study this year. The goal of Cursi's study, titled "Stress Levels of the Adolescent Population," is to see if Latinx teens have higher levels of stress and different coping methods than non-Latinx teens. She will also study familismo, or familism. Read the full story.
Angelica Avila Named Carmel Bach Festival's 2021 Paul Goodwin Scholarship Winner
CAHSS congratulates senior Music and Performing Arts major Angelica Avila on being named the recipient of the 2021 Paul Goodwin Scholarship from the Carmel Bach Festival. Angelica's focus in the MPA program is the performance aspect, she enjoys vocals and piano. One of the appealing aspects of our B.A. in Music is the variety of learning experiences emphasizing well-rounded musicianship through a balance of experience in performance, composition, musicology, music theory, ethnomusicology, acoustics, and music technology.
This scholarship is in honor of Maestro Paul Goodwin's final season of his 11-year tenure as artistic director and principal conductor of the Carmel Bach Festival. Angelica received a personal congratulatory note from President Ochoa, who also serves as a member of the Carmel Bach Festival Board of Directors.