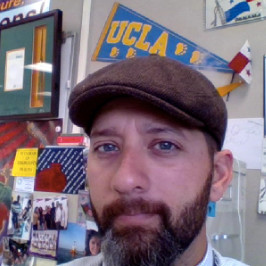 Mark Gomez is a long-time history/social studies and teacher educator.
Mark's curricular and instructional expertise include action civics, Ethnic Studies, civic imagination, critical media and literacy studies, restorative justice, environmental/social/racial justice, effective integration of technology, placed-based education, and community-driven school design.
Currently, he serves as the History & Social Science Curriculum Specialist for the Salinas Union High School District. In this role, he plans and facilitates all professional development for HSS teachers. He has helped coordinate and oversee the implementation of Ethnic Studies as a graduation requirement and led a community-developed plan to integrate civic learning throughout the district. He has also helped lead regional communities of practice for teachers to build their capacity to implement the 2016 HSS framework. He is a regional and state leader regarding critical and speculative civics.
Mark has taught middle and high school history for the last 18 years. He has also taught within teacher education programs at UCLA, Antioch University LA, Cal State Dominguez Hills, and Monterey Bay, where he currently teaches within the Education and Service Learning Institute. Mark is currently serving on the Board of Directors for the California Council of the Social Studies, where he also co-chairs the Equity, Inclusion, and Social Justice committee. He is a founding design team member of the Schools for Community Action at Augustus Hawkins High School. Throughout his career, he has been working to empower students and teachers through authentic and participatory action research projects. His work has been featured at multiple education conferences and research publications, and he has co-authored several articles & book chapters on practices in transformative and liberatory education for students and teachers.
| | |
| --- | --- |
| Title: | Instructor SLI & Education dept., History/Social Science Curriculum Specialist for Salinas Union High School District |
| Email: | markgomez1@csumb.edu |
| Phone: | (831) 760-8552 |
Social Justice Interests / Social Justice Concerns:
Environmental and Racial Justice; Educational Equity and Justice
Research, Community Involvement, Achievements:
Speculative Education; Action Civics; Ethnic Studies; Play and Game-Based Educational Design; Critical Media Literacy; Environmental Literacies; Outdoor Education
Publications:
Gomez, M., Mirra, N., Garcia A., (Expected Publication Date April 2022) Democracy is Interdisciplinary. In Merchant, N., Shear, S., Au, W., Insurgent Social Studies: Scholar Educators Disrupting Erasure and Marginality. Meyers Education Press.
Garcia, A., Gomez, M., Rainge Briggs, K. (2018) Schools for Community Action: Public School Design as a Revolutionary Act. In Mendoza, E., Kirshner, B., Gutierrez, K. (Eds.) Designing for equity: Bridging learning and critical theories in learning ecologies for youth. Information Age Press. (pgs.
Garcia, A., Gomez M. (2017) Player professional development: A case study of teacher resiliency within a community of practice. Teaching and Teacher Education., Vol. 66 (pgs. 349 – 359)
Gomez, M., (2017) Recommended reading for the fight ahead: "Educational Justice" offers a tapestry of tactics for the Trump/Devos era. UTLA United Teacher, Vol. XLVI, Number 7 (pg. 8)