Elevating Innovation
CSUMB takes convergence of business and technology to the next level
The front entrance of the CSUMB Business and Information Technology building (photo by David Wakely)
Describe a relationship between the business and technology programs at most major universities. One word usually comes to mind: siloed. Another word is disconnected. On many campuses, they operate in two different universes.
Business students who develop marketing plans are often challenged trying to overcome the technological obstacles when gathering the data. Technology majors don't usually work on group projects with fellow students who plan to start a business.
Not at CSUMB.
Thanks to the opening of the new Business and Information Technology (BIT) building, the College of Business and the School of Computing and Design are starting a new era of collaboration. The two programs are now housed in a gleaming 58,000-square-foot structure, allowing students to work side-by-side in multidisciplinary teams.
This approach is straight out of the business world, providing students with real-world skills and practical knowledge when they enter the job market.
Valuable perspective
Eric Tao, a professor in the School of Computing and Design and the director of the Institute for Innovation and Economic Development, was a driving force behind the conception and development of the BIT building. For his students, working closely with business students provides valuable perspective on the limits of technology. "A student can have an idea that looks fabulous on paper – but there could be no market for it," he said. "You need to establish there's a need for your product."
For business students, who are often focused on profit margins and management, the technological knowledge to implement a product launch is invaluable, according to Shyam Kamath, dean of the College of Business.
"We are changing the way we teach. We are changing the way we research. The skills needed by students for the job market today are very different from yesterday," said Kamath. "You need human skills in management and also need to be digitally knowledgeable, using critical thinking and learning quickly to keep pace with technology. This facility allows us to work together. The labs represent that potential."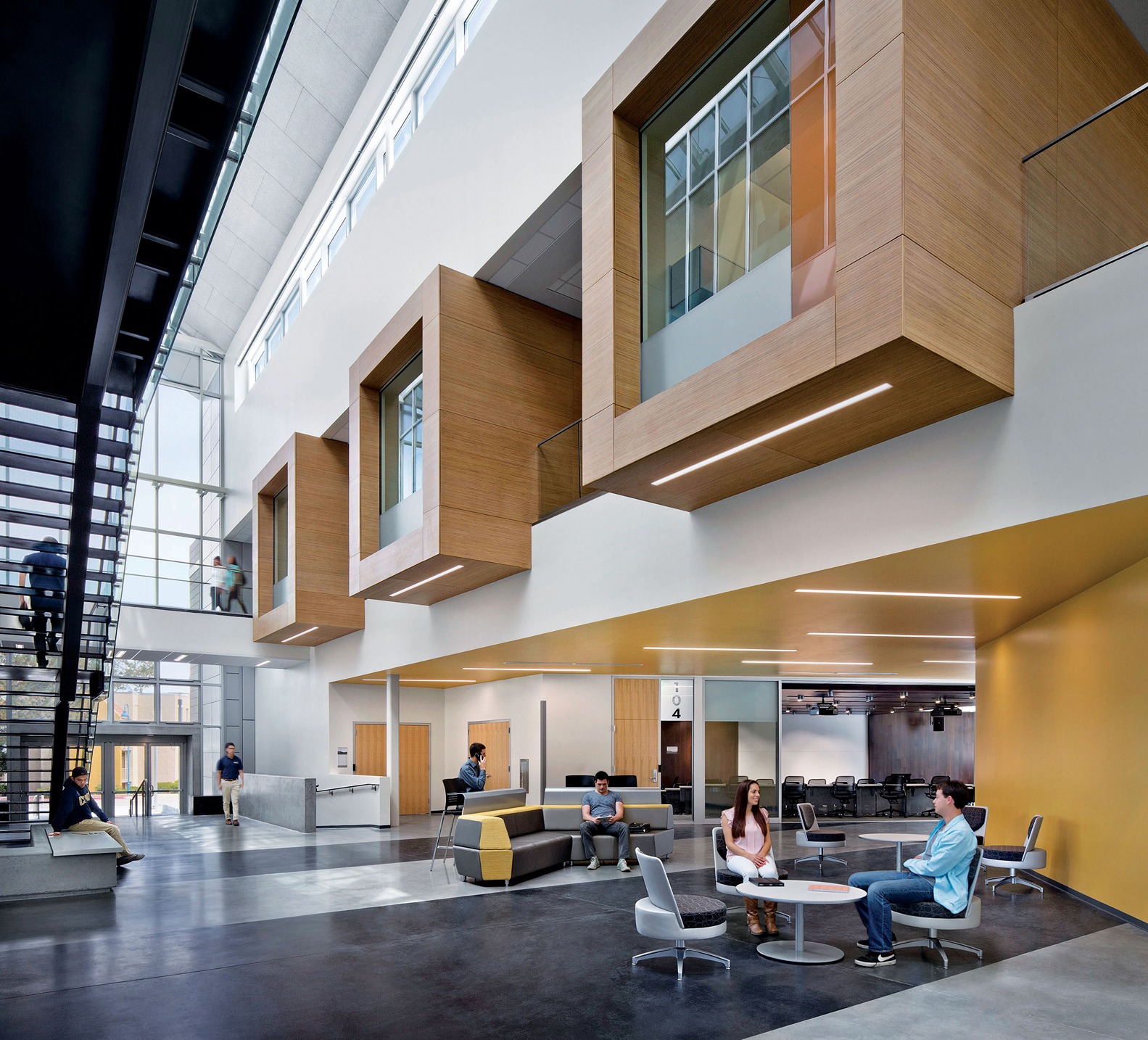 The first floor of the CSUMB Business and Information Technology building (photo by David Wakely)
The BIT building has 12 laboratories, all of them shared by the College of Business and the School of Computing and Design. One lab focuses on entrepreneurial skills and product design. Another focuses on data used in financial products, commodities and services trading. Other labs are devoted to website design and behavioral research.
In other words, business and technology can conceptualize a product together. Business can determine if the product is financially viable and there's a market for it. Technology can develop and market the product by determining consumer behavior.
Kamath's goal is to bring industry partners into the BIT building and have them work directly with students on product design. One lab will house media production equipment such as large format printers, animation rendering systems, 3-D printers and open work spaces. Once equipped, the lab will allow students to produce product prototypes, concept designs, drawings and online media for external clients.
Both Tao and Kamath are enthusiastic about the collaboration between their respective colleges. Tao notes the philosophy of transparency that was incorporated into the BIT building's design and how that's reflected in the facility's physical space.
Innovative
"Most of this building is glass – there's a feeling of openness," he said. "When we were planning the layout of the building, we wanted transparency to be felt in the physical space to reflect the academic philosophy. Many buildings in academia are closed with small windows. There's a feeling of isolation. Not here."
According to Tao, nearly every room of the BIT building can accommodate events for the outside community, including Chamber of Commerce meetings, technology showcases and research symposiums. Tao envisions having a community event here at least once a month. "This integrates our campus with the outside word – and breaks down the 'ivory tower' perception of academia," he said.
The new collaboration between the College of Business and School of Computing and Design is just the beginning. The new facility is an innovative place. It's a community place.
"We are truly tapping into CSUMB's interdisciplinary vision," said Kamath. "This brings it all together."
Editor's note: for more information on features and sustainability strategies for the new Business and Information Technology building, along with additional images, go online to csumb.edu/bit.