Pixar Education Summit Leads to Internship Opportunity

When Cinematic Arts & Technology's Silvia Turchin and Meghan O'Hara attended the Pixar Animation Studio's Story Development Education Summit, they knew they'd come back with insights and information to carry back to their classes to help prepare their students as the next generation of great storytellers. What else they came back with was an added opportunity for our students-internship opportunities.
At the Education Summit, Turchin and O'Hara gained invaluable insights from Pixar including instruction based on The Art of Storytelling from Pixar in a Box, curriculum suggestions, interactive workshops, and a deep dive into the story development process. As they bring those new insights to their classes, they are also helping our students be better prepared for an opportunity to intern or work at Pixar.
We were excited to welcome Pixar University Relations Program Manager Beth Sasseen and Pixar Associate Editor Robert Grahamjones to campus in November, 2018. Below is a recap from Assistant Professors Turchin and O'Hara:
We're happy to report that the Pixar Internship Info Session at the World Theater last Thursday was a huge success, with approximately 150 people in attendance. Beth Sasseen, Pixar University Relations Program Manager, spoke to students about key elements of Pixar's internship programs and shared information about how students could best prepare themselves to be strong candidates. Associate editor Robert Grahamjones (Brave, Monsters Inc., The Incredibles) walked students through what the job of an animation editor entails and told the story of his path to becoming an editor at Pixar. Both, along with Pixar recruiter Tricia Andres, spoke with a long line of individual students after the main presentation. We are also excited that after their visit, Beth and Robert extended an invitation to our editing students to visit the Pixar editorial department in Emeryville next semester.
We would like to express our gratitude to the Cinematic Arts faculty for encouraging their students to attend and to our staff for all the hard behind-the-scenes work, as well as to Rhonda Mercadel-Evans of Career Development for widely publicizing the event. We would also like to thank the CAHSS Dean's office and for their support and the World Theater for their top-notch facility and staff. And finally, attached are some great event photos taken by our student Service Desk Tech, Roo Joaquin.
Thank you!!!
Silvia & Meghan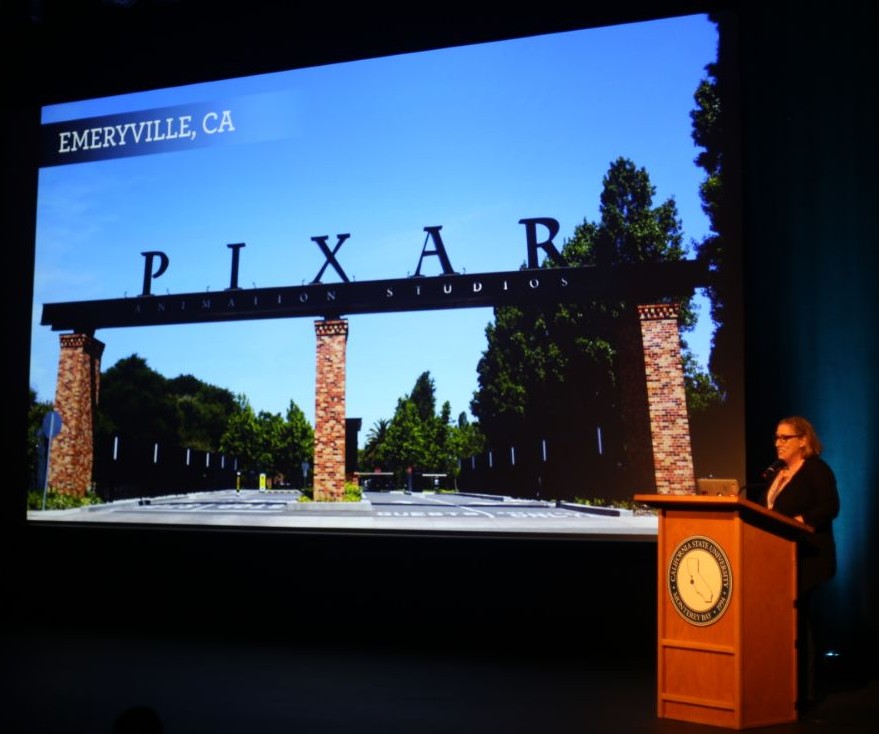 For more photos from the event, please visit our CAHSS Google Photos Album: http://bit.ly/pixar2018