VPA Gallery Exhibit: Art, Solidarity, and The Power of Image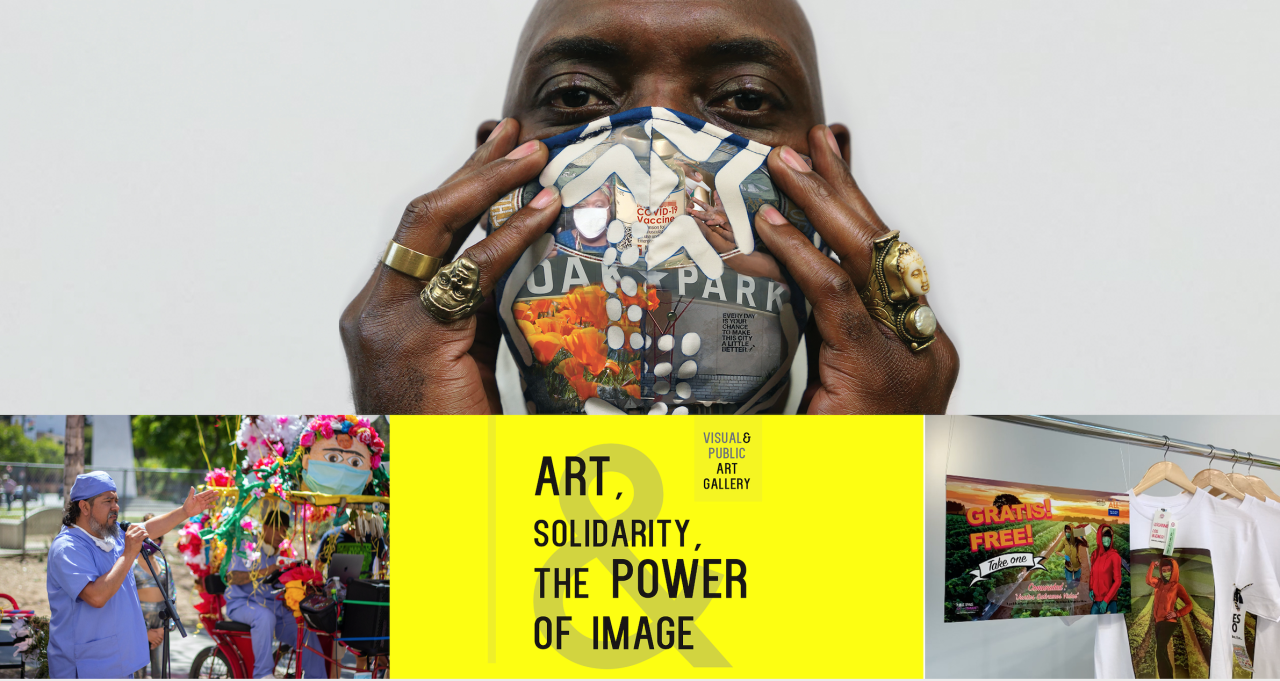 April 8, 2022
The Visual & Public Art Department invites you to the latest exhibit in the VPA Gallery at CAHSS 504: Art, Solidarity & the Power of Image.
Exhibit Dates: April 8-April 22, 2022
Opening Reception: April 8, 6-8 pm, RND Amphitheater, CAHSS 504 (3050 Divarty Street)
About the Exhibition: Art, Solidarity & the Power of Image explores the relationship between art-making, studio practice, and the public sphere, and features Covid-19 Public Art Projects that emphasize the art of community engagement and social practice by artists of color who actively work within their own communities to highlight social, cultural, economic, and political issues that affect historically marginalized and underrepresented groups. Participating artists, Raul Baltazar, Dionicio Mendoza, Angelica Muro, and Jessica Wimbley, actively respond to social justice issues through artistic collaborations, interventions, and performances that engage art and community building in an effort to raise awareness about the critical actions that Californians have taken to promote community-specific wellness. The art projects featured in this exhibition, Covid Catcher, Juntos Salvamos Vidas, and the Masking Series, were initiated as part of a collective effort to reach communities disproportionately impacted by the COVID-19 pandemic through a state-wide public art campaign, Your Actions Save Lives, which featured 18 original temporary public artworks produced in 15 communities throughout California.
Art, Solidarity & the Power of Image is the first part of a three-semester interdisciplinary art project, Under-represented Identities & COVID-19: Community-Engaged Arts to Pan-Ethnic Studies, that fosters cross-campus collaboration and Covid-19 awareness and recovery within disproportionately impacted populations of color through a series of exhibitions, panels, workshops, and community outreach events. This exhibition and related programs are funded by a CSUMB Covid-Response Grant (2021-2023), includes a collaboration between the Visual and Public Art Department (VPA) and the School of Humanities and Communication (HCOM), and involves a series of semester-long, co-curricular workshops in writing, storytelling, screen printing, and design between HCOM 328: Latina Life Stories and VPA 337: Community Infrastructure Practices.
Visual & Public Art Gallery
College of Arts, Humanities & Social Sciences, 50California State University, Monterey Bay
100 Campus Center, Seaside, CA. 93955
Gallery Hours: 12-4pm, Monday – Thursday
& by Appointment (vpagallery@csumb.edu)
Affiliated Programs: All events are free & open to the public!
Exhibition Panel: Art, Solidarity, and the Power of Image
Date: April 8, 2022
Time: 5-6pm
Location: CAHSS 504 RND Amphitheater (outdoors-proceed through main lobby)
About Panel: How is art bringing communities together through Covid-19 awareness? Panelists will include artists from the Art, Solidarity, and the Power of Image exhibit (Raul Baltazar, Dionicio Mendoza, Angelica Muro, and Jessica Wimbley), CSUMB Students, and Latinx Scholar, Dr. Maria Joaquina Villaseñor.
Screen Printing Workshop: Art, Solidarity, and the Power of Image
Date: April 8, 2022
Time: 12-2pm
Location: CAHSS 504 RND Amphitheater (outdoors-proceed through main lobby)
About Workshop: A screen printing and messaging workshop in conjunction with the Art, Solidarity, and the Power of Image exhibition. This event is in partnership with a series of semester-long, co-curricular workshops in writing, storytelling, screen printing, and design between HCOM 328: Latina Life Stories and VPA 337: Community Infrastructure Practices