The Wave Campus Shuttle Service
Monday - Friday: 6:00 a.m. - 11:00 p.m.

The East Campus shuttle route stops at all bus stops in Frederick Park and Schoonover Park all day. The route overlaps the Main Campus Shuttle route and also provides service to the Otter Sports Center and Valley Hall.

| | | | | | | | |
| --- | --- | --- | --- | --- | --- | --- | --- |
| T&A Library | Manassas / Wilderness | Bunker Hill / Yorktown | Schoonover / White | Schoonover / Devers Court | Lot 59 | Otter Sports Center | 4th Ave A&VC |
| 6:00 a | 6:10 a | 6:13 a | 6:18 a | 6:20 a | 6:27 a | 6:34 a | 6:36 a |
| 6:20 a | 6:30 a | 6:33 a | 6:38 a | 6:40 a | 6:47 a | 6:54 a | 6:56 a |
| 6:40 a | 6:50 a | 6:53 a | 6:58 a | 7:00 a | 7:07 a | 7:14 a | 7:16 a |
| 7:00 a | 7:10 a | 7:13 a | 7:18 a | 7:20 a | 7:27 a | 7:34 a | 7:36 a |
| 7:20 a | 7:30 a | 7:33 a | 7:38 a | 7:40 a | 7:47 a | 7:54 a | 7:56 a |
| 7:40 a | 7:50 a | 7:53 a | 7:58 a | 8:00 a | 8:07 a | 8:14 a | 8:16 a |
| 8:00 a | 8:10 a | 8:13 a | 8:18 a | 8:20 a | 8:27 a | 8:34 a | 8:36 a |
| 8:20 a | 8:30 a | 8:33 a | 8:38 a | 8:40 a | 8:47 a | 8:54 a | 8:56 a |
| 8:40 a | 8:50 a | 8:53 a | 8:58 a | 9:00 a | 9:07 a | 9:14 a | 9:16 a |
| 9:00 a | 9:10 a | 9:13 a | 9:18 a | 9:20 a | 9:27 a | 9:34 a | 9:36 a |
| 9:20 a | 9:30 a | 9:33 a | 9:38 a | 9:40 a | 9:47 a | 9:54 a | 9:56 a |
| 9:40 a | 9:50 a | 9:53 a | 9:58 a | 10:00 a | 10:07 a | 10:14 a | 10:16 a |
| 10:00 a | 10:10 a | 10:13 a | 10:18 a | 10:20 a | 10:27 a | 10:34 a | 10:36 a |
| 10:20 a | 10:30 a | 10:33 a | 10:38 a | 10:40 a | 10:47 a | 10:54 a | 10:56 a |
| 10:40 a | 10:50 a | 10:53 a | 10:58 a | 11:00 a | 11:07 a | 11:14 a | 11:16 a |
| 11:00 a | 11:10 a | 11:13 a | 11:18 a | 11:20 a | 11:27 a | 11:34 a | 11:36 a |
| 11:20 a | 11:30 a | 11:33 a | 11:38 a | 11:40 a | 11:47 a | 11:54 a | 11:56 a |
| 11:40 a | 11:50 a | 11:53 a | 11:58 a | 12:00 p | 12:07 p | 12:14 p | 12:16 p |
| 12:00 p | 12:10 p | 12:13 p | 12:18 p | 12:20 p | 12:27 p | 12:34 p | 12:36 p |
| 12:20 p | 12:30 p | 12:33 p | 12:38 p | 12:40 p | 12:47 p | 12:54 p | 12:56 p |
| 12:40 p | 12:50 p | 12:53 p | 12:58 p | 1:00 p | 1:07 p | 1:14 p | 1:16 p |
| 1:00 p | 1:10 p | 1:13 p | 1:18 p | 1:20 p | 1:27 p | 1:34 p | 1:36 p |
| 1:20 p | 1:30 p | 1:33 p | 1:38 p | 1:40 p | 1:47 p | 1:54 p | 1:56 p |
| 1:40 p | 1:50 p | 1:53 p | 1:58 p | 2:00 p | 2:07 p | 2:14 p | 2:16 p |
| 2:00 p | 2:10 p | 2:13 p | 2:18 p | 2:20 p | 2:27 p | 2:34 p | 2:36 p |
| 2:20 p | 2:30 p | 2:33 p | 2:38 p | 2:40 p | 2:47 p | 2:54 p | 2:56 p |
| 2:40 p | 2:50 p | 2:53 p | 2:58 p | 3:00 p | 3:07 p | 3:14 p | 3:16 p |
| 3:00 p | 3:10 p | 3:13 p | 3:18 p | 3:20 p | 3:27 p | 3:34 p | 3:36 p |
| 3:20 p | 3:30 p | 3:33 p | 3:38 p | 3:40 p | 3:47 p | 3:54 p | 3:56 p |
| 3:40 p | 3:50 p | 3:53 p | 3:58 p | 4:00 p | 4:07 p | 4:14 p | 4:16 p |
| 4:00 p | 4:10 p | 4:13 p | 4:18 p | 4:20 p | 4:27 p | 4:34 p | 4:36 p |
| 4:20 p | 4:30 p | 4:33 p | 4:38 p | 4:40 p | 4:47 p | 4:54 p | 4:56 p |
| 4:40 p | 4:50 p | 4:53 p | 4:58 p | 5:00 p | 5:07 p | 5:14 p | 5:16 p |
| 5:00 p | 5:10 p | 5:13 p | 5:18 p | 5:20 p | 5:27 p | 5:34 p | 5:36 p |
| 5:20 p | 5:30 p | 5:33 p | 5:38 p | 5:40 p | 5:47 p | 5:54 p | 5:56 p |
| 5:40 p | 5:50 p | 5:53 p | 5:58 p | 6:00 p | 6:07 p | 6:14 p | 6:16 p |
| 6:00 p | 6:10 p | 6:13 p | 6:18 p | 6:20 p | 6:27 p | 6:34 p | 6:36 p |
| 6:20 p | 6:30 p | 6:33 p | 6:38 p | 6:40 p | 6:47 p | 6:54 p | 6:56 p |
| 6:40 p | 6:50 p | 6:53 p | 6:58 p | 7:00 p | 7:07 p | 7:14 p | 7:16 p |
| 7:00 p | 7:10 p | 7:13 p | 7:18 p | 7:20 p | 7:27 p | 7:34 p | 7:36 p |
| 7:20 p | 7:30 p | 7:33 p | 7:38 p | 7:40 p | 7:47 p | 7:54 p | 7:56 p |
| 7:40 p | 7:50 p | 7:53 p | 7:58 p | 8:00 p | 8:07 p | 8:14 p | 8:16 p |
| 8:00 p | 8:10 p | 8:13 p | 8:18 p | 8:20 p | 8:27 p | 8:34 p | 8:36 p |
| 8:40 p | 8:50 p | 8:53 p | 8:58 p | 9:00 p | 9:07 p | 9:14 p | 9:16 p |
| 9:20 p | 9:30 p | 9:33 p | 9:38 p | 9:40 p | 9:47 p | 10:04 p | 10:06 p |
| 10:00 p | 10:10 p | 10:13 p | 10: 18 p | 10:20 p | 10:27 p | 10:34 p | 10:36 p |
| 10:40 p | 10:50 p | 10:53 p | 10:58 p | 11:00 p | * | * | * |

*Schedules and routes are subject to change. PM times are in bold.

Hours of Operation: Monday - Friday: 7:00 a.m. - 11:00 p.m.

The Main Campus loop overlaps the East Campus Shuttle Loop on the Main Campus Only. During the day, this provides service approximately every 8.5 minutes from each of the destinations listed below.

| | | | | |
| --- | --- | --- | --- | --- |
| T&A Library | Gavilan Hall | Lot 59 | Science Annex | 4th Avenue Alumni & Visitor's Center |
| 7:00 a | 7:01 a | 7:04 a | 7:05 a | 7:10 a |
| 7:15 a | 7:16 a | 7:19 a | 7:20 a | 7:25 a |
| 7:30 a | 7:31 a | 7:34 a | 7:35 a | 7:40 a |
| 7:45 a | 7:46 a | 7:49 a | 7:50 a | 7:55 a |
| 8:00 a | 8:01 a | 8:04 a | 8:05 a | 8:10 a |
| 8:15 a | 8:16 a | 8:19 a | 8:20 a | 8:25 a |
| 8:30 a | 8:31 a | 8:34 a | 8:35 a | 8:40 a |
| 8:45 a | 8:46 a | 8:49 a | 8:50 a | 8:55 a |
| 9:00 a | 9:01 a | 9:04 a | 9:05 a | 9:10 a |
| 9:15 a | 9:16 a | 9:19 a | 9:20 a | 9:25 a |
| 9:30 a | 9:31 a | 9:34 a | 9:35 a | 9:40 a |
| 9:45 a | 9:46 a | 9:49 a | 9:50 a | 9:55 a |
| 10:00 a | 10:01 a | 10:04 a | 10:05 a | 10:10 a |
| 10:15 a | 10:16 a | 10:19 a | 10:20 a | 10:25 a |
| 10:30 a | 10:31 a | 10:34 a | 10:35 a | 10:40 a |
| 10:45 a | 10:46 a | 10:49 a | 10:50 a | 10:55 a |
| 11:00 a | 11:01 a | 11:04 a | 11:05 a | 11:10 a |
| 11:15 a | 11:16 a | 11:19 a | 11:20 a | 11:25 a |
| 11:30 a | 11:31 a | 11:34 a | 11:35 a | 11:40 a |
| 11:45 a | 11:46 a | 11:49 a | 11:50 a | 11:55 a |
| 12:00 p | 12:01 p | 12:04 p | 12:05 p | 12:10 p |
| 12:15 p | 12:16 p | 12:19 p | 12:20 p | 12:25 p |
| 12:30 p | 12:31 p | 12:34 p | 12:35 p | 12:40 p |
| 12:45 p | 12:46 p | 12:49 p | 12:50 p | 12:55 p |
| 1:00 p | 1:01 p | 1:04 p | 1:05 p | 1:10 p |
| 1:15 p | 1:16 p | 1:19 p | 1:20 p | 1:25 p |
| 1:30 p | 1:31 p | 1:34 p | 1:35 p | 1:40 p |
| 1:45 p | 1:46 p | 1:49 p | 1:50 p | 1:55 p |
| 2:00 p | 2:01 p | 2:04 p | 2:05 p | 2:10 p |
| 2:15 p | 2:16 p | 2:19 p | 2:20 p | 2:25 p |
| 2:30 p | 2:31 p | 2:34 p | 2:35 p | 2:40 p |
| 2:45 p | 2:46 p | 2:49 p | 2:50 p | 2:55 p |
| 3:00 p | 3:01 p | 3:04 p | 3:05 p | 3:10 p |
| 3:15 p | 3:16 p | 3:19 p | 3:20 p | 3:25 p |
| 3:30 p | 3:31 p | 3:34 p | 3:35 p | 3:40 p |
| 3:45 p | 3:46 p | 3:49 p | 3:50 p | 3:55 p |
| 4:00 p | 4:01 p | 4:04 p | 4:05 p | 4:10 p |
| 4:15 p | 4:16 p | 4:19 p | 4:20 p | 4:25 p |
| 4:30 p | 4:31 p | 4:34 p | 4:35 p | 4:40 p |
| 4:45 p | 4:46 p | 4:49 p | 4:50 p | 4:55 p |
| 5:00 p | 5:01 p | 5:04 p | 5:05 p | 5:10 p |
| 5:15 p | 5:16 p | 5:19 p | 5:20 p | 5:25 p |
| 5:30 p | 5:31 p | 5:34 p | 5:35 p | 5:40 p |
| 5:45 p | 5:46 p | 5:49 p | 5:50 p | 5:55 p |
| 6:00 p | 6:01 p | 6:04 p | 6:05 p | 6:10 p |
| 6:15 p | 6:16 p | 6:19 p | 6:20 p | 6:25 p |
| 6:30 p | 6:31 p | 6:34 p | 6:35 p | 6:40 p |
| 6:45 p | 6:46 p | 6:49 p | 6:50 p | 6:55 p |
| 7:00 p | 7:01 p | 7:04 p | 7:05 p | 7:10 p |
| 7:15 p | 7:16 p | 7:19 p | 7:20 p | 7:25 p |
| 7:30 p | 7:31 p | 7:34 p | 7:35 p | 7:40 p |
| 7:45 p | 7:46 p | 7:49 p | 7:50 p | 7:55 p |
| 8:00 p | 8:01 p | 8:04 p | 8:05 p | 8:10 p |
| 8:15 p | 8:16 p | 8:19 p | 8:20 p | 8:25 p |
| 8:30 p | 8:31 p | 8:34 p | 8:35 p | 8:40 p |
| 8:45 p | 8:46 p | 8:49 p | 8:50 p | 8:55 p |
| 9:00 p | 9:01 p | 9:04 p | 9:05 p | 9:10 p |
| 9:15 p | 9:16 p | 9:19 p | 9:20 p | 9:25 p |
| 9:30 p | 9:31 p | 9:34 p | 9:35 p | 9:40 p |
| 9:45 p | 9:46 p | 9:49 p | 9:50 p | 9:55 p |
| 10:00 p | 10:01 p | 10:04 p | 10:05 p | 10:10 p |
| 10:15 p | 10:16 p | 10:19 p | 10:20 p | 10:25 p |
| 10:30 p | 10:31 p | 10:34 p | 10:35 p | 10:40 p |
| 10:45 p | 10:46 p | 10:49 p | 10:50 p | 10:55 p |

*Schedules and routes are subject to change. PM times are in bold
Using the Shuttle Tracker
You can use the tracker to plan your route and find your shuttle. Simply click the button at the top that says "Find My Shuttle!" and the shuttle tracking website will launch. From there, you can input your destination and the tracker will show you the nearest stop to you, how many available seats there are, and the total time it will take to your destination. Powered by
LiftTango
.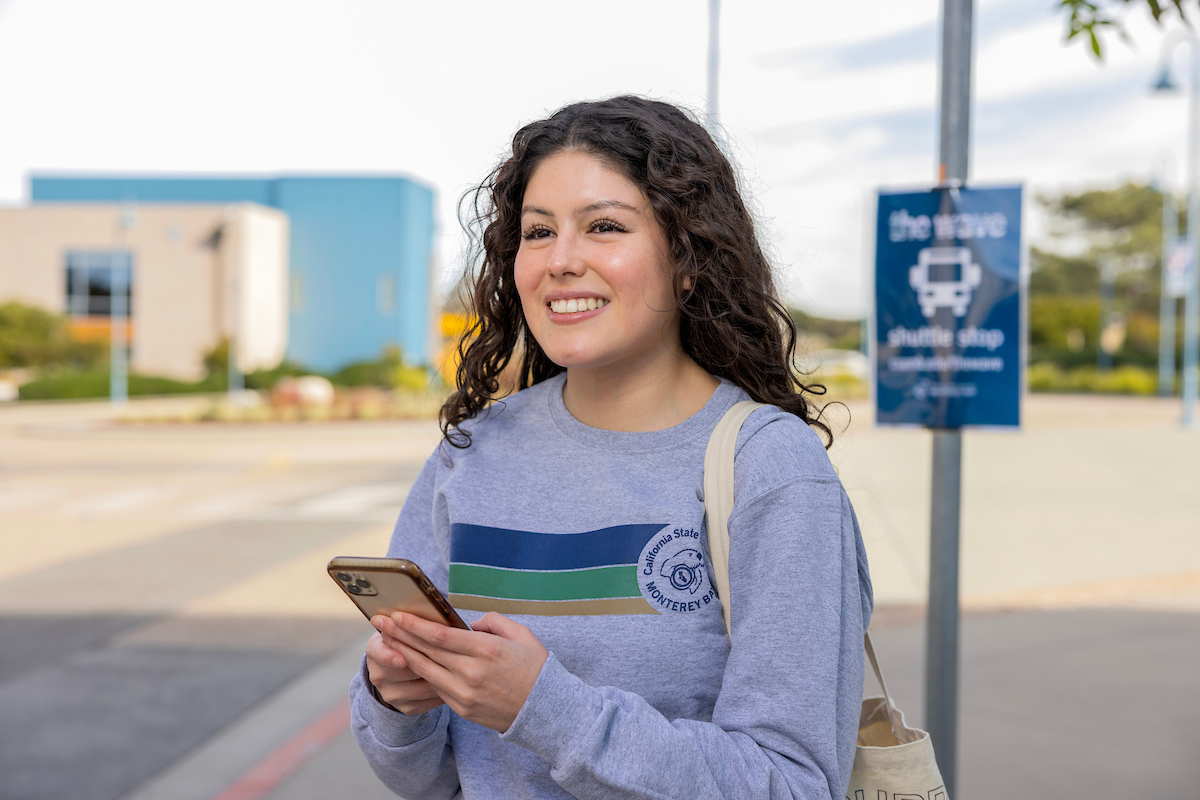 How to Ride the Wave
The Wave Shuttle Service is FREE for all students, affiliates, and campus visitors. Shuttles will stop at all stops along the route. In case of an emergency, alert your bus driver and call 911 either from your phone or exit and find the nearest blue light emergency beacon.
1. Wait for The Wave shuttle to arrive at a shuttle stop. Boarding and alighting is only allowed at stops.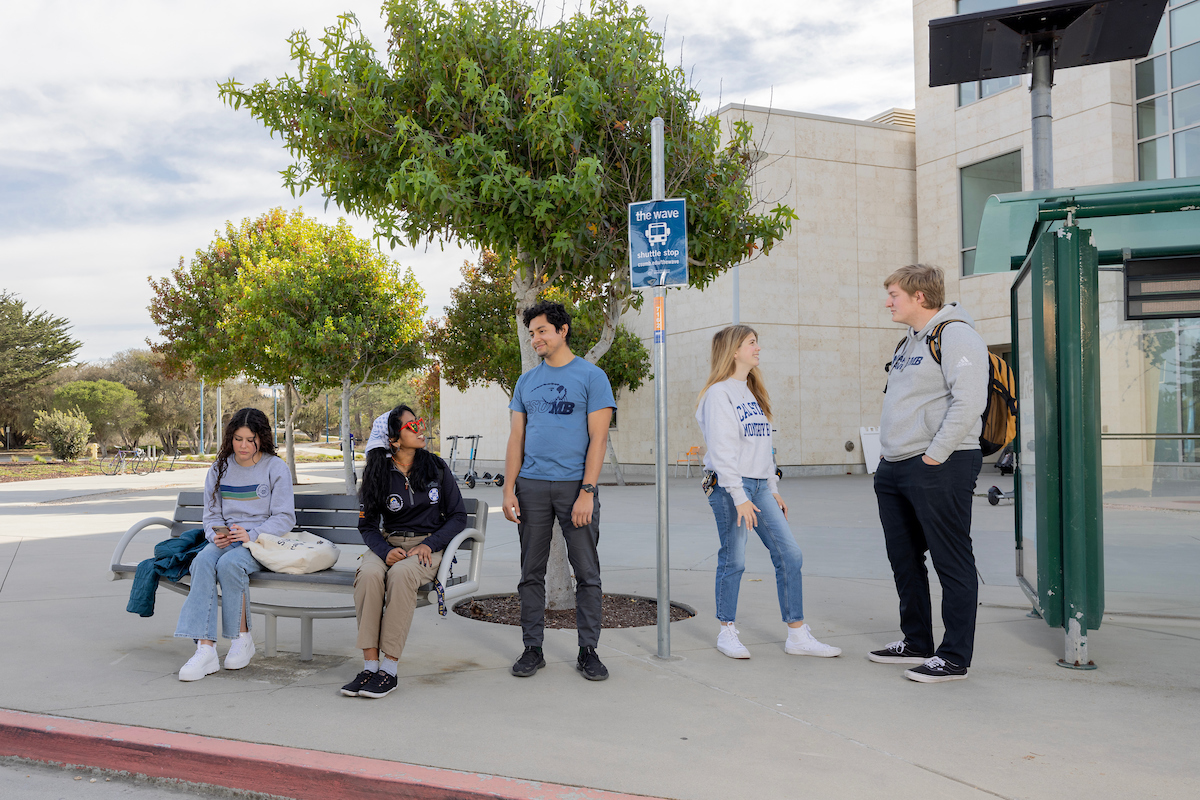 2. When the shuttle comes to a complete stop, board, and be prepared to show your Otter ID.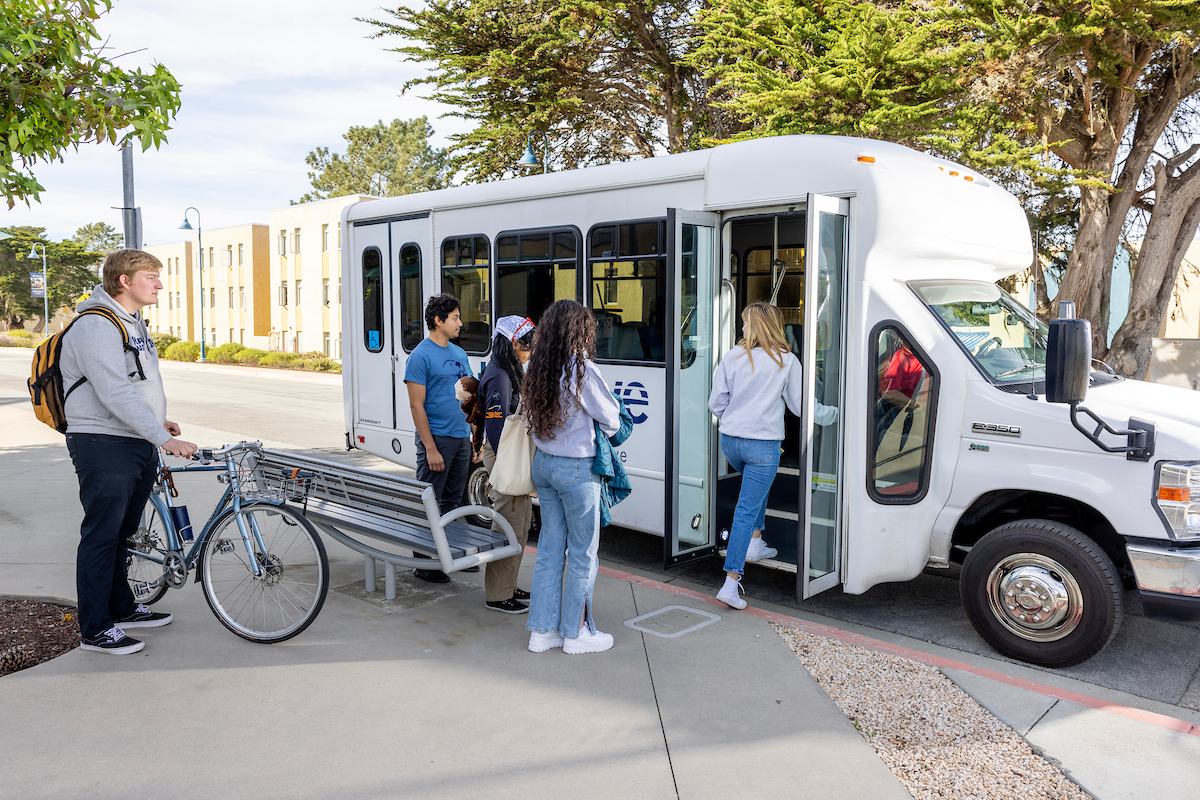 3. Ride the wave! Remain seated until the bus arrives at your location and comes to a complete stop.
How to take your bike on the Wave
All Wave shuttles are equipped with two bike racks. To take your bike with you on the wave, follow these steps:
1. Lower the bike rack on the front of the shuttle by squeezing the handle and lowering the rack.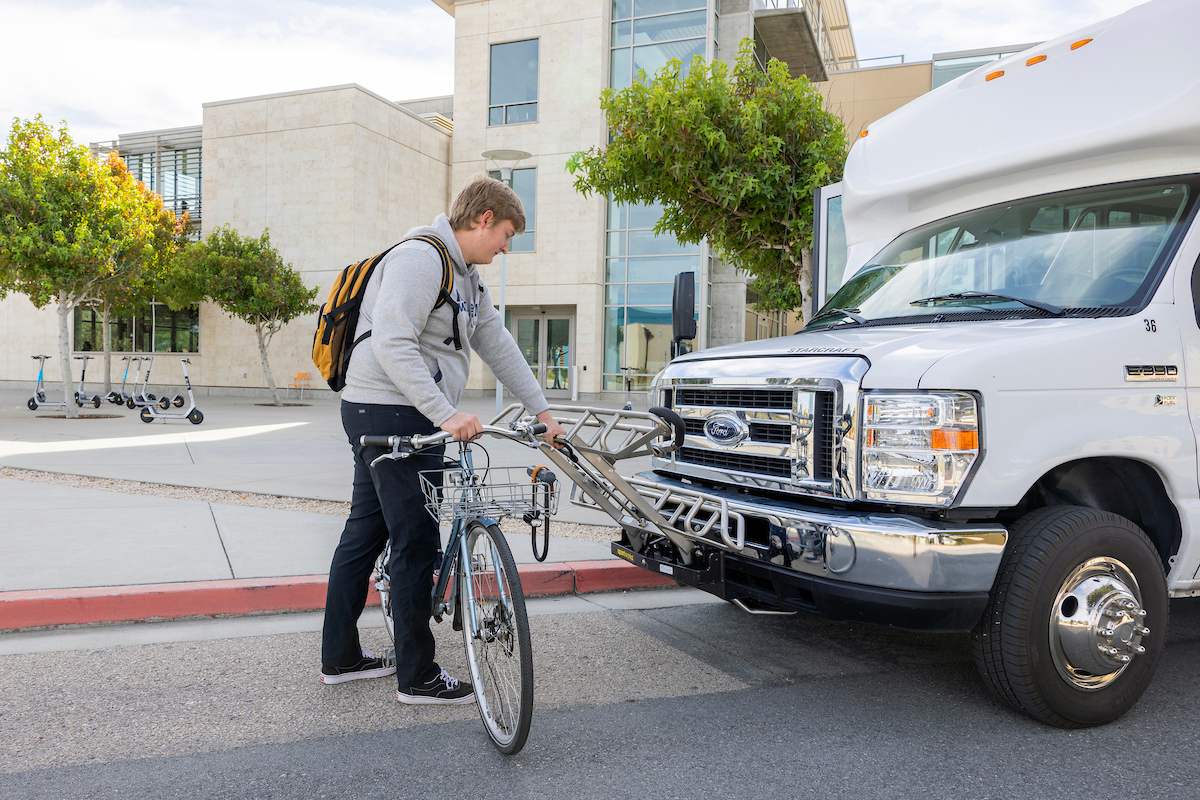 2. Load the bike onto the rack. Pay attention to where the front tire should go.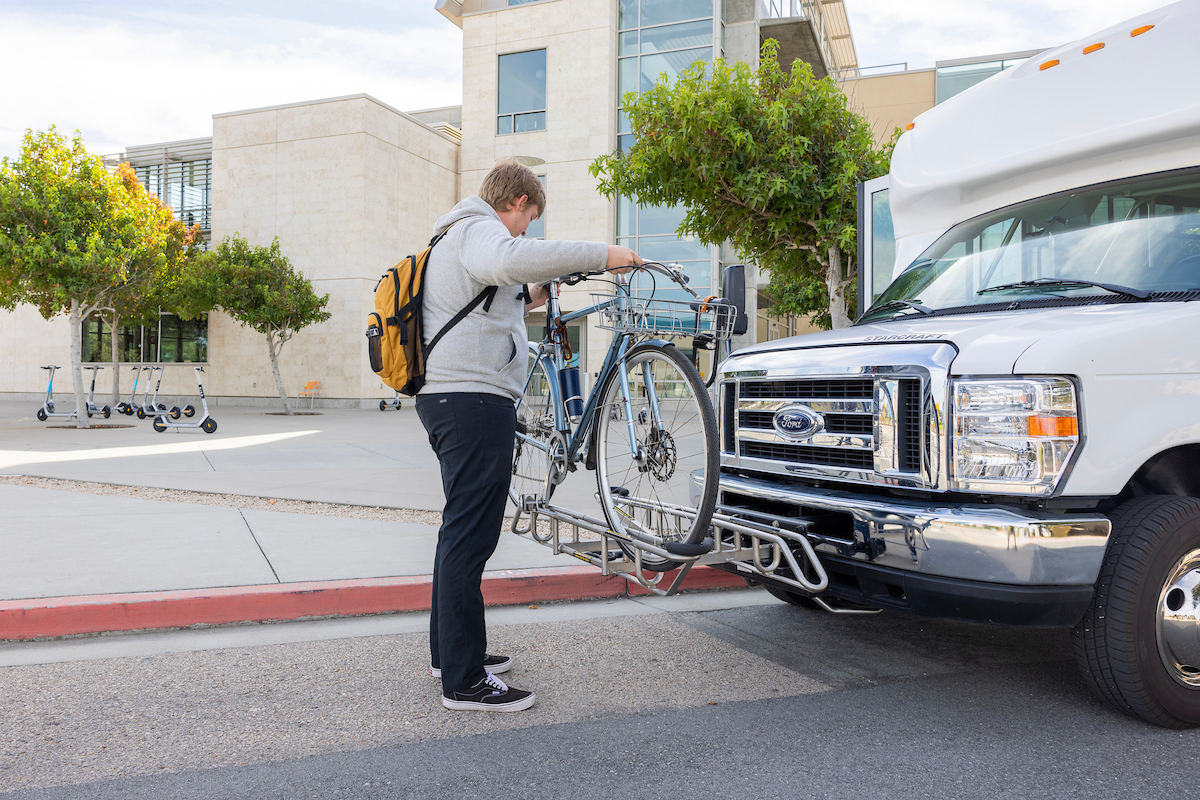 3. Secure your bike by lifting the hook and affixing the spring load to the front tire.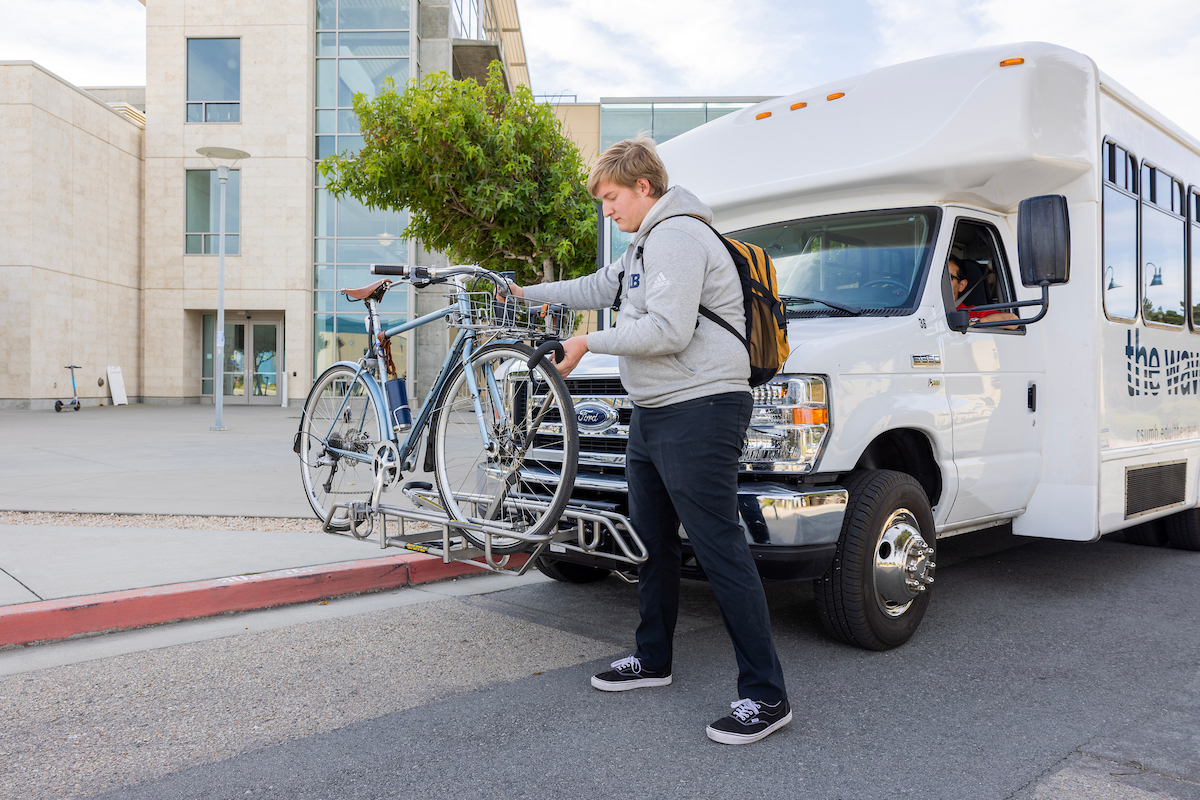 Reverse the steps above to remove your bike. If no bikes are left, please place the rack back in the upright position.
Service Guidelines
Please be courteous to drivers and fellow riders.
Riders and drivers should follow all CSUMB COVID-19 safety protocols while on the shuttles and waiting at the shuttle stops. This includes wearing a mask at all times.
Have your Otter ID card ready to display if requested by the driver.
All vehicles are equipped with interior cameras for passenger and rider safety and security.
Secure all large or loose items before departure and remain seated while the vehicle is in motion.
Eating and drinking are discouraged while on board.
About The Wave
CSUMB provides a FREE campus shuttle service, called "The Wave," to connect you to your campus destinations. Commuters can catch The Wave at Lot 59 for quick access to Main Campus. The East Campus route provides frequent service all day from any bus stop in East Campus Housing to the Library, Otter Sports Center, and 4th Avenue / Alumni & Visitor's Center.
Your feedback is welcome:
If you have any comments or questions about "the wave," please send an email.
Learn about other modes of transportation on the Transportation Resources webpage.