Free Immigration Legal Services
Direct immigration legal services are available free of charge to CSU students and employees. Attorneys and paralegals are available to assist students with general consultations, DACA renewals and general assistance in filling out forms such as family-based petitions and more. This project aims to serve undocumented students, students with immigration questions, staff, and faculty. The non-profit agency providing legal services to Cal State Monterey Bay is Immigrant Legal Defense (ILD).
Servicios Legales Gratuitos de Inmigración
Los servicios legales de inmigración directa están disponibles sin cargo para los estudiantes, familias, ex alumnos y empleados de CSU. Los abogados y asistentes legales están disponibles para ayudar a los estudiantes con consultas generales, renovaciones de DACA y asistencia general para completar formularios como peticiones basadas en la familia y más. Este proyecto tiene como objetivo servir a estudiantes indocumentados, estudiantes con preguntas de inmigración, personal y facultad. La agencia sin fines de lucro que brinda servicios legales a Cal State Monterey Bay es Immigrant Legal Defense (ILD).
Types of Services
Immigration Intake


DACA
Family Petitioning
U & T Visas
Detained and non-detained
Deportation (court) defense
Asylum
Application for lawful permanent resident status
TPS
Citizenship application
And More!
Who is Eligible to Participate?
These services are open to CSUMB students, staff, faculty, alumni, and families
Need to Renew your DACA?
Please see attached flyer with upcoming Immigrant Legal Defense (ILD) clinic dates. Below we have also listed frequently asked questions. For a limited time ILD will also cover the $495 filing fee to renew your DACA!
If you have any questions or concerns please email the Undocu-Success Center Coordinator Guillermo Metelin Bock at gmetelin-bock@csumb.edu
Don't forget to follow us on social media for frequent updates on upcoming events and opportunities.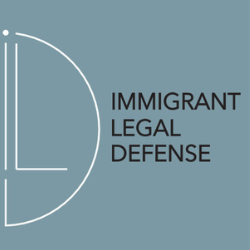 To schedule a consultation with an attorney click the "schedule a consultation button below". Services will be provided virtually by phone.
Para programar una consulta con un abogado, haga clic en el botón "programar una consulta a continuación". Los servicios se brindarán virtualmente por teléfono.
ILD is a nonprofit agency dedicated to providing immigration legal services to our CSUMB students, faculty, staff and their family members. To learn more about ILD please visit their website.

Who can access the free immigration legal services? Students, staff, faculty & their immediate family members and recent alumni (including parents, siblings, spouse, children, and/or legal guardian).

Is there a cost? No, no one will have to pay for any legal help. Individuals are only responsible for application-related fees.

Do the attorneys speak other languages besides English? Yes, our attorneys speak Spanish and other languages. We also have interpreters and translators available if we don't speak your best language.

How many meetings are included in the service? As many as are needed! Services include an initial meeting with an attorney as well as case representation throughout the length of the entire case.

Do I need to be undocumented to access the free immigration legal services? No, we serve individuals regardless of immigration status. That includes those that are undocumented, have DACA, are residents, citizens, etc.

What type of cases do you work with? Our attorneys can help with DACA, advance parole, family petitions, U visa, T visa, VAWA petitions, immigration court defense (including when someone is detained by ICE), asylum, applications for lawful permanent resident status or green card, citizenship and more!

I CURRENTLY HAVE DACA AND IT EXPIRES IN THE NEXT 6 MONTHS. CAN I FILE FOR RENEWAL?

Yes. If your DACA is expiring within the next 6 months you can file for renewal now.


I NEVER APPLIED FOR DACA BUT I AM ELIGIBLE. SHOULD I APPLY NOW?

No, initial DACA applications are not being accepted at this time. They will be rejected by USCIS.

MY DACA IS NOT EXPIRED AND DOES NOT EXPIRE FOR THE NEXT 6 MONTHS. CAN I STILL APPLY?

Yes. While USCIS recommends filing for renewal between 150 and 120 days from when your DACA expires, requests received earlier than 150 days and up to 365 days in advance will be accepted. However, this could result in an overlap between your current DACA and your renewal. This means your renewal period may extend for less than a full two years from the date that your current DACA period expires.

I HAVE NEW CRIMINAL HISTORY. SHOULD I RENEW?

Please speak to an attorney or accredited BIA representative as to whether your criminal record makes you ineligible for DACA. Your attorney should be able to advise you on the immigration consequences of criminal convictions, and recommend post-conviction relief, that may make you eligible for DACA again.

CAN I CONTINUE TO ATTEND UNIVERSITY EVEN IF I LOSE DACA?

Yes. Undocumented students, with or without DACA, are welcome on our campus and should continue to pursue higher education.