Sustainable Building Development on Main Campus
With the much needed Gambord Business Information & Technology(Gambord) building opening up last fall, Campus Planning & Development rolled out plans for the newest campus buildings, Academic III (A3) and the Otter Student Union, around this time. A3 will hopefully break ground this summer. If everything moves smoothly, as early as June we could begin to see the future building that will house College of Arts, Humanities and Social Sciences, reports Shelley Niedernhofer, the Project Manager and lead Engineer. A3 will be just behind the BIT building along the pedestrian mall, as shown in the photo.
Also with much anticipation, the Otter Student Union, is projected to break ground in the Fall just East of the Student Center, in the Student Center parking lot. If both projects go as planned, by the time current Freshman are ready to take their major pro-seminar they could be attending class in A3 and studying in the Otter Student Union between classes. It is hard to define an exact date, but Shelley Niedernhofer projected Spring 2019 for A3 and Fall 2019 for the Otter Student Union.
Academic III The CSU LEED minimum requirement for a building is a LEED Silver equivalent, and the rankings move from "Certified," "Silver," "Gold," to a maximum of "Platinum", based on a point system. The Gambord building, for example, is just a few points shy from Platinum. LEED measures everything from the site selection, waste diversion, to carbon & environmental footprint. Academic III is expecting to achieve a LEED certification of at least Gold and Campus Planning & Development is striving for a Platinum certification.
As A3 will be on a previously "disturbed" site (the parking lot) that is close to the campus hub this prevents urban sprawl and reduces the need for additional cars. With an open amphitheater in the center, there can also be a restoration effort of native habitat to the area. The building is also near to public transportation which students can use without cost to them using their Student ID card.
10-20% of the materials used in the building of A3 will be recycled materials. Another 10-20% will be purchased locally or with regional materials. As much of the wood as possible that will be used in the construction will be from forests that have been certified with the Forest Stewardship Council certifying that the wood itself is grown sustainably.
Even the color of the roof helps to create the "heat island" effect, requiring less heating in the Winter and less cooling in warmer seasons.The heat island effect uses population density, and building construction to reduce the need for heating and cooling. The building will also have radiant floor slabs that are more efficient for temperature maintenance. The building is a smart building -- this means that if a faculty member were to open their office window the building recognizes that and stops heating or cooling that part of the building. It also utilizes a full building ventilation system to allow the natural flow of air when comfortable. The paint itself is even sustainable, seeking to minimize "off-gas" or pollutants in sealants, paints, flooring, and composite woods.
A3 will also have low flow water features, which is especially important as water is such a precious resource in Central California.
The Otter Student Union Building
The Otter Student Union (OSU) will have a coffee shop and fast food, a divisible ballroom, bookstore, and offices for student organizations on campus. The Student Union will also have a meditation room, additional storage, and outdoor and indoor seating for students to study, hang out, and build community. The building is on track to achieve a LEED certification of "Silver," with the potential for "Gold." While this is a lower certification than other buildings on campus, there are less intrinsic design aspects that lend themselves towards a "Gold" or "Platinum" certification, according to the project manager. Similar to A3, the OSU building is on a previously disturbed site -- the student center parking lot; minimizing sprawl and reducing ecological damage. The Otter Student Union is close to Public Transportation. Perhaps more importantly by clustering buildings close together there is a reduced need for students, staff, and faculty to drive between campus buildings; this makes taking public transportation more manageable and parking in more remote lots less daunting.
The OSU building will have low flow fixtures. The building will also connect to the main campus chilled water system which reduces water waste and energy usage. The building will have radiant slabs for heating and cooling, and natural ventilation to maintain a sustainable temperature control system. The refrigerators for the coffee shop and fast food restaurant will be high efficiency to reduce energy waste. The Otter Student Union will continue to work with Greenwaste to ensure compost is available to the food service providers and student consumers. There will also be significant efforts to divert construction waste from the landfill, when possible the site managers will use recycled materials in the building.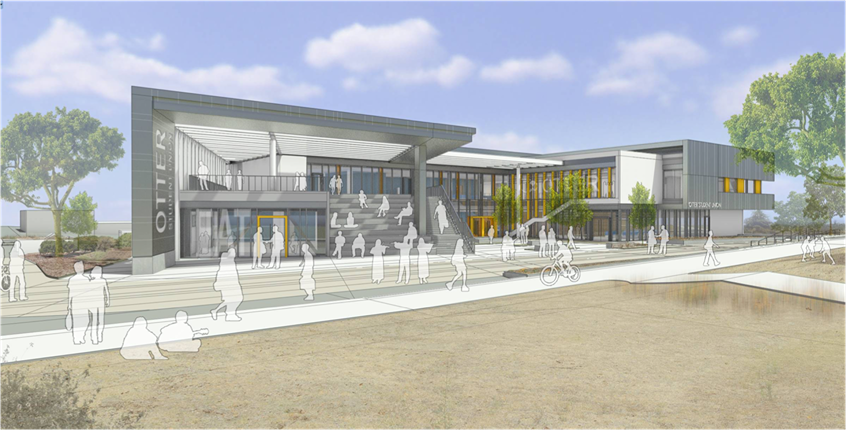 The Otter Student Union will use natural lighting through an open building with plenty of windows in collaboration with high efficiency and zero-mercury lights to ensure adequate visibility.
The buildings that our campus designs and builds now will tell the story of our future. If we are able to build sustainable, equitable, and aesthetically pleasing buildings now, then ourselves and future generations will reap the benefits. Together, we can build a sustainable future for human and non-human lives to benefit from and share with us.