Let your inner WITCH shine! Celebrate the beautiful hxstory of drag culture with our Werk Witch Drag show. Werk Witch is an intersectional drag show that encourages drag queens, kings, and non-binary performers to let their brilliance and diva shine bright like a diamond.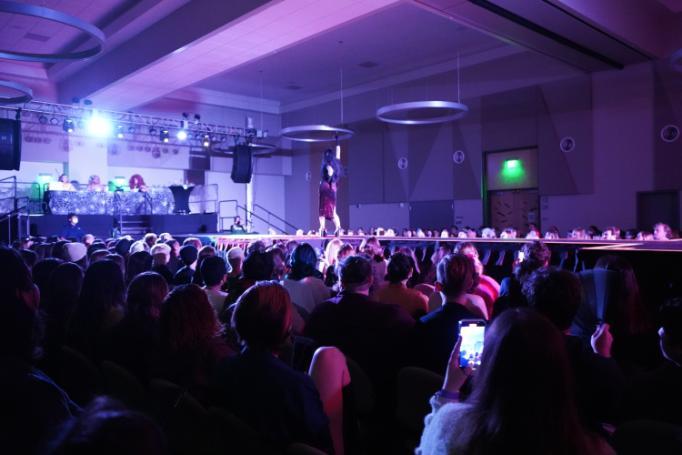 Werk Witch 2023
We're back, witches!
We are 100% thrilled to be able to provide a face to face competition this year! Our teams have been hard at work to make this show the best yet with all new staging, lights, and sound that we are sure will blow the audience away. The live show will take place on Friday, October 13 at 7pm PST in the OSU Ballroom with the doors opening at 6:30pm.
Registration for both in-person and livestream will go live Friday, October 6 at 5pm via MyRaft. In-person seating is limited and this event is open to all 18+. Non-CSUMB members wishing to attend need to create a MyRaft account in order to register.

For event accommodations, please contact oc3@otterstudentunion.org once registered.
Warning: Strobe lighting and other intense lighting and high intensity sound will be used during this show. It will not be safe for those with epilepsy and other conditions with sensitivity to light and sound.
Friday, October 13, 2023
OSU Ballroom, 3118 Inter-Garrison Rd, Seaside, CA 93955
Doors open at 6:30pm, Event starts at 7pm
Register to Audition
We are accepting submissions for the show from CSUMB students, faculty, staff, alumni, and our surrounding Monterey Bay community. Register for this year's auditions by September 10, 2023 at 12am to audition via in-person or video.
Submissions will be selected based on:
1. Honoring the drag tradition
2. Creativity
3. Theme (Halloween)
4. Charisma/personality/fierceness
For any questions or concerns regarding the Werk Witch Audition process, please contact oc3@otterstudentunion.org
Our Werk Witch 2023 Professional Performers
AyumiPlease
AyumiPlease is a pan-genre party DJ and event coordinator from Salinas, CA. An activist and community organizer for over 20 years, the main focus of their work is creating and fostering safe and accepting environments for people who identify within the LGBTQ+ spectrum. AyumiPlease will be our Werk Witch 2023 MC.
Follow them on Instagram @ayumiplease
Tala
Tala (she/her) is a proud Filipino drag artist based in South Bay, who shows of her creativity and artistry not only in her performances but also through her self made garments. Her drag promotes beauty and individuality because she loves to reference things that she finds beautiful then adds her own twist to it. She named herself "Tala", which means "star/stars" in the Philippines, to signify her positive outlook in life; she believes that everyone should also do the same and always shine bright like a TALA.
Follow her on Instagram @theonlytala
Tori Tia
Tori Tia (any pronoun) is a drag entertainer based in the south bay. Her drag is focused on lifting the energy of the people around her, and to briefly whisk them away into her world of flamboyance and silliness. Tori aims to keep fun and laughter at the forefront of their drag, and they try not to take things too seriously. He would love to encourage all of you to take a deep breath *pause* and to relax your shoulders!
Follow her on Instagram @la_toritia
Kochina Rude
Kochina Rude, known for her do-it-yourself hard femme style, is a Chicane drag queen, vocalist, and emcee born and raised in the San Francisco Bay Area. She is a host for the weekly drag show "Princess" at SF Oasis, former singer for punk band Lolly Gaggers, and a harm reduction advocate, providing overdose prevention trainings and Narcan distribution at SF Oasis every weekend.
Follow her on Instagram @kochinarude