Staff and faculty who participate in the 6-hour Safe Zone training will be able to:
Identify campus, community, and national resources for LGBTQ+ students.
Gain a basic understanding of issues related to the LGBTQ+ community, including terminology, history, current events, and identity development theory.
Develop and practice skills to support LGBTQ+ students.
Increase self-efficacy in being able to advocate for the LGBTQ+ community.
What is Safe Zone?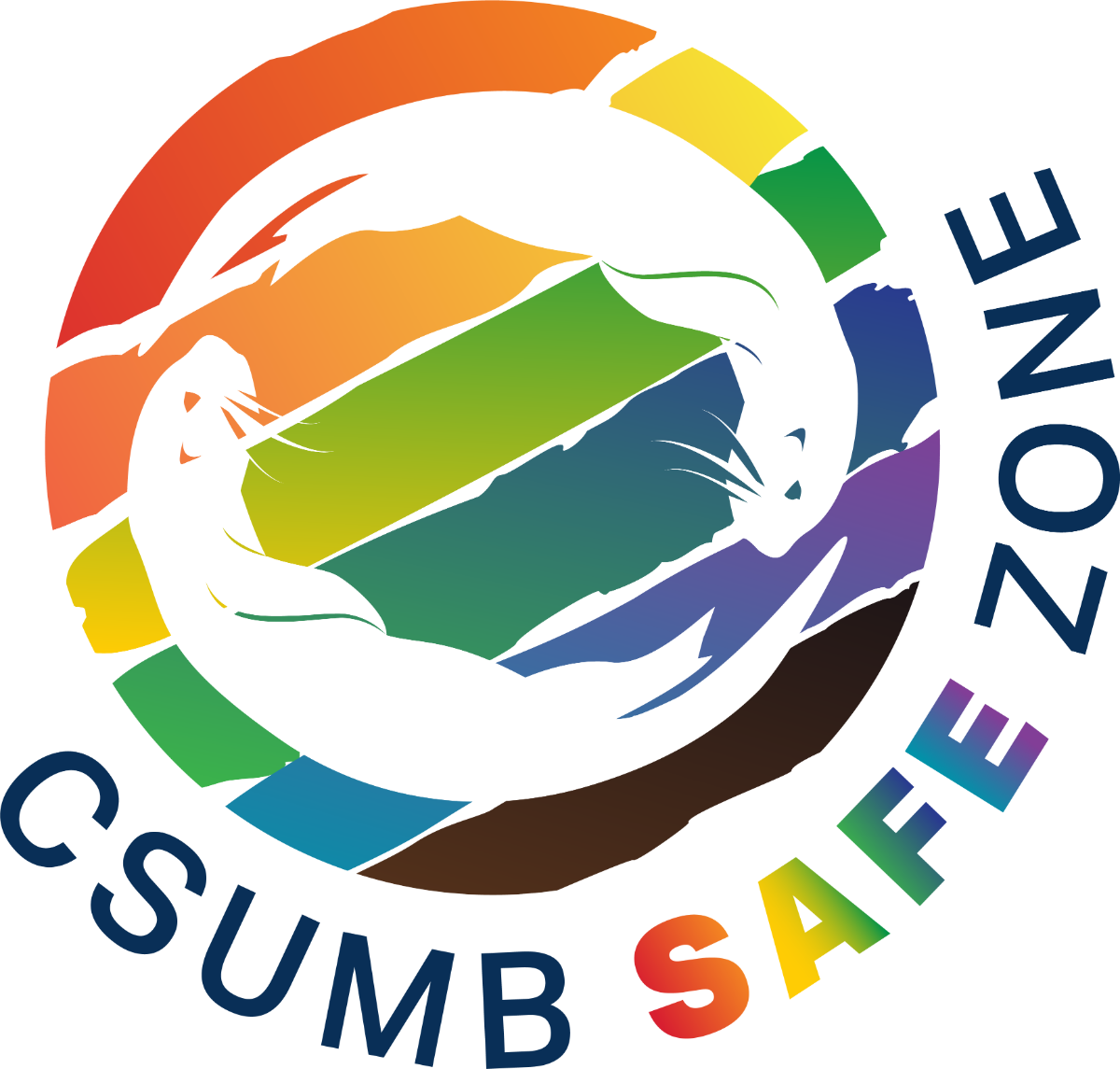 Safe Zone is the most common terminology used for a variety of programs used in high schools, colleges and universities throughout the United States designed to create consciously designated spaces on campuses where all types of sexual and gender minorities know that they are safe to talk freely about this aspect of the lives without fear of condemnation.
Here at CSU Monterey Bay, we recognize that our community members occupy many different points along the continuum of familiarity and comfort in relationship to LGBTQ+ communities and issues. This includes community members inside, outside and along the borders of the LGBTQ+ community. We also recognize that LGBTQ+ individuals and allies are not easily identified and that profound experiences of past discrimination may leave some members isolated and disinclined to risk sharing their personal lives in a new campus environment.
We created the Safe Zone training at CSUMB to identify, support, educate, and learn from LGBTQ+ allies in the campus community and thereby make CSUMB a more welcome and rewarding environment for all community members. Allies who choose to participate in the program will receive a Safe Zone placard or sticker that they will be encouraged to display so that LGBTQ+ folk will know that there is someone they can reach out to on campus.
Our hope and our intention is that safe space will grow into brave space where all community members throughout our campus feel that their differences are celebrated and the default assumption will be that "it is safe to express exactly who I am and all that I am wherever I am." The Safe Zone committee is excited to be sharing resources and building community in support of our LGBTQ+ community members and their allies. Thank you so much for bringing the commitment to community and professional development you demonstrate through your participation and contributions.
Program Objectives
Promote visible support for LGBTQ+ students at CSUMB
Foster and build a stronger LGBTQ+ and ally community
Increase LGBTQ+ advocacy on and off campus
Student Safe Zone
The purpose of CSUMB Safe Zone is to help build an inclusive and equitable campus community where all members of diverse sexual orientations, gender identities, and gender expressions are welcomed, valued, and affirmed. Through an educational training and on-going learning opportunities, this program encourages participants to identify themselves as visible supporters of LGBTQ+ communities at Cal State Monterey Bay.
This training requires the commitment of 2 separate training days during the span of 2 weeks. We will be providing food from the CSUMB Farmers Market after the training session is over (5pm-6pm). This is completely free and a part of the Safe Zone program!
This training is geared towards Students only. The Staff and Faculty Safe Zone training will be held in Spring 2023.
Part 1
October 27, 2022 2:00pm — 5:00pm
OC3, Room 301 in the OSU
Part 2
November 3, 2022 2:00pm — 5:00pm
OC3, Room 301 in the OSU
Apply for the 2022 Student Safe Zone training here!