We've Come a Long Way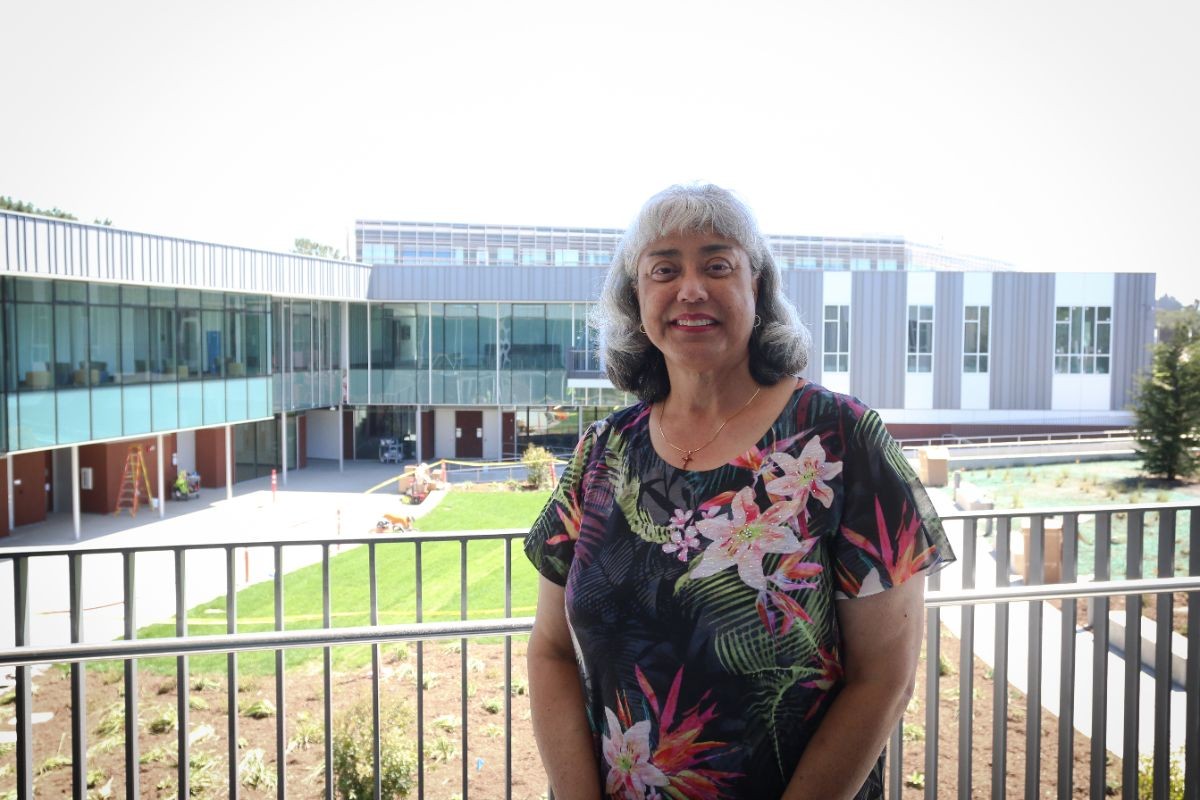 Photo by: Joan Iguban Galiguis
Reyola Carlisle at the amphitheater of the new College of Arts, Humanities, and Social Sciences building.
By Liz MacDonald
Published on Dec. 20, 2019
"Furniture and chairs don't show up by themselves," said Reyola Carlisle, the university's longest-time employee — now a senior contracts analyst in Finance — and the woman responsible for most of the chairs that students, staff and faculty sit in arriving on campus.
Carlisle started at the university almost 27 years ago, before CSUMB even was CSUMB. She was hired to do secretarial and clerical work for Richard E. "Hank" Hendrickson, Fort Ord's former garrison commander and the man charged with overseeing the transition from military base to university. (Hendrickson was named executive dean and later vice president for Administration and Finance.)
For 12 years prior, she'd worked as a civilian employee in public affairs for the Department of the Army at Fort Ord. When the base was selected to close, she saw the writing on the wall. She wanted to remain in Monterey-Salinas area to raise her son, so she responded to a newspaper ad for a secretary in what became CSUMB's planning and development office.
A title didn't describe what we did. We did everything, including putting furniture and chairs together."

— Reyola Carlisle
On her first day, she showed up at the office suite on Hilby Avenue in Seaside to find a woman screwing together her desk extension — Maria Pantoja, Hank's second-in-command. Carlisle coming on board marked the third person hired, and another set of hands to make sure the soon-to-be university had what it needed to open a new campus.
A title didn't describe what we did," Carlisle said. "We did everything, including putting furniture and chairs together.
The small team did much more. They ensured the institution got funding, and oversaw the renovation and retrofitting of military buildings into university classrooms and residence halls. Two years later when students first arrived, Carlisle was part of the small cadre of employees greeting them with information and helping to register them for classes.
"I never envisioned having problems finding parking," she said, laughing. "But here we are with 7,500 plus students."
Carlisle grew along with the university, her initial clerical role evolving into new positions as she — and the university — figured out what needed to be done and did it. In her years with the Administration and Finance department, Carlisle focused on public works, infrastructure and facilities.
"You don't see the procurement folks in the background," she said.
She ran contracts for old buildings to come down and new buildings to rise up, working with everyone from architects and engineers to janitorial service providers. As she worked behind the scenes, she also had a front-row seat for the transformation of the campus.
"Our whole focus was to build the campus and keep it moving forward," she said.
In addition to her job, Carlisle took advantage of the CSU's employee fee waiver program to take classes.
Our whole focus was to build the campus and keep it moving forward."

— Reyola Carlisle
"I love the student-to-teacher ratio, the time the faculty takes to sit down and explain things in everyday terms. It's amazing what they do to help the students succeed," she said.
She only stopped taking classes three years ago when her grandson, Rocco, was born.
"When I became a grandma, I had to readjust the priorities in life."
Now, Rocco also has a baby sister, Capriana. Carlisle still attends Capstone presentations, however.
"I learn so much when the students present their Capstones," she said. "I loved going to school here. Who knows, maybe when [the grandchildren] are old enough, they will want to come here to school."
Looking back, Carlisle fondly recalls the sense of community from those early days.
"We had lots of get-togethers, potlucks and events all the time. We even had a bowling team in the early years. Everybody knew everybody," she said. "I grew up here; this is my home."
Even when reflecting, Carlisle can't help but look to the future: "It's been a long time coming, but we're about to get a new student union. Our master plan calls for bigger spaces for sporting events and a new recreation center is on the horizon. The feasibility study for a new science building is about to get underway.
"We've come a long way," she said. "And it's still moving forward."