Social Media Sensation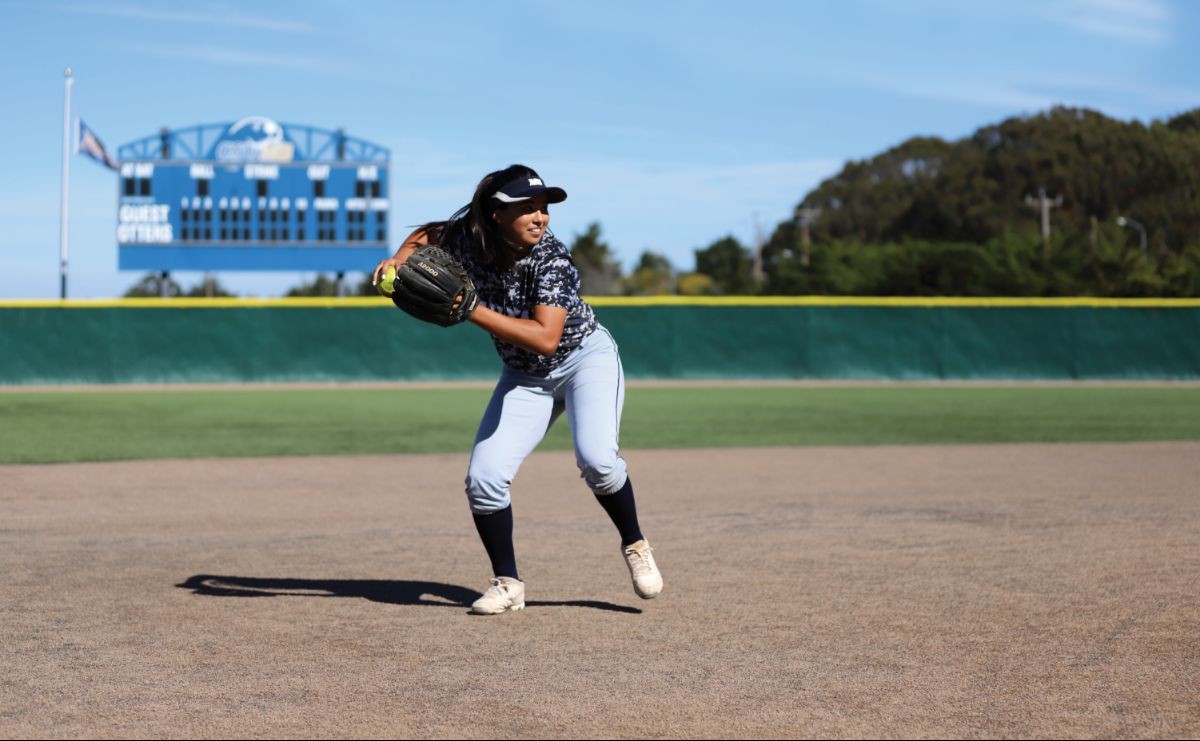 Photo by: Christina Ferrante
Otter softball player Vanessa Jacquez in action on the field.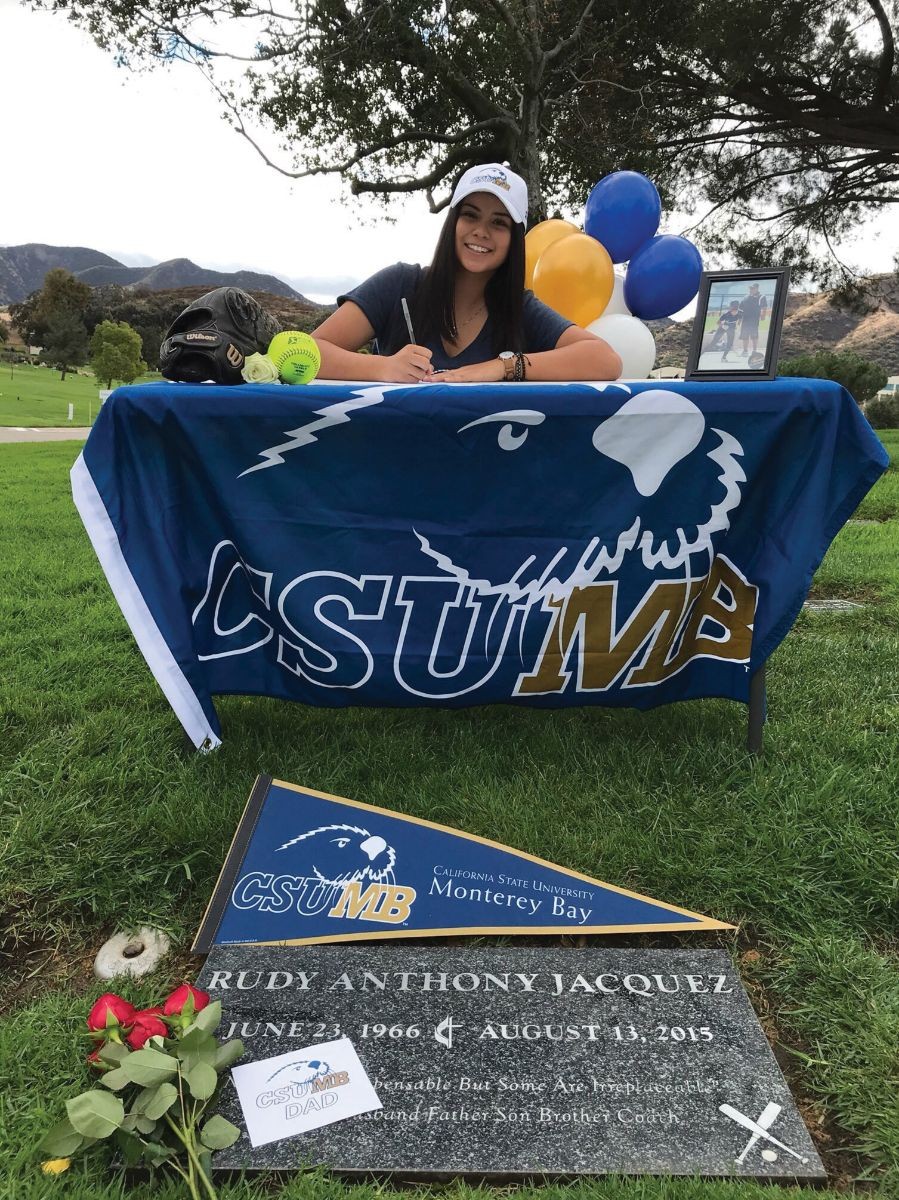 By Sophia Huang McKenzie
Published Feb. 2, 2019
Softball has always been much more than just a game to CSUMB freshman Vanessa Jacquez. It was a second family, a path to college, and now it's a special connection to her late father.
Rudy Anthony Jacquez died unexpectedly from a brain aneurysm in August 2015, three years before his only child achieved their shared dream: for Vanessa to become a student-athlete and the first person on both sides of the family to go to college.
The dream became reality in Fall 2017 when CSUMB's softball team recruited Jacquez to play third base for the Otters. She told her mother, Monica, she wanted to sign her letter of intent at her father's gravesite.
"I felt like he needed to be there with me when I signed. I asked my mom to take a picture because I wanted to show that we had done it together. I was thinking, he's looking down, and I know he's proud of me," Jacquez said.
She decorated her father's gravesite with Cal State Monterey Bay accessories including a "CSUMB DAD" sticker, and posted the pictures on Twitter along with the words: "Dad! I'm officially going to college! You have been with me every step of the way love and miss you more than you can imagine."
I felt like he needed to be there with me when I signed. I asked my mom to take a picture because I wanted to show that we had done it together. I was thinking, he's looking down, and I know he's proud of me.

— Vanessa Jacquez
What happened next was unexpected.
"At first, it was just my friends retweeting and commenting, and then my phone kept buzzing and buzzing. ... So I went back on Twitter, and there were a hundred retweets!" Jacquez said. "I thought it would stop, but then the whole night I just kept getting notifications. My phone was glitching."
People she didn't know offered congratulations:
"I'm so proud of you!"
"Your dad is so happy for you!"
A publicist contacted her. (She didn't respond.)
By the time the frenzy slowed, Jacquez had close to 8,000 retweets and 80,000 likes. Her post had gone viral.
"To this day, I'm still getting likes and retweets, and it's been a year almost," she said.
The experience was "kind of a shock" at first, but then she was heartened by it.
"Friends and old teammates I had not spoken to in years were commenting. They knew my Dad, and how he coached. It made me think of all the people my dad had touched," she said.
Family of Athletes
Jacquez's parent were both athletes. Her mom ran cross country and track, and her dad played football and baseball and wrestled. She followed in their footsteps, playing several sports including volleyball, soccer, cheer and softball, while growing up in Ventura County.
"Sports were kind of just in my blood," she said. "When I was younger, I started thinking about, what do I see myself playing in college? Something about softball, ... It felt like my second home and family. I made of lot of my closest friends through softball. Softball was my happy place."
Rudy Jacquez coached his daughter's softball teams for 11 years. She says his coaching wasn't just about the game.
"He was the one constantly trying to push me to be better. It wasn't just on the softball field, but in life," she said.
One day after softball practice, he collapsed at home. He lay unconscious in the hospital for three days, his heart failing. Vanessa, then 15, asked to be alone with him to say goodbye.
"I made a promise to my Dad when he was in the hospital. I told him I was going to work hard in school, work hard in softball. I promised I was going to work so hard for him, for us, and go to college."
He died on Aug. 13, 2015, at age 49.
"It was really hard," Jacquez said. She missed school, her grades suffered, and she stopped playing softball. But after a few months, she knew she had to keep her promise to her father. She re-dedicated herself to their shared goal, and went on to have a stellar high school career.
Softball Standout
Jacquez took summer classes, improved her grades, and continued to excel in softball. At the end of her high school career, her awards included: Rookie of the Year at La Reina High School in Thousand Oaks, and first team for All-Coastal Canyon League, Most Valuable Player, and Top Scholar Athlete at Moorpark High in Moorpark, where she transferred after her father's death. Her batting average was .360 with 72 hits in 67 games, 42 RBI, 47 runs scored, 17 doubles, five triples and five home runs.
Jacquez briefly considered heading to the East Coast or other schools in California, but soon set her sights on Cal State Monterey Bay. CSUMB was neither too-close nor too-far from home, it had a "really good biology program" (Jacquez wants to be a nurse), and a championship softball program. Furthermore, a friend already playing for the Otters told her what she needed to hear about the team and its coach.
"She would tell me how hardworking the team was, how focused they were, how they all want to win, how the coach wants to win. I wanted to play for a coach that really wanted hard workers, someone that would push you, knew when you had potential, and would help you get to your best playing ability," Jacquez said.
Since coming to CSUMB last fall, Jacquez said she has gained confidence, improved as a player, and bonded with her coach and teammates.
"I really like our team chemistry. We're focusing on loving one another, and loving the game, so we can work hard together. It's really helping us."
As for head coach Andrea Kenney, "she focuses on breaking things down, making sure we get the fundamentals. You can make an amazing play, but she wants you to have good fundamentals while doing it. She pushes us so hard at practice. We're diving for balls, we're talking. … She coaches like my dad. I think that's why I like Coach Kenney so much."
'Right Kind of Kid'
When Jacquez caught a cold during an Educational Opportunity Program (EOP) Summer Bridge program at CSUMB, Kenney contacted her new recruit and asked if she needed anything.
"She actually cares about her players. I know at some schools, half the coaches don't even know your name. Here she's texting me, checking in, making sure I'm OK, saying, 'I know being away from home is going to be a little hard at first, especially getting your first cold away from home.' It was really comforting."
Kenney said she knew Jacquez was the type of player she wanted for multiple reasons.
"We needed depth at third base, and she really wanted to come here. Of course she's a good athlete, but kids that really want to be here will achieve more. That, along with her athletic ability and a good academic fit, made her a desirable recruit."
Kenney was aware that Vanessa's father had died, but "Vanessa didn't share much about that during the recruiting process. She's a private person."
When she heard about the gravesite signing, Kenney said it confirmed she had recruited "the right kind of kid."
"Just like everyone else, I thought it was very touching, a wonderful sentiment. If you can get the kind of kid in your program that cares about their family, they're going to care about their teammates, and work hard, and help the team succeed."
Jacquez said she doesn't mind all the attention she's received because of her viral tweet, even though she's "really shy."
"I don't talk a lot. But I like talking about my dad," the soft-spoken teen said with a smile. "It makes me feel like he's still here with me."
CSUMB Otter softball boasts six NCAA Tourney appearances, four California Collegiate Athletic Association (CCAA) regular season titles (2010, 2012, 2014, 2015) and two CCAA Tournament titles (2009, 2015). After a rough season last year, head coach Andrea Kenney says the goal this year is make it back to the playoffs and the Top 3 in the conference. Conference play for 2019 kicks off with an away game on Friday, Feb. 8, against the Stanislaus State Warriors. The first home game is Friday, Feb. 22, vs. Cal State Dominguez Hills. For more information about the team and its schedule, visit otterathletics.com.