Library Event Celebrates Farr Legacy Collection
When future historians and students seek to understand the public policies and political history of the late 20th and early 21st centuries on the Central Coast, they will find a unique resource in the Tanimura & Antle Family Memorial Library.
The Farr Legacy Collection will be housed in the library, which serves as the academic hub of the CSUMB campus. The collection consists of nearly 200 boxes of documents, plus images, sound recordings, other media and digital files from the careers of Fred and Sam Farr.
People come up to me and say 'Thank you for your service,' I tell them, "Thank you for hiring me!"

— Congressman Sam Farr
At a March event recognizing the collection, Sam Farr talked about the importance of public service and the role he hopes the papers will play in helping to inform future generations of political leaders.
"What we're celebrating today is not my role or my father's role. We are just part of the story about the importance of public service," said Farr, who served as a congressional representative from the Central Coast for more than two decades. Prior to serving in Congress, Farr was a member of the Monterey County Board of Supervisors and the California Assembly.
His father, the late Fred Farr, was a long-time environmental leader who served for more than a decade in the California State Senate.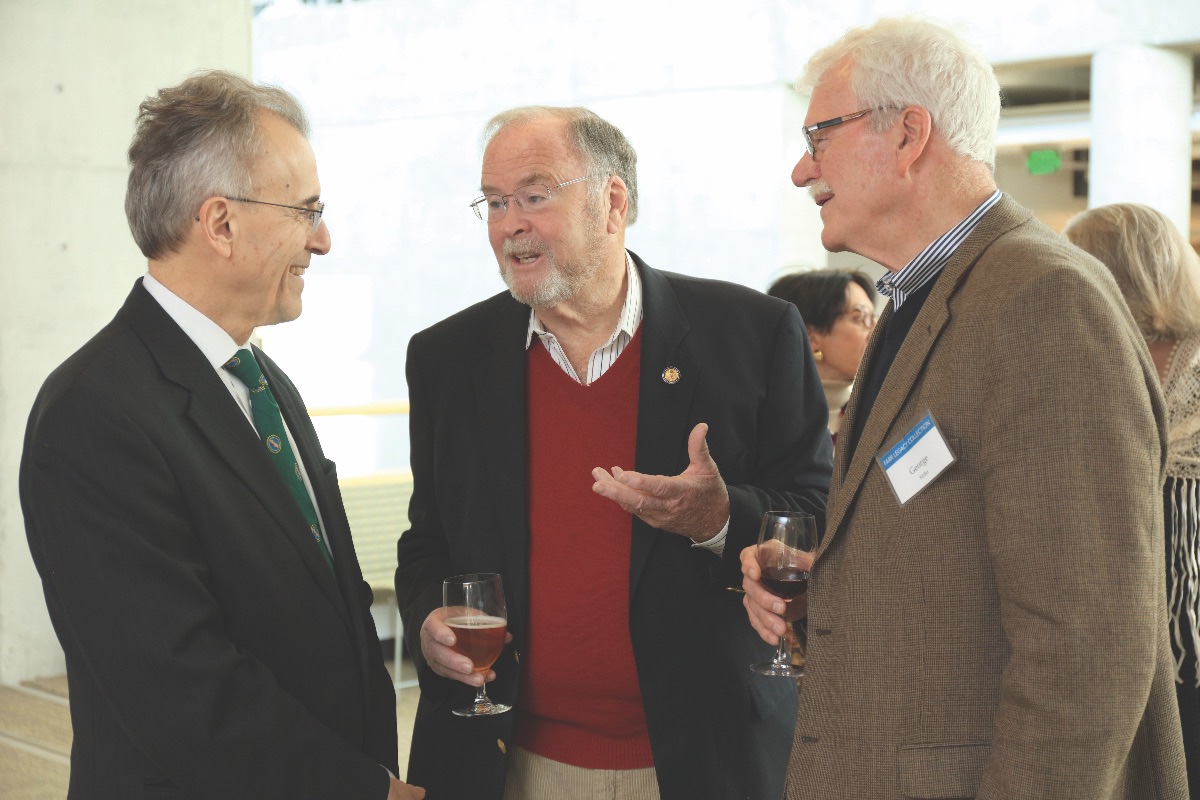 Photo by: Randy Tunnell
Sam Farr (center) talks with CSUMB President Eduardo M. Ochoa and a longtime colleague, former Congressman George Miller from San Francisco, at the Farr Legacy Event.
Dynamic democracy
Surrounded by friends, colleagues and supporters from his long political career, Sam Farr talked with pride about the parks that had been created and the environmental protections that had been enacted through his work and that of his father. Sam Farr also played a key role in the effort to create Cal State Monterey Bay.
"What I think is so important about these papers is that, someday, people may wonder how all that happened," Farr said. "We want to demonstrate that there are ways to petition the government; there are ways to change things. We live in the most dynamic democracy in the world.
"It is all about you. People come up to me and say 'Thank you for your service,' I tell them, "Thank you for hiring me," Farr said.
In his remarks, Library Dean Frank Wojcik said, "I look forward to the day when university classes meet in the archives and students can connect to the history of our institutions and society through the Farr materials."
Wojcik said that the university has a fundraising goal of $200,000 to support the work involved in organizing and creating the archive and making it accessible to the public.