CSUMB Graduate Alumni Experience Study
The CSUMB Graduate Alumni Experience Study is conducted in support of academic program review.
2017
Methodology
Between September 21, 2017 and November 30, 2017, 850 recent—graduating in the last 5 years—CSUMB graduate alumni were invited to participate in a survey to assess their experience with CSUMB. Alumni were asked to reflect on the degree program that they participated in and the ways in which their participation influenced their professional growth, employment, and future plans. An incentive drawing for a gift from Amazon.com worth up to $400.00 was offered to respondents. In total, 42% (359) graduate alumni responded to the survey.
Quantitative Report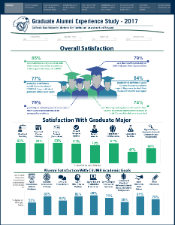 Qualitative Data
Access the 2017 CSUMB Graduate Alumni Experience Study qualitative results to open-ended survey questions via IAR's Qualitative Survey Reporting Tool.
(Note: If you do not yet have access to IAR's Qualitative Survey Reporting Tool, request access. You will need to use your Otter single sign on ID to login to the Qualitative Survey Reporting Tool.)