Supporting Educational Dreams
When Ernesto Verduzco came to Cal State Monterey Bay as a freshman in fall 2016, a peer mentor helped him adjust to his new, and challenging, educational environment.
"I really liked the bond I had with my peer mentor. He showed me how to do assignments I didn't understand, how to draft emails, how to interact with professors when I needed help. All that information that as a freshman you may not understand, he helped me understand it better," Verduzco said.
Verduzco, a collaborative health and human services major from Salinas, came to campus as part of the College Assistance Migrant Program (CAMP), one of several support programs that are helping students who are first-generation, low-income, migrant, disabled and foster youths.
And now Verduzco has become a peer mentor.
That (relationship with his mentor) is one of the reasons I was interested in this. I'm here; I'm comfortable; I'll give it a try.

— Ernesto Verduzco
Students helping students is just one of the strategies that CSUMB is employing to help those who have no family history in higher education continue to graduation.
Fulfilling the vision statement
Along with its academic advising system that serves all students, Cal State Monterey Bay maintains a number of specialized programs – the Educational Opportunity Program, TRIO Student Support Services, the College Assistance Migrant Program and Guardian Scholars.
"We do work with students who are first-generation, low-income, many with migrant backgrounds," said Kyrstie Lane, associate director of TRIO Student Support Services. "So we have a lot of students who don't have much college information."
TRIO Student Support Services (SSS) and the Educational Opportunity Program (EOP) serve similar populations of first-generation and low-income students. Guardian Scholars serves students who were part of the foster care system. The CAMP program, which is funded through a federal grant, is targeted toward students from migrant families.
Those programs are having a significant impact in helping the university carry out its effort – as stated in its Founding Vision Statement – to serve "the diverse people of California, especially the working class and historically undereducated and low-income populations." Retention and graduation rates for students served by these programs generally meet or exceed those of the student body as a whole. Overall, 56 percent of CSUMB students are first-generation, 36 percent are classified as low-income.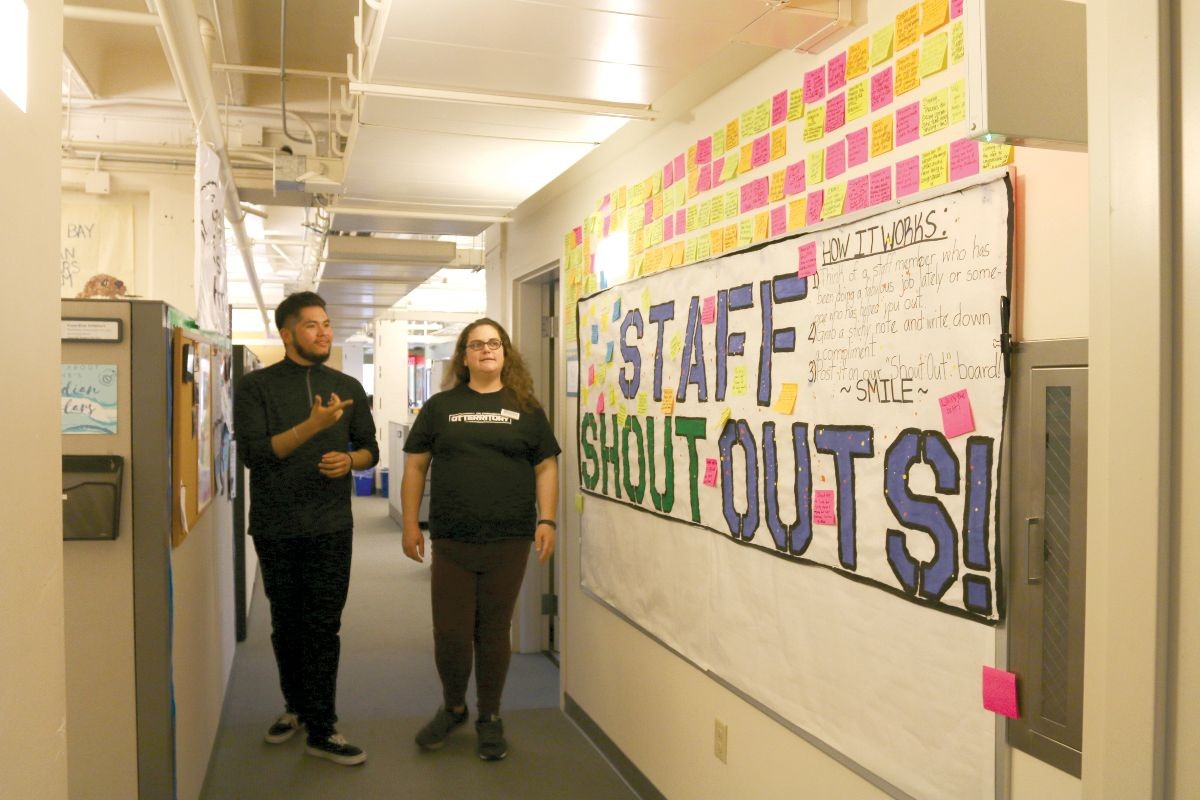 Photo by: Joan Iguban Galiguis
A bulletin board at the EOP offices gives students a chance to provide shout-outs to those who have helped them along the way.
Dedicated to success
Joy Brittain, senior director of CSUMB's Early Outreach and Support Programs, said, "First and foremost, we have really dedicated and passionate staff who care about the students and want them to succeed.
"Then, I think it is the peer mentors. That relationship piece, both with the peer mentors and the professional staff, is absolutely critical for the success of our students," Brittain said. "I think the consistency of the contacts is important. It is not just a matter of checking in once or twice a semester, it is an ongoing relationship."
After the Fall 2017 semester, 95 percent of students served by Student Support Services, and 96 percent of those served by a companion program which focuses on students in the STEM disciplines were in good academic standing. For the CAMP program, 86 percent were in good academic standing.
Retention rates from freshman to sophomore year for the approximately 600 students served by the EOP program have moved from 78 percent to 95 percent over the past three years. The freshman to sophomore retention rate in the CAMP program is 93.5 percent.
The programs have also produced some high-profile success stories.
Daniel Olivares, a participant in Student Support Services, received the U.S. State Department's Benjamin A. Gilman International Scholarship for the 2017-18 academic year. Olivares is the only recipient from CSUMB and one of nearly 1,000 nationwide. Olivares, an ecology, evolution and organismal biology major, is studying at the University of Cordoba in Spain.
Facing an array of issues
The students served by these programs face an array of issues that go far beyond the classroom.
Kim Barber, associate director of the Educational Opportunity Program and the Guardian Scholars program for foster youth, said these students often have to deal with homelessness and food security issues.
It is not just a matter of checking in once or twice a semester, it is an ongoing relationship.

— Joy Brittain
"Coming from that kind of background, there are additional needs that are going to be there. Our students, they do stick around, but they need help in sticking around. They may have a different outlook and different struggles than some of our mainstream students. But they are very bright, and they are very determined because of everything that they already have overcome," Barber said.
Sarait Martinez, associate director of CAMP, said that about 85 percent of CAMP students live at home to save money and commute to school.
Conflicting pressures at home
Some low-income students also experience conflicting tensions in their homes.
"They feel some pressure to be home working, rather than going to school," said peer mentor Arthur Munoz, a kinesiology major from Hollister. "So we, as peer mentors, try to allow them to see other options that they may not see when they are under stress. Because when you are under stress in that situation, the options in your mind can narrow down."
"It depends on what their culture is, and what is expected of them," said Marie Alonzo, a peer mentor from Salinas who is a collaborative health and human services major. "In migrant households, I think they are more apt to ask the students to stay home, while in other households they do not."
The hard-earned experiences shared by current CSUMB students add to the supportive environment that helps make these programs successful.
"Students find out that no matter where you are coming from – you are first-gen, you are migrant, you face a financial burden – we are going to help you. We are here to support you in any way possible and we will help you find the answers to your questions," Martinez said.