Commencement and Convocation Ceremonies live streams
Commencement Ceremony
This event is the culmination of our graduate's academic career at CSUMB and features the conferral of degrees to the graduates by President Vanya Quiñones and our commencement keynote address.
Commencement Ceremony 2023
Rodeo Arena | 11:30 a.m.
College Convocations
Convocations are divided by colleges and include the reading of graduate names and the opportunity to walk across the stage and have a photo taken with the Dean of the college. The event also includes other speeches and performances as organized by the respective college. These three events occur at two times of the day and in two venues in the Salinas Sports Complex. Graduates are encouraged to plan ahead to attend both the Commencement and their college Convocation event to celebrate their accomplishment of earning a CSUMB degree.
College of Arts, Humanities, and Social Sciences Convocation 2023
Rabobank Stadium | 9 a.m.
College of Business Convocation and College of Health Sciences and Human Services Convocation 2023
Rabobank Stadium | 2 p.m.

College of Education Convocation and College of Science Convocation 2023
Rodeo Arena | 2 p.m.
Share your commencement experience using #CSUMBgrad!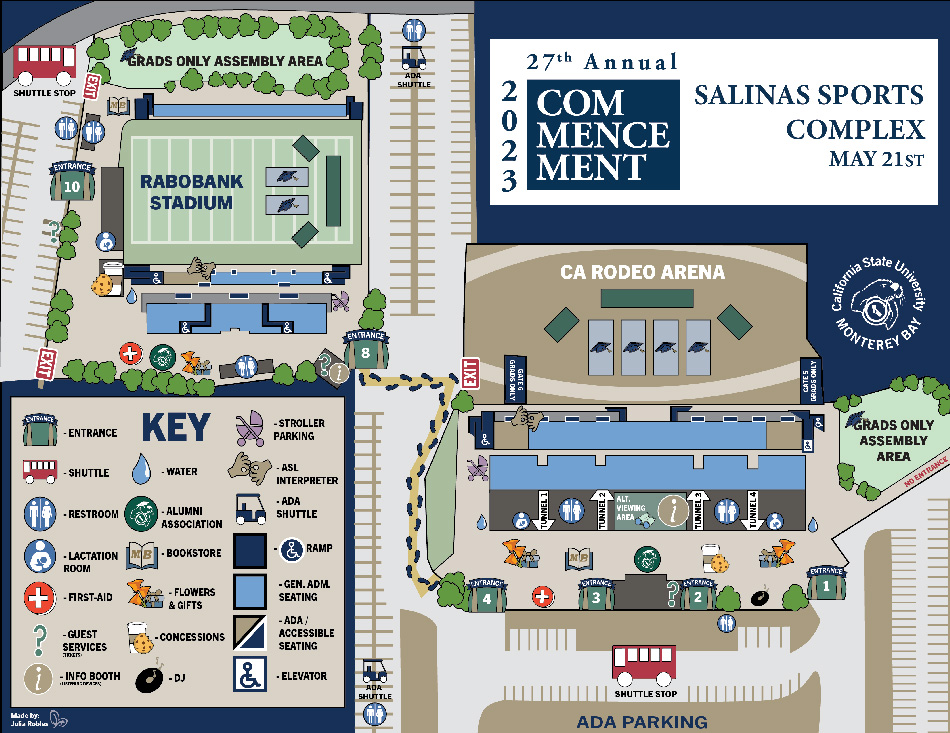 Directions to 2023 Commencement locations:
This year, all Otters will be together again for a university-wide commencement ceremony and festival at the Salinas Sports Complex on Sunday, May 21. This venue change allows all of our students to celebrate as one raft with family, friends, supporters, faculty and staff from all departments and divisions.

Through 2015 our university honored our graduates in a single joyful ceremony, but our new otter alumni outgrew our facilities in 2016, and CSUMB decided to divide our graduating class by college and offer multiple ceremonies. This year our Commencement Planning Committee researched many venues in Monterey County, and the Salinas Sports Complex is the only location that is able to accommodate our 2,400 graduates and up to six guests for each. We feel strongly that it is important to have a venue that will allow each graduate to have more guests to celebrate this milestone moment in their life and for our raft to be together to celebrate.

Commencement day will consist of three parts, the all-otter commencement ceremony, three convocation ceremonies divided by colleges, and the commencement festival - all held on one day at the Salinas Sports Complex.

Commencement Festival

New in 2023, the Commencement Festival includes food and beverages, photo opportunities, gifts, entertainment, and a commemorative electronic photo mosaic art project. The Alumni Association will be on-site to celebrate your accomplishments with you and your family and friends.

Commencement Festival
The Midway - in front of the Rodeo Arena | 10 a.m. to 2 p.m.

Affinity Stole Ceremonies

The CSUMB commencement season would not be complete without upholding our rich tradition of affinity celebrations, now called Affinity Stole Ceremonies, honoring the accomplishments and experiences of CSUMB graduates from historically underrepresented communities. Check the webpage for a full list of events and locations.