Alumni Association Benefits
The Alumni Relations staff and the Alumni Advisory Group continually work to provide alumni with valuable benefits and discounts.
Some benefits may require proof of alumni status. Please contact the Alumni Relations office to get an alumni card.
Alumni Events
Alumni events are held throughout the year in varying locations. Please check the Alumni Association Facebook Page and the events tab of this webpage.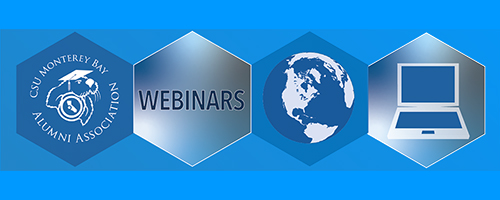 We provide four new high-quality webinars each month, covering a range of career, life stage, and lifelong learning topics. The webinars provide top notch programming from best-selling authors and career experts for alumni of all life stages. Visit alumlc.org/csumb to see all available and upcoming webinar topics.
E-Newsletter
All alumni receive a bi-monthly enewsletter. If you are not receiving these, please complete this Information Update Form.
Insurance
AAA
You can receive a discount by being a member of the CSUMB Alumni Association. Have your agent email alumni@csumb.edu or call 831-582-3595 for confirmation.
Provident Funding - Mortgage Program
Apply today to receive 0.25% discount off the cost of a home purchase or refinance loan. Email alumni@csumb.edu or call 831-582-4723 for the discount code.
Visit the Provident Funding website to to view live rates, marketing material, and testimonials.
RCG Logistics - Transportation and Logistics Services

RCG provides nationwide automotive shipping and logistics solutions for businesses and consumers.
RCG is granting CSUMB students, alumni, and faculty up to a 10% discount on all their services. Visit the RCG Logistics website to view their services and use the code CSUMB10 to receive the discount.



Library Access
Alumni are able to utilize various library services by showing your Alumni Card. View this web page to see library services available for alumni.
Hotel and Travel
CSUMB Alumni receive discounts on hotels and car rentals using the MM Services link above.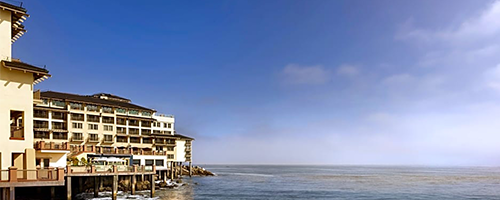 CSUMB alumni can receive 20% off at Monterey Plaza Hotel. You can call the hotel at (831) 920-6710 and ask to book the "CSUMB rate," book using the following link, or visit their website and use Promo Code "CSUMB" at checkout.
Otter Gear
Get the newest Otter apparel and gear through the Campus Store, our specialized Otter Gear shop.

Alumni receive a discount on a selection of items purchased at the CSUMB Bookstore when they show their alumni card (in-store only).
Going back to school and looking to purchase a computer? Checkout discounts through the specialized Dell store for CSUMB.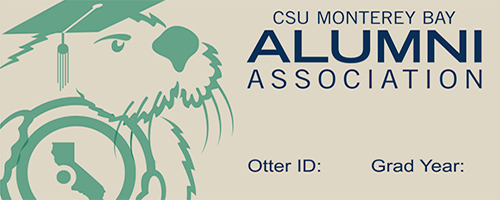 Alumni Cards
These are free and can be ordered at anytime by completing our online request form or emailing alumni@csumb.edu.

All alumni will receive a digital copy twice a year. If you are not receiving your digital copy, or would like a hard copy of the magazine, please email alumni@csumb.edu.