Welcome Transfer Students!
Transferring to a university provides new opportunities and challenges. We recognize that you are not new to the college experience, yet you may have many questions, need support, or want to find allies and supporters. The Transfer Student Success Center provides services to assist students with navigating the academic and cultural landscape of CSUMB. In collaboration with campus partners, the TSSC connects students with success services to aid them in their academic, professional, and personal endeavors.
As a Hispanic Serving and Minority Serving Institution, CSUMB works to increase the persistence of students of color through intentional and focused support. The Transfer Student Success Center is guided by values of equity and inclusion, working to engage students in culturally responsive services and support.
Connect with us on Social Media: campsite.bio/transfercsumb
Get matched with a Transfer Peer Mentor!
Develop a peer to peer relationship with an experienced transfer student who can help you:
Identify challenges
Set goals
Navigate CSUMB systems
Make connections
Develop strategies for academic success
Use this form to get connected with a TSSC Peer Mentor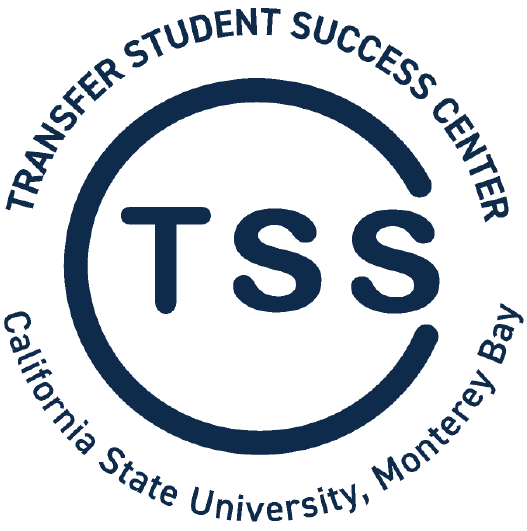 Office hours with TSSC
Transfer students, have questions or concerns that you need help with? Stop by the office hours with the TSSC Peer Mentors. We offer in-person hours in the Center at Forest Hall, building 49, east, in the morning and virtual support in the afternoon. See below for details.
Adding/dropping classes
Important CSUMB dates and deadlines
Navigating OASIS and Canvas
Discovering transfer student events and resources
Connecting with a transfer peer mentor
Check the Calendar below for Drop-in times and zoom links and in-person locations
Transfer Student Success Center Events
CSUMB Land Acknowledgment
California State University, Monterey Bay (CSUMB) resides on the indigenous homeland of the Esselen people (also known as Carmeleno, Monterey Band, and Rumsen). It is on the rich homeland of the Esselen, where CSUMB not only thrives as an institution of higher education but also provides an education abundant with service and experience to a diverse community of learners. As our students, staff, faculty, alumni, and community members explore the university's campus, remember to respect the land and take note of the natural beauty. Remember that ancestors rest below pathways and in other less traveled areas on campus. We Are Here - Let Ka Lai
National Transfer Student Week: October 17-21
National Transfer Student Week ( NTSW) is a time to celebrate transfer students and the professionals who support them on their journeys. Celebrate NTSW with us as we challenge assumptions, build empathy, and instill transfer pride on our campus
See our calendar for NTSW events and use the hashtags #TransferStudentWeek #CSUMBTSSC to represent your transfer pride!