Alumni Outreach Project
Where are you now?
Dear RISE Alumni from 2006 to 2018,
RISE wants to learn more about where you went after graduating from RISE to pursue one of the following:
Community College (& Transferring to a 4 - year University)
4 - year University

Graduating from College

Graduate School

RISE staff will be contacting you in the upcoming weeks using a variety of methods (email, phone call, and social media via Facebook) to receive:
Updated contact info
A few signed documents

By providing us with updated contact information, RISE will mail the documents and forms to you regarding our Alumni Outreach Project in further detail.
RISE Graduation for the Class of 2015.
How your feedback will help us:
RISE is currently in the processes of evaluating our effectiveness at preparing our graduates for a STEM career. Part of this evaluation process involves contacting past graduates and gathering information on their post-RISE careers.
While you are more than welcome to opt out of the study, we would really appreciate hearing back from you. Our goal is to find out more about our past graduating classes.
What have they been up to after graduating from RISE ?
Did they continue on with a STEM education?
What services from RISE did they find most valuable?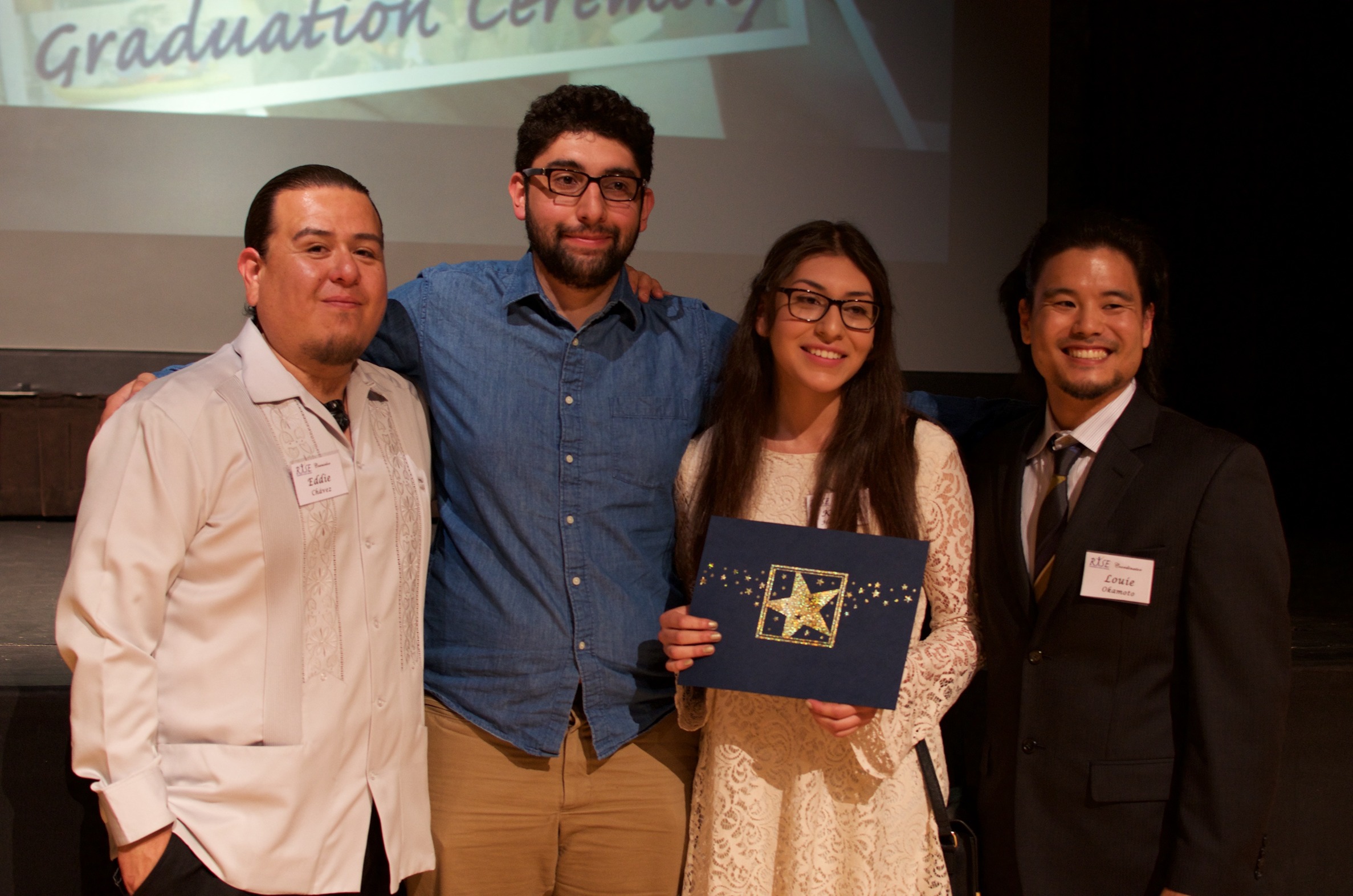 Robert (center left) and Karina (center right) represent two generations of RISE alumni!
Alumni, interested in participating?
We kindly ask that you take the time to fill out the Alumni Survey down below so we can mail you all related documents and learn more about your journey after RISE.
Keep on RISING above it!
Alumni, would you like to opt out?
Received a Facebook request from "Eddie Chavez"? That's us!
While we have a Facebook page, we cannot send friend requests through Facebook pages. We created an alternate Facebook page for Eddie so we can contact you all. The page can be found here. This page is used just by RISE staff in order to contact our alumni; it is a legitimate Facebook page and not a "bot".
We have found all of our Alumni by looking you up by name or finding you on another alumni's friend list. If you wish to opt out of the Outreach Project, merely reject our request. No hard feelings!
If you want to follow the RISE program, please feel free to do so on:
facebook
instagram
RISE Program Coordinator Eddie Chavez. If you get a friend request from this person, it is legitimate.
Methods of Contacting Alumni
Email
Phone call
Social media (Facebook)