Freshman
Our freshmen live in the Residence Halls unless they qualify for family housing. Located around the heart of campus, the Residence Halls are semi-suite style, which means suite-mates have their own bathroom. Each building has a kitchen and is only steps away from several campus dining options.
Housing options
Residence Halls are primarily designated for first-time freshmen, but some upper-division students also call them home. All students living in the Residence Halls must be full-time, matriculated students, and are required to have a meal plan.

Located around the heart of campus, our eight Residence Halls provide easy access to food, entertainment, and campus services. Each building has a mailroom, laundry room, fully equipped kitchen, and lounge area. Depending on the Residence Hall, occupants may have double or triple occupancy rooms with bathrooms shared amongst suite-mates.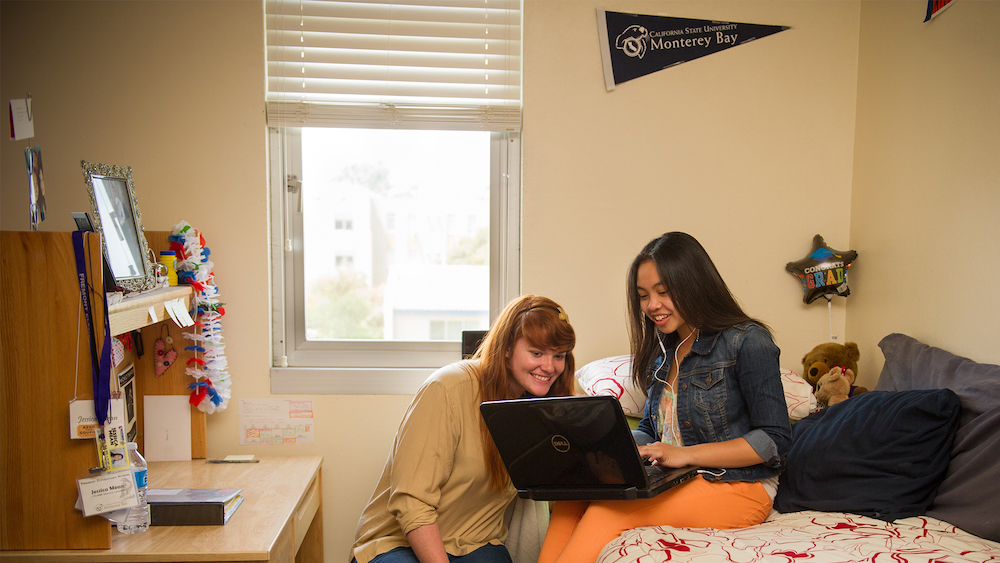 Living Learning Communities at CSUMB are communities where students of similar interests and/or academic studies live together and participate in intentional learning about their chosen program or common interest as a collective.
Furniture
Desk and chair
Bed and mattress
Wardrobe or closet
Dresser
Facilities
In-suite bathrooms
No-charge laundry facilities
Staff available 24 hrs/day
Secure ID card building access
Shared bedrooms
Technology
Cable television
High-speed internet
Residence Halls - 1, 2, and 3-person Rooms
Building
Room Type
Bedroom/Bathroom
Kitchen
Meal Plan Requirement
Semester Rate
Residence Halls
Single *
1BR / 1 Bath
Shared Community
Yes
$5,393
Double
1 BR / 1 Bath
Shared Community
Yes
$4,393
Triple
1 BR / 1 Bath
Shared Community
Yes
$3,734
* Limited Availability
The standard residence hall assignment consists of three students sharing a room. Single rooms are first offered to students registered with Student Disability and Accessibility Center (SDAC) and are subject to availability.